Tonight, on the second night of the European Song Contest, held in Tel Aviv, all Albanians are eyed and eager to follow the song "Albanian Land" by Albanian representative Jonida Maliqi.
In Albania, live broadcast of the second night of "Eurovision Song Contest 2019" will be made through the waves of Albanian Radio Television on RTSH 1 HD channels, RTSH Music, Radio Tirana.
The viewers in each of the 18 participating countries in the semifinals are invited to vote using the official application (Eurovision App) by telephone and / or by sending a message (SMS) to the corresponding numbers that appear on the TV screen at the place where dwellings.
The Albanian song "Return the Earth" sung by Jonida holds the code 14.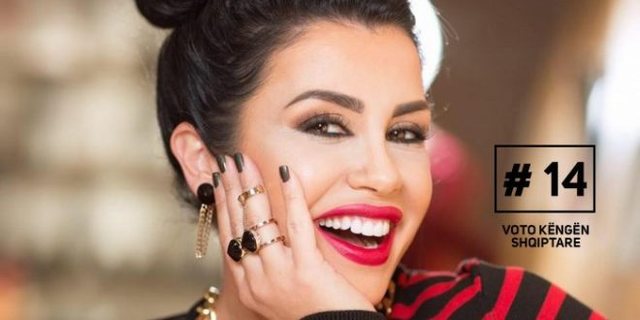 How to vote?
Download the official Eurovision application by typing in the relevant models of your smartphone.
The application tells you when the voting starts and then enough with just one click you can vote for song number 14.
If you are in one of the following countries, you can follow Eurovision and then vote.
Ways of voting in the second semifinal of Eurovision 2019: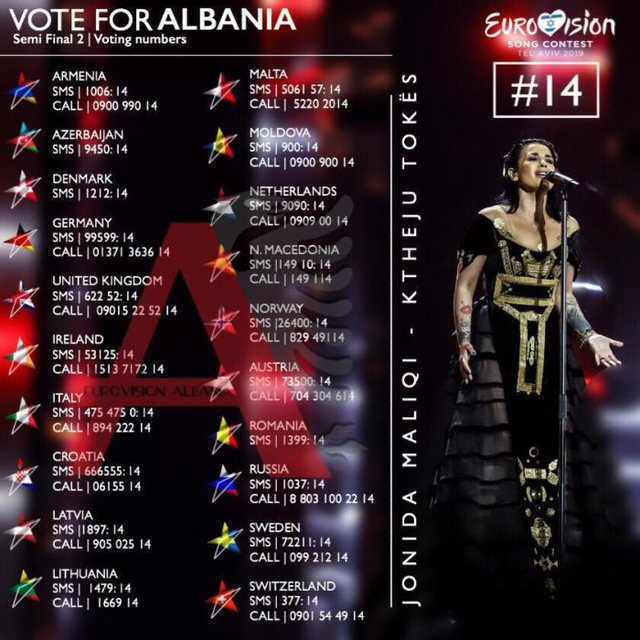 Armenia
SMS / 1006: 14
Call / 0900990: 14
Azerbaijan
SMS / 9450: 14
Denmark
SMS / 1212: 14
Germany
SMS / 99599: 14
Call / 01371 3636: 14
Great Britain
SMS / 622 52: 14
Call / 09015 22 52: 14
Ireland
SMS / 53125: 14
Call / 1513 7172: 14
Italy
SMS / 475 475 0:14
Call / 894 222: 14
Croatia
SMS / 1897: 14
Call / 905025: 14
Lithuania
SMS / 1479: 14
Call / 1669: 14
malta
SMS / 5061 57: 14
Call / 5220 20: 14
Moldavia
SMS / 900: 14
Call / 0900 900: 14
Netherlands
SMS / 9090: 14
Call / 0909 00: 14
North Macedonia
SMS / 149 10:14
Call / 149 1: 14
Norway
SMS / 26400: 14
Call / 829 491: 14
Austria
SMS / 73500: 14
Call / 704 304 6: 14
Romania
SMS / 1399: 14
Russia
SMS / 1037: 14
Call / 8 803 100 22: 14
Sweden
SMS / 72211: 14
Call / 099 212: 14
Switzerland
SMS / 377: 14
Call / 0901 54 49: 14