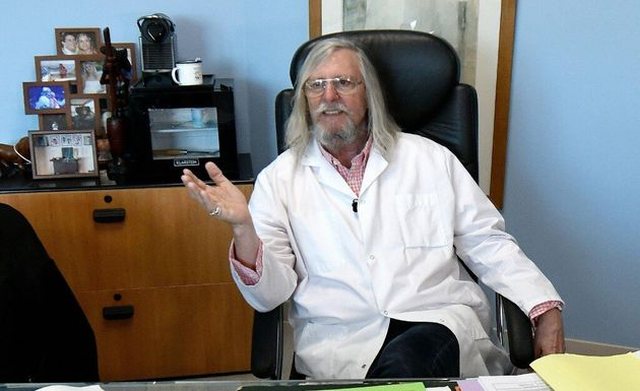 On Monday morning, more than 300 people, in opposition to government orders for isolation, had gathered from across the south of France in front of the infectious hospital in Marseilles.
The crowd had gathered there to demand what the state refuses. Because (pictured above), the controversial biologist doctor, has proposed a free coronavirus test for anyone who exhibits symptoms. And of course for the latter he is ready to offer his magic remedy chloroquine.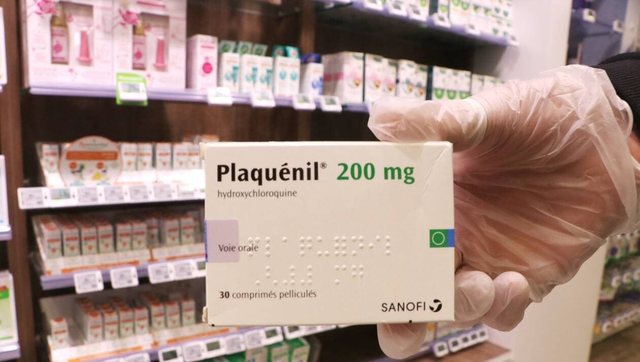 Medication recommended by doctor Didier Raoult
"There is a spotlight around him just like that of false prophets," said a French journalist, Le Parisien, a man close to the prime minister, about this doctor who has put the government in difficulty.
But the opposition sees it differently. "It represents the only ray of hope, in the devil's mind, for medical protocols. He managed to heal Nice's mayor with his medication through chloroquine. He is like the 21st century Jesus Christ who wants to silence him, "says one of them.
In French government settings near President Macron, they have begun to label him as "the madman who does not stop". But he is not like that at all. Prof Raoult is a member of the French scientific council created for the battle with Covid-19. After much hesitation the Paris health minister, Olivier Veran ordered testing of his cure on 800 French patients (3200 worldwide) which is expected to deliver its first results in 15 days. In Marseilles, Professor Raoult has used his medicine in 24 people and in 80% of cases it has been successful. But such a human sample is too small for chloroquine treatment to be included in the protocols. "He is a very controversial doctor, he has denied the effects of global warming, but on the other hand he is a genius researcher," one minister describes. But in the French Ministry of Health, they say "there are rules to ensure the health of the population and protocols must be implemented at all costs."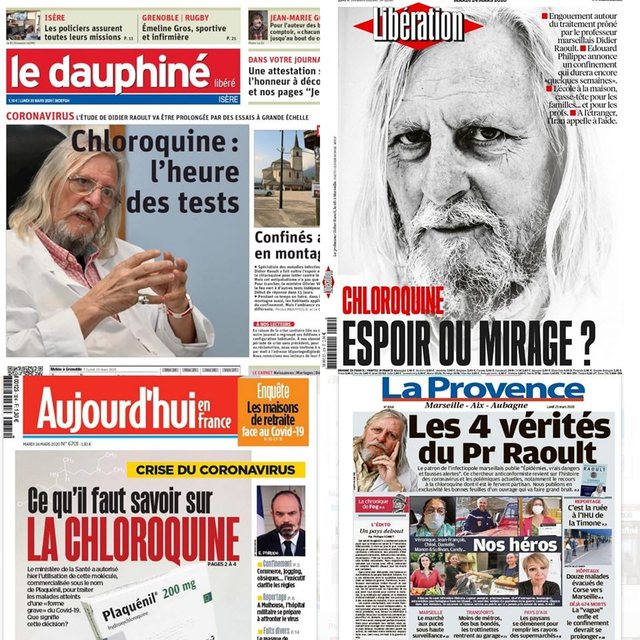 Monday's newspapers about the medicine and Prof. Didier Raoult
"Maybe Didier Raoult is right, but we have to have the scientific proof to prove that. The studies should be done calmly "replicates doctors who are skeptical of the treatment he offers.
It is precisely this discussion that has frustrated the French government. Allowing the massive use of Chloroquine to heal patients to whom there is no cure so far would put the authorities in medical and legal trouble. "Imagine if we had 2000,000 dead because they could not support this cure"? insists one close to President Macron. On the other hand, there is a human problem: Can a patient be left at the mercy of fate when there are doubts that the cure is there?
This dilemma forced French Health Minister Olivier Varan and the top medical council to decide on the testing of Prof Didier Raoult's cure. But not only that, they concluded that doctors could now use chloroquine in severe cases and under strict hospital supervision for patients.
Until then, the cure proposed by the Marseille professor for two to three weeks will be one of four possible to be tested in 3200 patients across Europe.
Is this a mad doctor's victory. Still to be seen. Meanwhile he himself continues to use his medicine, with the motto that Hippocrates' oath to save lives at all costs prevails over scientific protocols.
Article by Le Parisien / Prepared by Lapsi.al