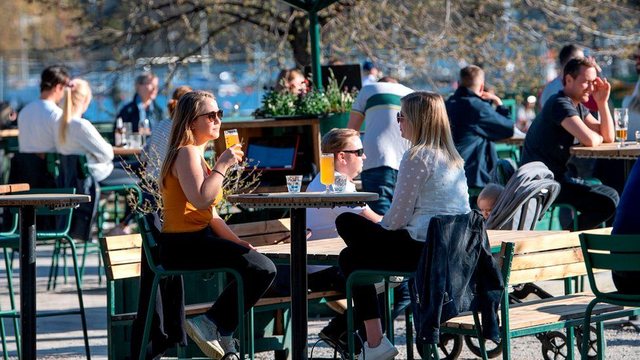 Despite never having a complete blockade, Sweden has managed to flatten the coronavirus curve, yet there are those who question the cost of this strategy, as the country has a much higher number of deaths than its Scandinavian neighbors.
According to Anders Tegnell, PhD, chief demiologist at the Swedish Public Health Agency and architect of the Swedish coronavirus strategy, has stated that "the Swedish strategy is working", others have criticized the approach, including some Swedish academics who published an editorial in USA Today.
"In Sweden, strategy has led to death, grief and suffering," they write. "Furthermore, there is no indication that the Swedish economy has performed better than in many other countries. At the moment, we have set an example for the rest of the world on how not to deal with a deadly infectious disease."
The Swedish Public Health Agency has not openly stated that the herd's immunity was its goal, although many doubt that was really the goal.
But how did Sweden manage to control the outbreak of the pandemic?
While Sweden was not officially closed, but at the beginning of the explosion high schools and universities were closed; while kindergartens and primary schools have been open. Businesses have also remained open, but usually with reduced hours, restaurants have also operated at reduced capacity.
Swedes have been asked to keep their distance in public, avoid non-essential travel and work from home when possible. Meetings of more than 50 people are also prohibited. People aged 70 and over are advised to stay as far away from others as possible.
Masks were never made mandatory and are not usually worn.
There is still no definitive explanation for the curvature flattening, however experts have some theories.
Mozhu Ding, PhD, një epidemiolog në Institutin e famshëm Karolinska, tha se rënia "ka të ngjarë të jetë një kombinim i masave të marra nga individë, biznese dhe një fushatë e gjerë informacioni e nisur nga qeveria".
Koha e verës është një faktor tjetër që mund të ketë ndikuar në rënien e kurbës, që filloi rreth fundit të qershorit - jo drejtpërdrejt për shkak të motit, por faktorëve shoqërorë që lidhen me të.
"Suedezët janë më shumë jashtë dhe studentët nuk janë në shkollë", -tha Anne Spurkland, MD, një profesoreshë e imunologjisë në Universitetin e Oslos në Norvegji.
Norway still demands that Swedes be quarantined for 10 days when they arrive in Norway and Denmark has not yet fully reopened its borders with its neighbor. Something that does not bode well for the Swedish economy. If the purpose of the absence of a deadlock was to avert the economic crisis, success has been limited.
Experts say it is too early to conclude whether the Swedish approach was the wisest of all or whether the herd immunity has been achieved.
Read also:
He did not quarantine with the outbreak of the pandemic, but was it a wise choice for Sweden?