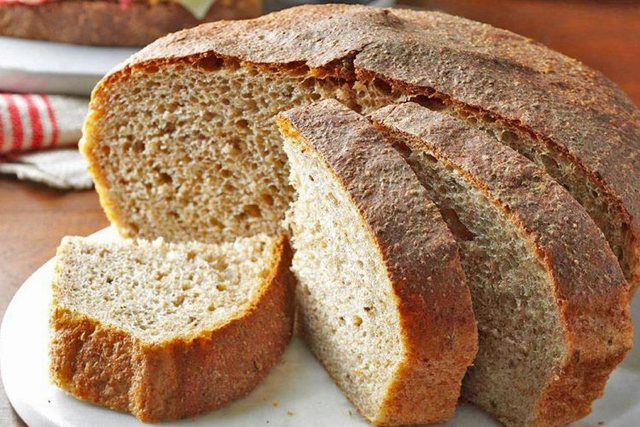 Bread is one of the products that is never missing in our homes, accompanying every meal during the day and often the 'culprit' of excess pounds.
This is a healthy recipe that allows you to lose weight.
Rye is a grain that unlike wheat, has fewer calories and more fiber and keeps you full longer.
Rye bread is rich in B vitamins that give the body energy during the day, and help the digestive system.
So with this recipe you will prepare a bread not only delicious but also healthy.
Ingredients
500 gr rye flour
1 teaspoon salt
11 gr dry yeast
330 ml of warm water
Oil
Preparation
In a deep bowl add the flour, salt and bread yeast. Mix well with a spoon and then start adding water slowly.
Once you have poured all the amount of water, roll the dough on the table and work it by hand.
Take the bowl and grease it well with oil, put the dough there and let it rest for two hours in a warm place.
Be sure to cover the bowl with either a kitchen towel or a kitchen bag.
Once the required time has elapsed, grease a medium casserole with a little oil and flour.
Transfer the dough to the pan and press lightly with your hands to open it as well as possible.
Cover again with a napkin and leave for another ten minutes for the dough to rise even more.
Before inserting it to bake, make a few cuts with a knife on the surface of the dough.
Set the oven to 250 degrees and bake the bread for 20 minutes.
If you do not want the crust of the bread to come out strong, just sprinkle it with a little water and salt while it is baking in the oven.
After removing from the oven, allow to cool slightly before removing from the pan.
You can store this bread in paper bags or wrapped in a dry napkin.
Its taste will be more complete than ordinary wheat bread, as rye is more delicious.
Moreover, it is healthier and perfect to consume if you want to lose weight but can not leave the bread./AW/