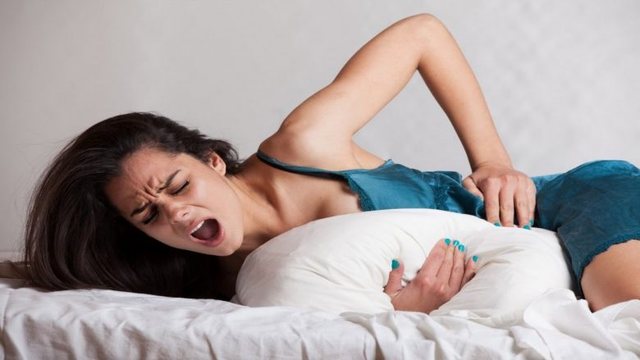 Some girls, like my job, go through periods or cycles without any difficulty, then it's the rest of the world.
Pains are normal accompanying experiences. In fact, 84% of individuals who experience menstruation have experienced some kind of pain. However, pain also has a spectrum. Nearly half of those who have menstruation do not experience pain so severe as to require treatment. The other half, about 55% need to take medication to cope with the pain. While 32% cannot go to work, school, or social events. Menstrual cramps are one of the reasons for teenage girls missing school.
Things that can aggravate the pain during periods
There are several factors that can be associated with menstrual cramps. Some of them are out of your control and power. For example, you may have more pain if your menstruation starts at a very young age, or if you have too much flow, or if you still have a baby.
Then there are other factors we can modify. Like tobacco that exacerbates cycle pains. Reducing smoking or abstaining from tobacco can help with menstrual cramps. Also a small body weight is often associated with greater menstrual cramps.
First aid for difficult hours
Blood is leaking and you are looking for something that makes you feel better. Follow the ideas of the Taboo Blog.
medications
To relieve cycle pain, you can take some anti-inflammatory medications such as ibuprofen or aspirin. If you take the recommended dose before the pain, the medication may be more effective.
Put something hot
A 2001 clinical study has confirmed that abdominal warm springs are effective methods of reducing pain during periods. Combining the warm source with the painkillers is a great combo. You can also choose from those adhesive bandages that relieve pain.
Train yourself if you do the job
Exercise is a great method to relieve pain. But there are not many studies that establish a link between exercise and pain reduction. However, exercise is a very healthy choice worth a try. General knowledge advises that exercise releases endorphins, the hormone responsible for mood by promoting blood and oxygen circulation in the body. It helps with bloating, abdominal and headaches. During the cycle try to do lighter activities such as walking, jogging, yoga, or light weights so that blood can circulate.
Long-term solutions
If you suffer from pain throughout each cycle, here are some strategies that can help you with long-term pain management.
Oral contraceptive
In addition to protecting against unwanted pregnancies, oral contraceptives can help you know when and how long your menstrual periods will be. They also make the cycle easier, shorter and less painful. You can get a prescription for contraceptives from your gynecologist, or at a private clinic. Oral contraceptives contain hormones, so they are always taken under the guidance of a doctor.
Hormonal IUD
IUD hormones (intrauterine device) are another method that over time can reduce the pain of pregnancy. According to one study, the percentage of women who experienced pain during menstruation had been reduced from 60% to 29% after using the IUD for about three months. On the other hand, copper IUDs can increase pain during menstruation.
If the pains persist
There are other causes that can cause lumbago pain. For example, endometriosis is caused by uterine tissue growing outside of it. It is associated with severe pelvic pain during menstruation as well as during urination. This is a situation that needs to be diagnosed by a doctor. Remember each body is different so experiment with the one that brings you the most comfort during your period. If there are other methods, such as tea, aromatherapy or certain foods, Netflix or just a break, follow the current and find the most appropriate technique.
Source: Tabu.al