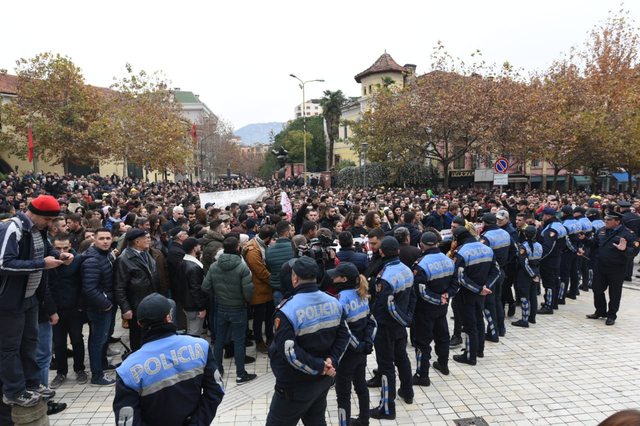 A day before the opposition protest, State Police has come up with a statement on the measures taken and for ensuring order and security for tomorrow's protests organized by the Democratic Party. It is expected that the turnout is large, so the police alert all citizens who are not part of the protest to avoid the roads leading to the "Dëshmorët e Kombit" boulevard, where protests will take place.
State Police Statement

State Police is fully committed to taking measures for the progress of the protest announced by the opposition political entities on 16 February 2019 as a legal and natural obligation to support the right of the organization and peaceful protests citizens.

State Police has also faced some of the impossible demands of the Democratic Party, announcing the intention to block certain streets or environments that are of particular importance to the normal functioning of public life in the capital, as well as the unsatisfactory operation of some foreign diplomatic missions.

Ensuring freedom of movement, freedom of movement and unimpeded access to the premises of diplomatic missions and some important state institutions makes it impossible to allow the opposition protest on "Ismail Qemali" street. However, the Tirana State Police and local police authorities have provided sufficient facilities such as the "Dëshmorët e Kombit" boulevard, which has been historically used for such purposes and which offers enough space for mass participation.

In the interests of the protest and security of the participants in it and other citizens, the State Police repeatedly called on the organizers to distance themselves from the violence-encouraging voices as well as those with serious criminal records.

For citizens who are not part of the protest, they are called to avoid as far as possible the environments where it will evolve.

State Police seeks the understanding and co-operation of citizens through the increased controls that it is obliged to develop in some major road axes and in other important areas, in the interests of citizens' security and protest itself.

All citizens who have important information are invited to contact anonymous on the free 112 phone number or at the Digital Commissariat!