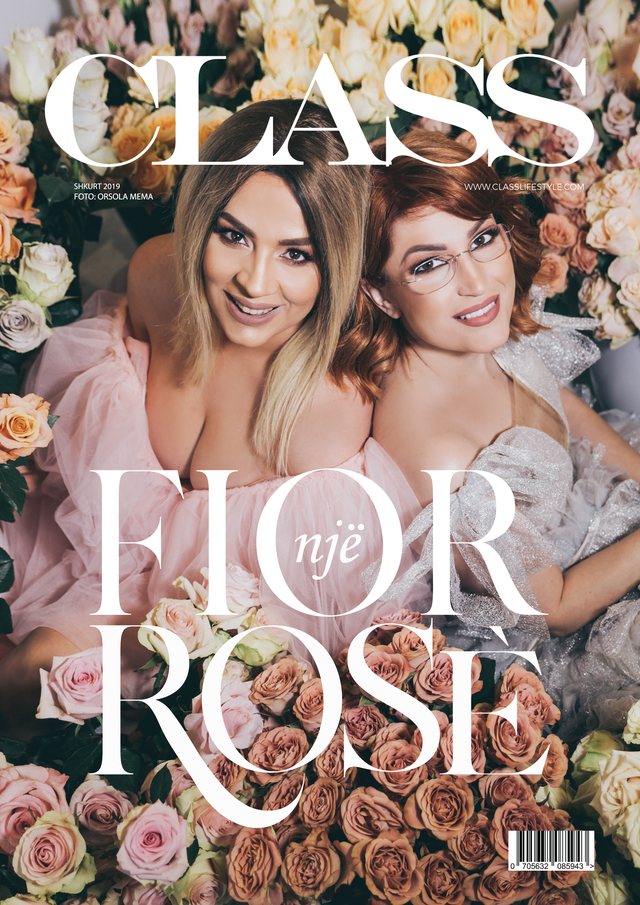 We all have a story with flowers ... And this is not one of those phrases hidden in children's books and for the little ones who grow up with the idea of caring and love for them! Our story with them is somewhat different ... For someone, a bouquet of fresh and beautiful flowers remembers a special person! For someone else, a moment of unforgettable life, and for many others a fantastic fantasy within a botanical garden with thousands of flower types and a mix of aromas lurking on every side. But when flowers come with certain individuals, especially when they are identity, then stop for a moment together and think deeply!
The flowers come as an endless range of choices and options, but for both of them are just the most names we identify all out to the outside! We see them on the screen, in their daily engagement at Ora News and at the Boom's investigative show studio, but not just! Their portrayal as well-known public figures is more than that! It's more than the names of flowers and the identity belonging to them is more than the love and affinity they have with them! "A Fior, Rose," we thought the title at the top of the corner and hit the mark! Because in the detailed interviews they have given to the Class, along with the details unprecedented for friendships, hostilities, families, projects, precious passions and rare preferences, Fiori Dardha and Rozana Radi come for the first time in one profile differently.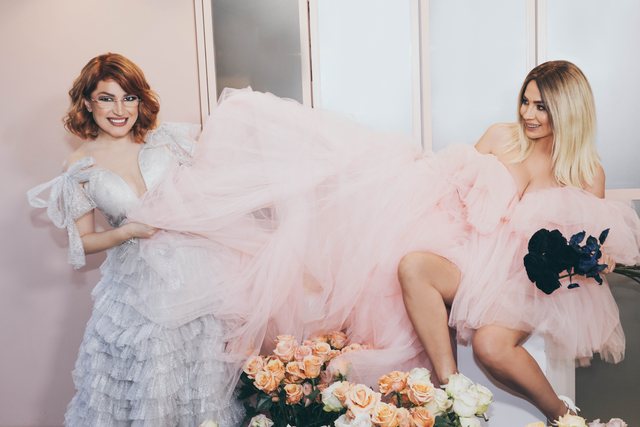 We've put in a fantastic garden of fresh flowers to get the real emotions of a different story! And I "undo" the emotions in a row, just as I cut a petal of a rose or a flower to uncover little by all the affiliations and spheres of their lives.
From the "Boom" show that successfully moderates for some time, into private life, heart partners, love and motivation, passions and sacrifices, the sublime and spiritual that builds each one of them. An atypical interview and confession of both!
Far away from the clichés and very close to the reality and the vulnerability, their "breakthrough" in this long gloves-but true-to-life interview that was confessed to a not so common and normal ground, but within a fantastic aureole of colors, flowers and smells , portrays the likes of the screen simplicity, which we simply called them, with their flower names that we all know: Fior, Rosè!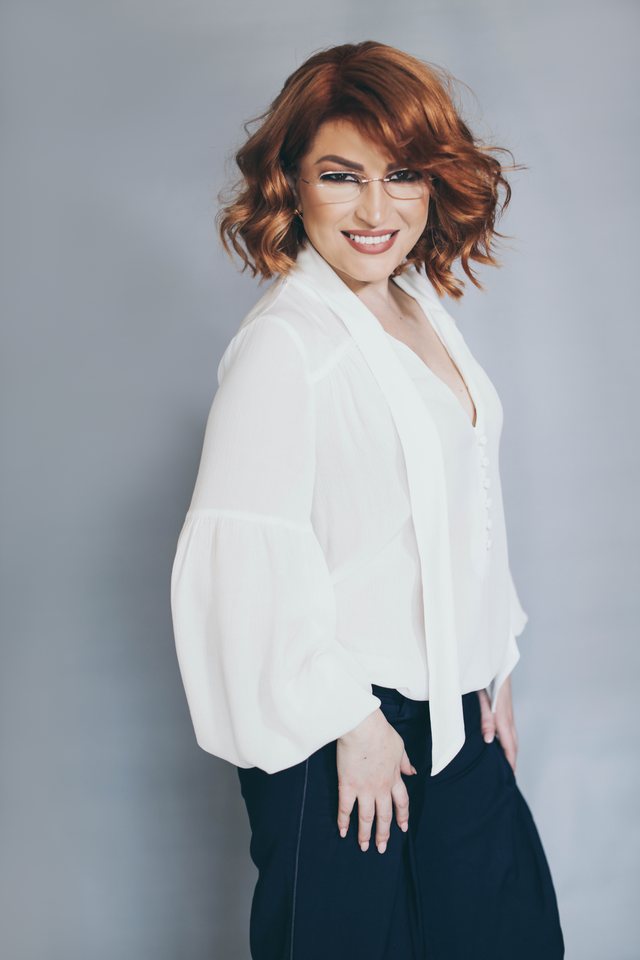 Interview Flowers Dardha
Fiori, what's the most beautiful thing that happened to you this month?
My son Abel switched my daughters, while my 10 months old granddaughter came to her first teeth. Is it nicer?
With 3 words, how would you describe yourself?
Direct, true, very sensitive.
Your biggest strength?
My family.
Your biggest fear?
Loss of loved ones.
Your name means flower. Has anyone called you this name, flowers and not Fiori?
Generally they call me Fiori, but some family members Alda, as my long name is Fioralda. Flowers call me to pamper some of the school friends and friends.
What relationship do you have with flowers? He wants? Care for them?
I can not even touch them by hand because I'm allergic to them. Fate seems to compensate for the inability of the name relationship. Anyhow, I love flowers infinite.
The flowers also have thorns, and often to reach the delicacy and pleasant aroma must touch the thorns. It's like life philosophy, but really something serious or difficult that has touched your life, for which you have not surrendered for a moment what is it?
One of the most serious difficulties I have experienced in life has been my mother's illness. I struggled with all my strength to avoid the worst and thanks to the Lord's dedication to the doctors, we did it.
Flower, except journalist, you have another status: mum! The most valuable advice you give to your son Abel every day?
Abel is too small to give great advice. I advise on small, everyday things. I am happy with her because she is an excellent student and her premise is to become someone in life.
It feels in the air in the media that everyone talks about perfect life, perfect bodies, perfect dresses, husband and family, and a perfect career. How do you feel when reading or listening to such issues?
I think that play does not exist on earth. Man is not perfect because he was not born as such. When I read such things I think it confuses the moment with eternity.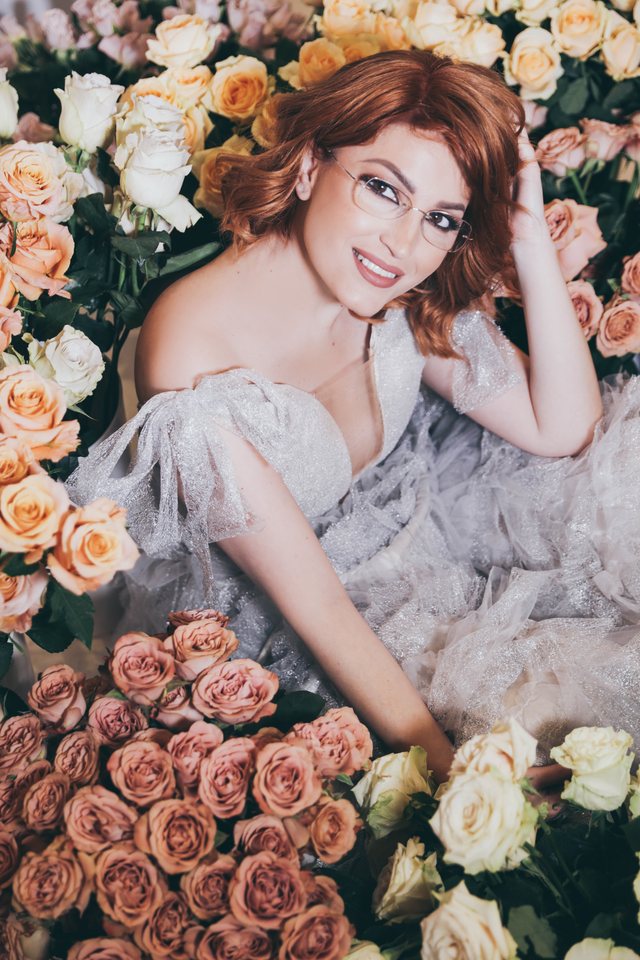 The first thing that fixes to a man who meets for the first time?
The behavior. It's the first impression that impresses me in a presentation.
Can a person's life be so perfect whether he is famous or not?
The life of a celebrated individual is the same as every citizen's life.
How much do you love your spouse?
I love it so much that it takes life with her.
What do you think of betrayal? Will you forgive me?
Neglect is a psychological, social, individual and circumstantial problem. Nowadays, families are killing for such problems, but I do not belong to this category.
First love?
In teens!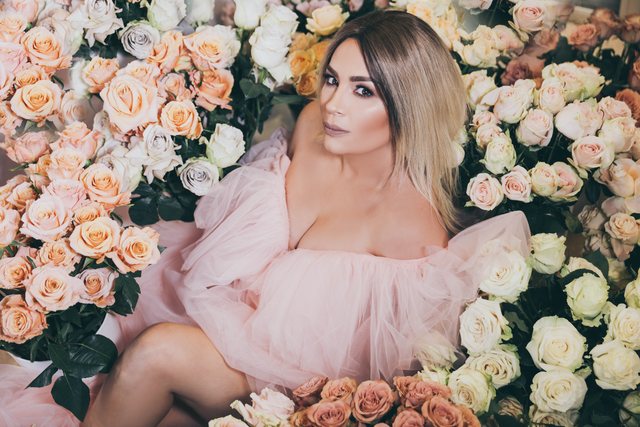 Interview with Rozana Radi
The last trip you did?
They say that the trip we make lives three times in life. When we dream, when we live and when we remember them. Thank you for bringing me into my mind in August 2018 on a wonderful trip across the South of Italy.
Was it accompanied or alone?
We never know when we will remain alone in this life as I always try to be in good company.
What makes you laugh always?
A promising politician!
The most beautiful gift you've got from someone?
My father has given me his book with a dedication.
The most beautiful film of all time according to Rozana Radit?
"The Curious Case of Benjamin Button"!
The most beautiful song lyrics of all time according to you?
I will not be here (Dritero Agolli)!
Suddenly you are stuck on a desert island and to survive you need to choose a food. What is your favorite since you are tired of being consumed?
I would live all my life eating sushi.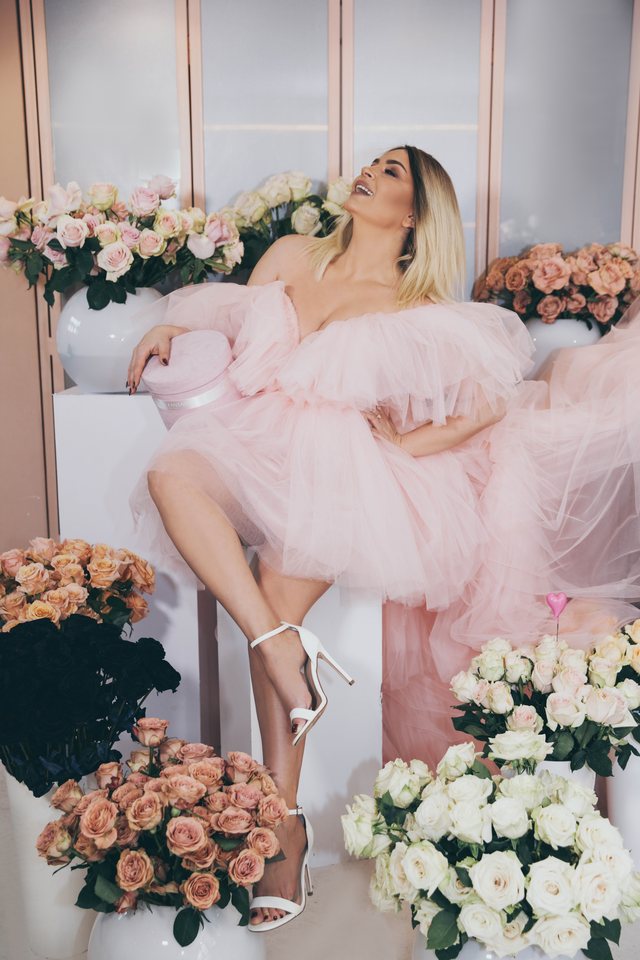 Diamonds or pearls?
The most realistic things in this world after bon sens are diamonds and pearls. I would not share them.
Shampoo cheap or expensive?
90% of a woman's beauty is cutting hair no shampoo!
Your favorite flower?
Red rose, the most beloved flower of all the poets.
Is there always a bouquet of fresh flowers in your house?
It is very beautiful to be true this in the time we live.
The last bouquet of flowers you got and who donated you?
Years in the premiere comedy "Strange Couple"!
Is your romantic romantic partner, who surprises you with gifts and flower bouquets?
I preferred to keep my partner's attention away from the audience. And it seems to me unwise to talk about the things he does or does not do in relation to us. The fact that he has chosen a public person as I certainly does not make it invisible, but my life has taught me that our things should be ours. You just have to be comfortable with Rozana on stage, out of the scene I prefer to have closed doors.
How much do you love your partner?
I do not love love with words.
What do you think of betrayal? Will you forgive me?
I think a traitor had in his past a lack of attention and love. Neglect in my opinion is the vice that dies with the soul. I hate that expression "die without you I love you".
First love?
Hmmm brought me back to time in my teens and my first love when I was filled with energy and love. Now I have only nostalgia for energy, not love.
Just as both of them became the protagonists of this mission in realizing the cover in the Class, though two characters with different typologies, apart from all the ideas or divisions that make them different from one another, we thought that their common could be another strong point in the interview. So, Fiori and Rozana come to this interview with the same questions, to understand us more than where they really have the things that they share or unite in worldview, life, work, etc!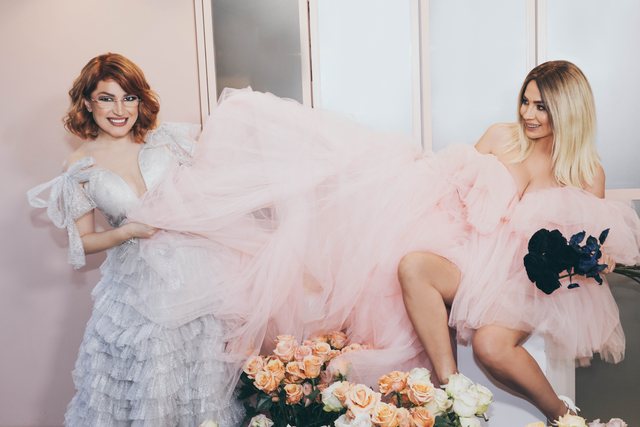 What do you like each other?
Rozi: Tek Fiori likes the way she works! Fiori loves the work he does for doing it very well. Never stop! Work for him is like those great love stories that are getting better when the years pass.
Fiori: I like the sense of humor at Rozi
Do you have the dishes?
Rozi : Always.
Flower: I wash out of the hall.
Why are you both fucked?
Rozi: It looks odd, but we're never busy! We just walked away, but we were always there for each other.
Flower : We grow up for trivia usually.
Has there been a moment in the Boom studio that the situation has gone out of control and how did you turn everything into normality?
Rozi: There is always! But when it turns on the red light of the cameras we forget everything.
Fiori: Where work is done and wrong and the situation is strained. Of course there have been glowing situations, but once it is explained everything returns to normal. Nothing personal.
Apparently first you are not the example of opposites to retreat, but of two similarities that can not do without each other. Your strong points in common?
Rozi: There are many! We are not afraid to seek what we want. There is no fear of us being women. We are not afraid to raise our voice. And most importantly, we are not afraid to grow old.
Flower: Understanding each other. We already know we communicate and without text.
Are you sharing? Where do you both think?
Rozi: We have different characters and of course we have different ideas as well, but we found a meeting in the middle.
Fiori: Towards Orientation of Interest. What matters to me is not for Rozin and vice versa.
The fact that you spend a great deal of time together, because of the commitment to Ora News, makes your friendship stronger or are you getting bored of each other?
Rozi: I think we do not stay so much together that we are staying in the Artistic Lyceum. Now Fiorin has a computer or listen to the news. I remember an expression my father often said: "No matter how far away the true friends are the only ones to tell you when you are pissed in the face"!
Fiori : There are times when we argue, even we do not talk, but everything is temporary.
What would you like to change to each other?
Rozi: Working morning when he said good morning well understands that he is tense. I would like it to be the flower of lunch classes not in the morning.
Fiori : I do not know what Rozi would like to change with me, but I would not like to change anything in her. If it changed according to my own tastes, it would not be more self-sufficient.
The biggest scandal you had to make public in the Boom's investigative show, which one is? How did you expect it?
Rozi : We do a tough job for the very fact that the BOOM show has. Hard topics every day. But we have chosen this profession and are there to be your voice.
Fiori: Every day in the BOOM newsstand there are dozens of denunciations. We as staff are happy that Albanian citizens believe in "BOOM"! The scandal is also when you deny a chimney to a sick person because he did not even offer you money, even when a citizen is unfairly imprisoned, even when he abuses an institution's funds, even when he abuses the task entrusted to him, even when he violates the tendering procedures , even when denied service to a citizen. All these scandals come every day in "BOOM". We have the chance to make the show on RTV ORA, where we support the support of President Ylli Ndroqi, general manager Mariam Ndroqi and the whole team in no time.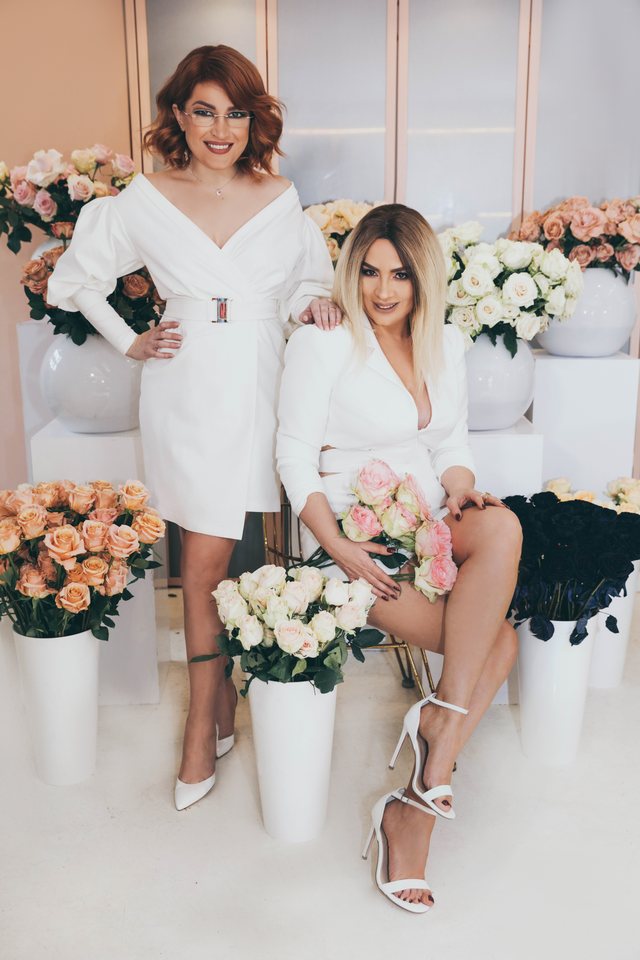 Do you have a complex?
Rozi : No, not the complex is not part of my career.
Fiori: Like every man I have my complexes. Maybe I can arrange something in the presentation, as I have not done the aesthetic interventions yet.
As two public figures you probably have close friends in the ranks of Albanian aristocrats and celebrities. Yes, any person with whom you do not speak or have animosity?
Rozi: I do not have close friends, but I have very good colleagues. Among them there are those who have interrupted the relationship, if I did not say hostility.
Fiori: Enemy can not say, but antipathy is. We live in a small space where everybody knows who, and impressions are sometimes created by words without knowing the other. This is commonplace.
Credits:
Photography: Mema Spine
Flower: Floral Fantasy