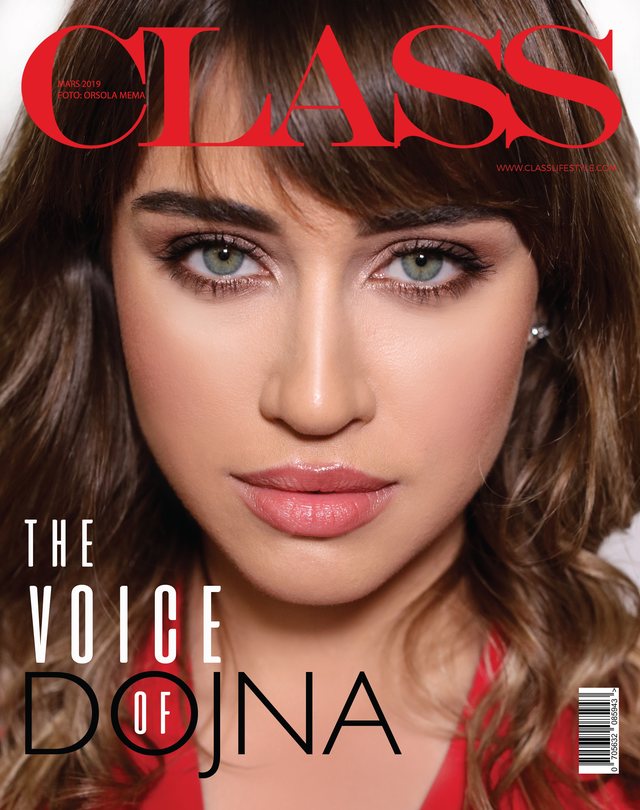 If you defined your three-word life, they would be: adventure, emotion, and patience! But when you look at the screen, Dojna Mema conveys more than that. It seems to say that he likes adventures - far from "slow life" and without adrenaline, as energetic, alive, spontaneous and ready to become one with emotion. Unlike many characters that fill the screen, but do not show any kind of emotion, start and end what they have to say and escape with no trace of noise, Dojna is completely different. In fact, she checks her own good memories, but conveys to the public, everything alive, naturally and without strain, with the presentation on stage. By becoming one with the guests, the competitors of the spectacle and all the characters that have to climb on the stage (and that are not a little excited), Dojna it also becomes a party to the public, who is not at all difficult to experience the same as what happens directly. And not just on the screen. Even on the radio the same thing happens when it is accompanied by its voice.
As a living nature, laughing whenever there is something to laugh (though Mom continues to criticize for this fact), Dojna is not worried at all that she is on screen and "must behave fine" for her sake. She laughs at me whenever someone or something makes her laugh and she does not even have the slightest worry about criticism. Because Dojna is the direct louse that each of us wants to see on the small screen. But also because Dojna has patience! Yes it is true! You may rightly think that an impulsive nature does not have much patience to accomplish things. Well, you're wrong! Dojna, with patience, has managed to lead today one of the most important programs in Top Channel, "The Voice Kids".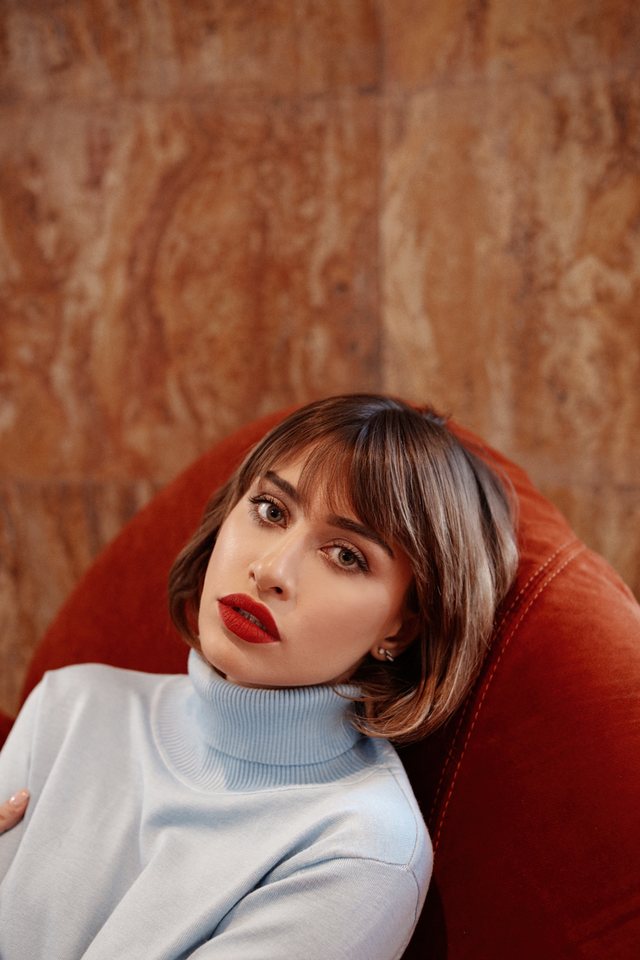 A season earlier, she was part of the Voice Room, while today she is the main presenter of this talent show. He is entrusted with such an important show, because he has shown he can do much more to the audience he follows. In this interview for the Class magazine, Dojna shows that the invitation for this program came in the most classic way possible: from a meeting with the general director. There, Dojna did not give herself much. When he came to say, he simply said, "Yes, I can do it." Then, just emerging from the office, jumped into the corridors. It was happiness to hear the self, after a work of great devotion. It was working for this day to make her voice "echoes" every Friday night in Top Channel .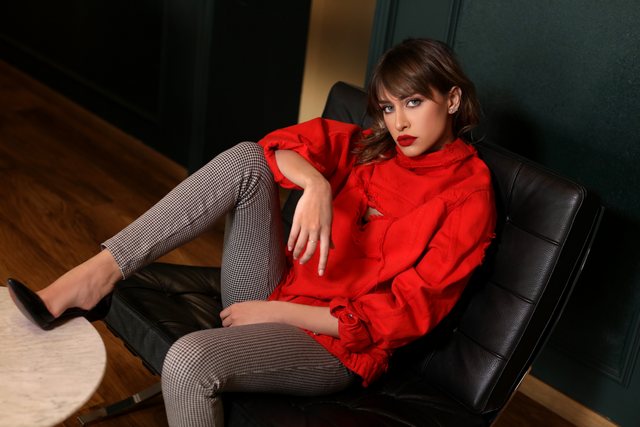 But here's not just a job (all day, Pop Culture, radio and The Voice Kids). Dojna also tells Class about the passions or secrets of girls (and what she does not like about men). For sure, you also notice from the screen that she has spontaneous motives that are not lacking at any moment. Even in the interview, she did not try to tell the model girl who wakes up in the morning and washed her pink rose petals drinking tea with her fifth finger because she is not Dojna. Her life is very dynamic and she does not have time to "pamper" herself with vain things. Dojna PUNON! But even though it works a lot, the money report is not good at all. It's an irrefutable dorso! Even her grandmother, who has become famous in social networks, "criticizes" in a video about spending money. Dojna's granddaughter has in fact become famous for her spontaneous motives in the videos that the moderator publishes on Instagram. Dojna seems to have taken too much of it: oratory, lust and laziness to say what she thinks directly, without too many brushes. For everything that happens in Dojna's life, whether professional or personal, you will be able to read it in this interview without gloves: full of music and humor!
Have you been entrusted with an important show like "The Voice Kids" on Top Channel, how is this experience for you?
-When they told me that I would be the presenter of "The Voice Kids 3", I personally came naturally to enjoy and enjoy the whole preparation phase. Meanwhile, there were people around me who burdened me with the burden of responsibility. The questions ranged from "Understand what responsibility is? How will you do it? Will you just introduce it? "To" Can you fill the scene? Do not be afraid to cry! "I found out who the kindness of the man and the malevolence were receiving all the positive energy. Of course, I did not hear anyone coming up with suggestions every day and had no connection with the production. From the first day of hidden auditions so far, I live as I know: much work, dedication, naturalness, sensuality, never losing smile.
How did you come up with invitations to present this program?
-In the most classical way possible: Meeting! The General Director, along with the staff of "The Voice Kids", welcomed me in the office and made me a proposal to be part of the program. Immediately I gave a cold answer "Yes, I can do it", but of course as soon as I left the office, I jumped in the corridors.
Ledio Liço submitted a show that was very heartfelt. How did you feel?
-Unbelievably, very much appreciated and completely ready.
What was the advice that Ledioni gave you?
-In the beginning of my career, the Lion encouraged me to be as free and as myself, working hard every day to reach my goals. This time, I was suggested to make myself as much fun and to enjoy as much of this experience as it does not come your chance to live every day.
We have seen you have a great love for children and you are very fond of them. Is it to work with talented children?
-Make it every day from them. We live in a place where we run to catch the pace of the day, we act before we think and ignore the "child" inside us. Competitors of "The Voice Kids 3" have made me see more clearly, appreciate what really matters and laugh, just like them.
How are your mentors with your relationship?
-Gjokat and Miriam I knew earlier from the past experience in Voice Room 2, more than that I interviewed them several times in "Pop Culture". As far as Aylena was concerned, it was a discovery. The conversations were immediately made in mind, considering the fact that we belong to the same generation. It joins the common goal of making the children feel at home.
Which of the 4 mentors is your favorite, is it closer to the music you hear?
- My musical preferences are known to have allotted to alternative music, but that does not mean that Gents are my favorites because when introducing "The Voice Kids", you understand that all the collaborators return as part of the family, it is impossible to have a downfall for one or the other. When you see the commitment that transmits each one of them, you realize that you are in the right place to do what you have hoped for.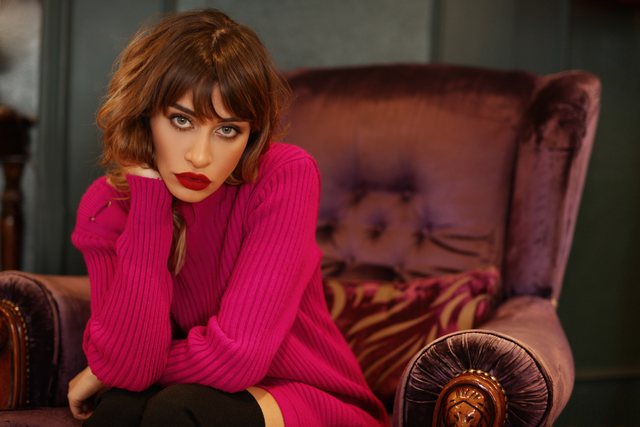 All the time on the stage, you're smiling and quite loose in communication. Has my mom changed my opinion about the great stage book?
-Mother continues to be my biggest critic and better so. If he exceeds the smile, he will probably find something else. I'm convinced she wants the best, like any mother. Our report has always been very intense, both in the great joys and in the sorrows that we spend together. We are very impulsive, so the report sometimes becomes complex. Ama, despite my stubbornness, Mom is the only person who makes me change my mind without reflecting twice. There is tremendous power over me, so I would really like to have more time to dedicate. Of course, after "The Voice Kids", because I'm sure I'll make remarks that I do not want to hear (laughs).
You studied piano and, of course, you are connected to music. As you run a program where the center is the voice, have you ever thought of a song yourself?
-As coming from a past as a classical musician, unfortunately I am very perfectionist. I wanted to compete in the first edition of "The Voice," but my cousin of the choir brought me down to the ground, implying that singing would never be my strong point. Since then, sing happy in the shower. Some things are talented, not with rage (laughs).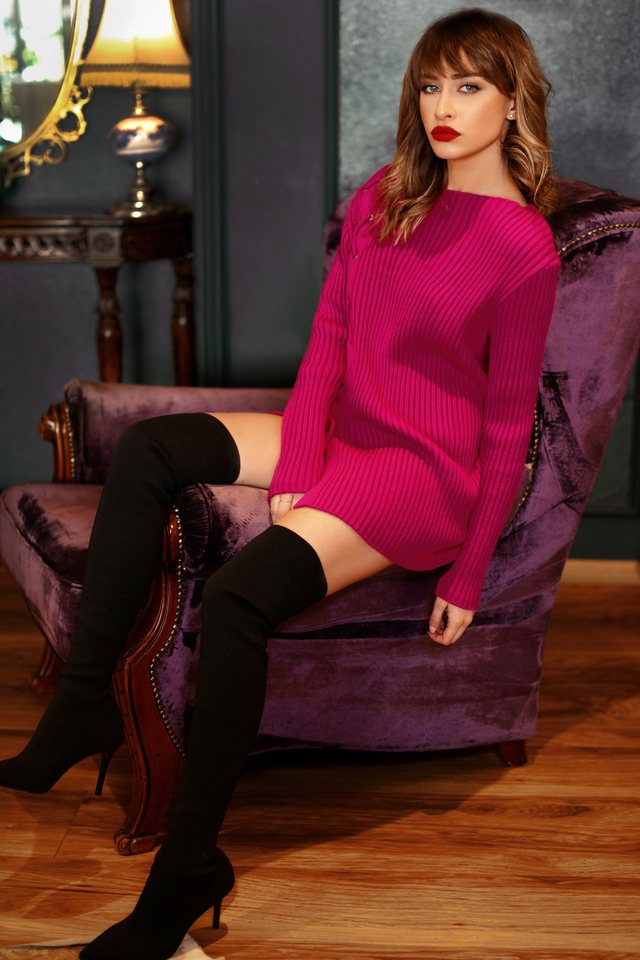 What are your passions, apart from the presentation?
-I always tried to concretize my passions, in schools, and then at work. I studied piano and chose to work on a radio that had direct contact with music. After her, I continued high communication studies and followed the road to television. I graduated in the Art Academy for filmmaking and I concretized this passion in the first documentary directed by "SHOTA", who represented me as a director in several festivals. Thereafter, I started to be interested in acting, not forgetting the reading that remains vital to me. I like cooking, sports and programmed travel.
An ordinary day of your life, how does it start and how does it end?
-I do not run and end with a laugh. My wake-up reports are always complex. I'm the man who has the alarm at 09:00 and wakes up at 10:00. Of course, in the interview I can also say that I wake up at 08:00, wash your eyes with pink petals and drink tea with the raised fifth finger, but that's not true. From there, everything starts with "Pop Culture", preparations for Friday's "The Voice Kids" and radio show, which closes my day regularly at 22:00.
We've seen your grandmother in Instagram, which has become a phenomenon. Coincidentally, she became famous in social networks or did she intend to do so?
"It was quite a coincidence, because my grandmother, I and my sister, always did videos that did not cross the threshold of our home. Ena has a rare energy and a surprising speed to give thoughts or feelings. Talking to a friend of mine what my grandmother had said that day, little of curiosity, little of my desire to know him all, he suggested I open an Instagram. Immediately he became viral and I'm pretty good about it because I think he represents almost all the Albanian grandmothers and their mentality.
What does Grandma think about the fame he has now?
"He does not fully understand why he does not believe that someone can become famous in the kitchen and Instagram." I feel heartbroken when I read messages saying: "Thank you for having it because it takes away my grandmother's merchandise that does not lives on ". He wants to meet one for one who writes and endlessly wondered when people know him on the road.
You also have a sister, Mikela, how is the relationship with her? Has she been supportive in your career?
Mikela is 5 years younger than me and at the same time, he draws me attention when I enthusiastically "foolishly". He is the most cautious man I know and with many feet on earth. He has not relied merely on my career, but has helped to create it. I've always been afraid she will not feel the pressure of her sister on the screen, but she is too smart to fall prey to that. Sometimes it seems to me that she was the big sister for me and not vice versa.
What should and should not have a boy to please Dojna?
-Take one mind once, that lately it seems that demand has dropped in the market. I need somebody who stimulates me, above all, but it must not be boring - from these guys to talk an hour for half a full glass and do not let them turn it down. I love garden kids, romantic and give a sense of protection. Also, I like to open the door of the car and the bottle of wine to say what the feminists want.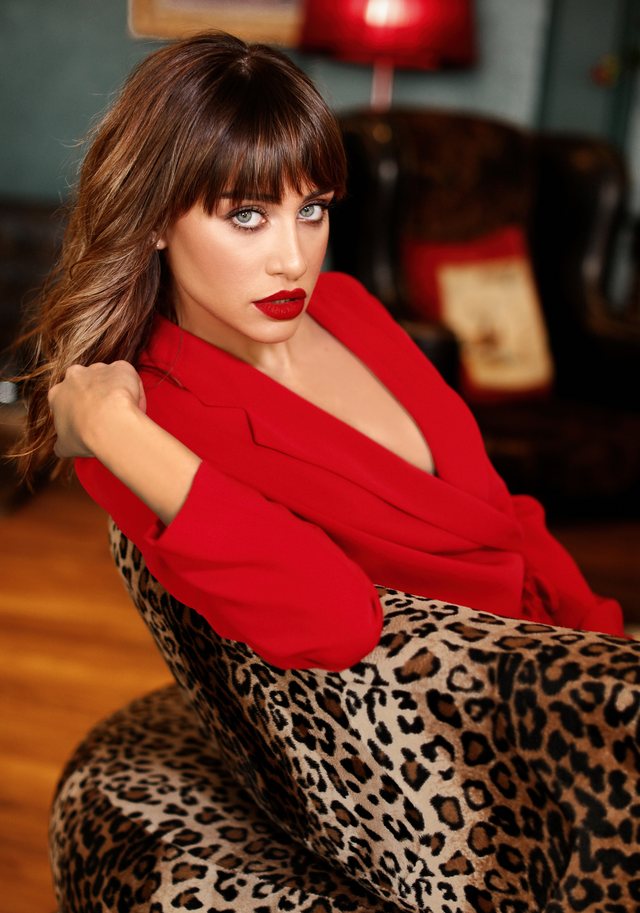 He dreams of being a mum with many children, or does he think it's enough?
- I want to be a mum with some kids, not a football team. Thinking, I would like to have three colpoops. I like girls and I think I would be a very good mother for them. Meanwhile, my always says to me, "What do I have for a forearm that you will only do chubby?" It remains to be seen, though it is still early.
What is your money relationship?
"I'm not jealous, let me go with whomever I want, but I can not get used to it" (laughs). I pay a lot, I'm chronically paralyzed. Depend on the tables when I like conversation and buy from clothes to fools I find in the supermarket.
Do you think you have the plus benefits of being famous in Albania?
- I never liked the fame and here I know you will say fairly: Why did you put on television ?! I was, and will be a radio station in the mentality. When the screen was proposed, I rejected the first moment but it was my curious nature that made me try. From that day, I realized that the power of the word, coupled with the image, sends you to another dimension of communication. Indeed, I think fame is the dark side when the screen makes it because YOU WANT IT. When I introduced Top Fest 12, I felt weird when people cried my name if they were on the road or when I was in the grass under my home, they would not let me pay. I hate to be watched out of the screen, so I needed a one-year break after "Top Fest 12". In Albania, there is not a "showbiz" system, we did a lot like the "on the screen" of the gold leaf coffee and we buy baguette in Paris, because this perception is turning dangerous for all the girls who write that they want to be part of the screen.
What will change in the world of television?
-Many! I would like to see more people who really love television, for the simple motive of loved ones what they do and not for "What do I get from fame". Truth in communication, truth in the image. Dreqi took, I love to see people create a wrinkle on their foreheads.
Who were the first celebrities to help you move on television?
There are several, so thank you for the first time I find the space to mention. I started on "Top Albania Radio" in 2012 when I was only 19 years old. At that time, radio executives wanted to make interviews on the field, meanwhile it was Olti Curri who asked for me to be part of the show in the studio. He was the first to hand me concretely.
Then, when I started to get better acquainted with my colleagues, everyone had their share. Jonida Aliçkolli, Eno Popi, Radio Art Director, Dorian Gjergji, and Elona Duro, who first entrusted my "My Music Chart" program to Digitalb. It was Elona who became, as it were, my first gang on the screen.
Ledion Liço was the one who believed in the most important contemporary music festival at the time, "Top Fest 12", the more so in the last edition and more emblematic. Fortunately, there have been many people who have trusted me and me have relied on every step.
But those who did not want to be here where are you today?
-To sound weird, but most of them no longer work on the top. Mom always showed me when I was little. "If you knock someone, he'll be back in some shape." I do not believe in such things, but I think there is a regulator between what she does and what she expects. I have never been avenged because I love myself so much that I do not charge him negatively. Apparently, it is the universe that follows his path.
You are among the most beautiful Albanian girls without plastic surgery. If it would change something in your outward appearance, what would it be?
"At first, I'll have to do an eye surgery, because people do not know, but I'm just as small as to look fuji without focus (laughs). As for plastic surgery, I once wanted to chest , but I am very happy that I did not, because today is among the parts that I like more than myself.
What is the most common compliment you get for your look?
The question is this? EYES! When I was 8 years old, I was much smaller than today and the chicks, let's say, were in a period of hormonal eruption and liked everything except the fine drops. At that time, they said, "Dojna, you have the most beautiful eyes in the world, but whatever you want, do not ... as it says ... in the back." Today I am very happy to continue to compliment me for the eyes (laughs).
How do you define your life with three words?
-Adventure.
-Emocion.
-Durim.