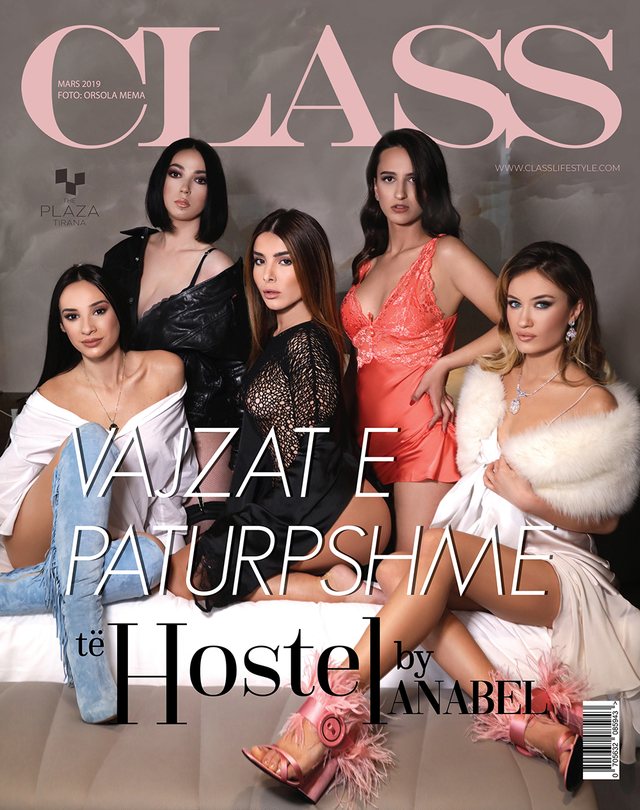 They are famous! For them, it is all over Tirana! And not by chance in this new status! Otherwise, we know them as the cool girls of Hostel by Anabel, the first virtual serial that comes to the Albanian audience in the most original form possible! Because in fact, they are the fifth ones, the protagonists themselves, who make this whole venture real. They do not wear "new" leather, though they have to fit the roles they appear in the audience's eye and that's their specialty. The 5 famous girls of Hostel by Anabel are themselves in every way they express, in every word they say, in every new situation they are part of, in every part they need to get in, and that is exactly the essence of all messages and stories that accompany people.
Fame has not alienated, although they openly admit that their new status has become the focus of attention. People talk and greet them in the street, do not wait in the queue, missions by unknown people are not lacking and this is a must! The flavor that has left fame is of a different kind, which makes it even more protagonist! As in these second series of Hostel by Anabel! The first online serial that delivers all the potential facilities of the world to see and enjoy! At livestream video.anabel.al every Tuesday at 9 pm, the five girls of the series are there to give you the everyday reality that "boils" in today's Tirana! Not in the perfect one we love or believe in living, but in that roaring capital where everything happens! # Love # Likes # Tirana is the real serial that it brings
all the nuances of interesting developments in the Albanian metropolis come here portrayed to the plotting of the famous girls: Megi Pojani, Dea Mishel Hoxha, Ana Haxhimali, Alberta Kamenica and Violeta Gjoleka. Web serial comes in episodic form, produced to be published on the Internet, as part of Anabel's media platform. al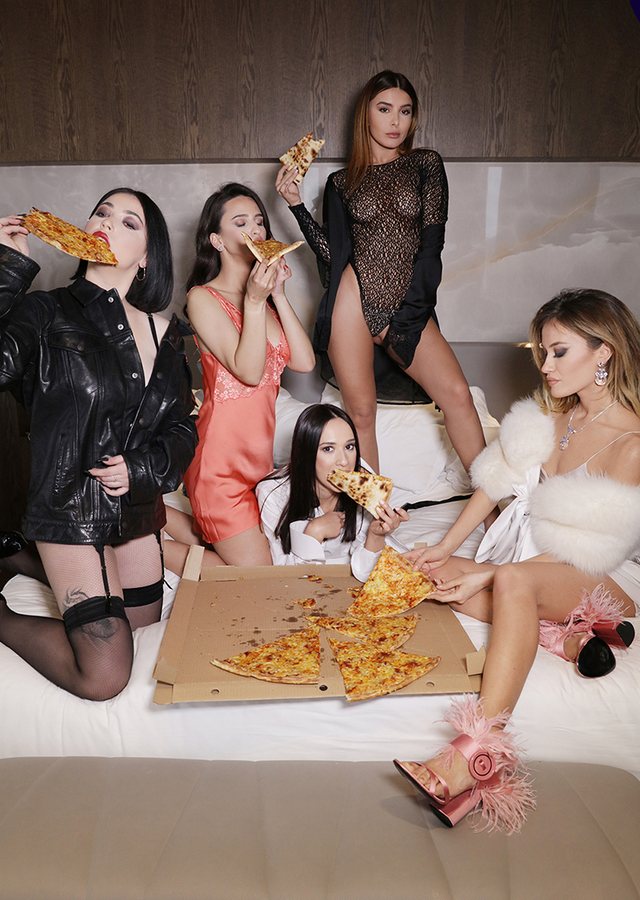 This giant online project could not be realized without the author and scriptwriters Dalina Buzi as well as director Endri Delisula! Dalina, a well-known name in Albanian journalism, which is a career in the print media and at the helm of Anabel's online magazine. al, put the "stamp" of success on such an enterprising business as the Hostel series by Anabel. The second run of the second season of the hostel resulted in success, while a further 17 series are expected to take place in the eyes of the massive audience, who is waiting for the episodic episodic episode of the series. Where are the girls today? What will they do? The message they will give? Will they make us laugh or the truth will hurt us in the marrow? For this mission are those five there ... to arrive completely original to each of you! So far, they have come out the best ....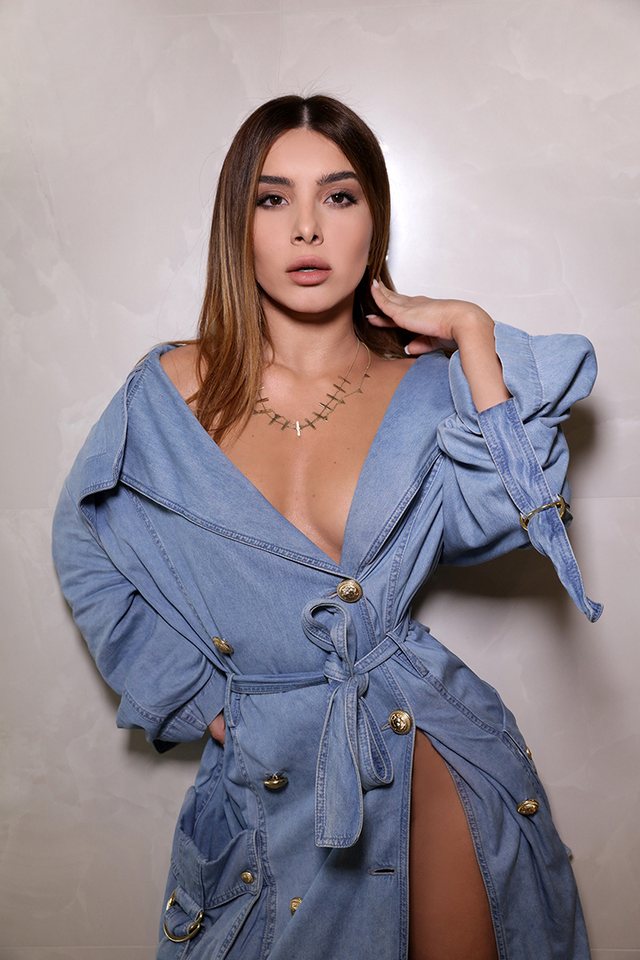 Megi Pojani
Megi, before you became famous, how was your life?
Now you want me to go back to the age of three, that when I entered the nursery I highlight my dive spirit and I was widely acquainted with the children's circle of crazy performances on belly dancing. However, referring to the time before the hostel, I attended high-level journalism studies and practically had a social life that has now died.
From the Hostel by Anabel series; let us understand that you are a brave, taboo girl, who says things a little bit without thinking about the world! Are you so in real life?
How often do I ask this question, so if I am so in real life I say to myself 'what terrible thing I said so badly'. It does not seem like I've said or did something extraordinary for the host, or any other public outlet, whether social networking, coming out of my UNI.
Megi better known or megi famous? The benefits you have received for the second status, that of being a public person?
I'm very 'obsessed' with my appearance. Even if I had a profile with 200 followers I would draw attention to where I enter, that I like to provoke, not in the banal sense of the word. But the fact that they now know me on the street makes people warm and with me everywhere J, I can get rid of them, and some of them in the institutions, but you did not hear that from me.
Regardless of what people say, something must be accepted: people talk about Megi Pojan as a phenomenon. What does this mean for you?
Maybe because nothing happens in Albania. If I were somewhere else, I would have to try to find out the phenomenal within me, but at least in my judgment all do the same. So if you go out to the club and eat in a good restaurant you are profiling in some way and you can not be carrogly, to eat with your hands or to catch something in your teeth and laugh at it. You can not dimension me as a girl. I'm unpredictable. And that is the thing that makes me more emotional in myself. I learn new things from Megat within me every day.
Are you trying to have a role model or are you just yourself?
I know it looks like a stench, and it says it's pathetic - my mom. She is ZONE and playing her maternal role that cares for ALL, allowed me to be this 'fun girl' you know - but civic. And thanks to her, I manage to be always standing on the ground, as you say, being a public figure phenomenon, my mom just "who you are, I've begotten you" means to say.
Megi, how are you dealing with men? In some of your publications on social networks, you said that it looks like men are afraid of you. Is this true?
I know what I want and I'm not afraid to say aloud to my expectations and expectations. Then men start self-filtrating. For some I may be 'very', others may not take it all to deal with me, there are those who like the challenges. I say, who teaches me the wires and knows how to manage the terrible trials I put forward is a great man!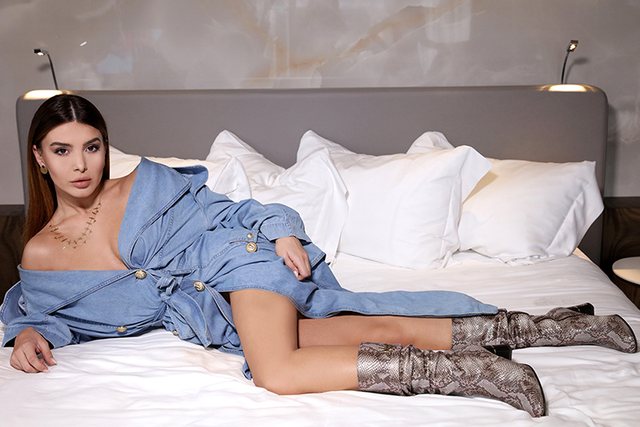 What can not stand in the males?
Inadequacy, lack of respect, when they tend to look forward to making you feel less of what you and yourselves are more than they are. As I summarize in a nutshell, the man of my dreams comes after me, I do not leave when I say go away, has his pride, but not excessive, so that he will not let me ride on the back when I turn away from time to time as if this is my world and he just lives in it.
You're Kim Kardashian in the outdoors, in the style of the dress. Do you like when compared to him and what do you think about Kim's phenomenon?
Kim is unprecedented. There is workmanship, an extraordinary smell of what people want, is correct and very polite. It's family and ... that's what chemistry once did not know. It turns out that at 5 am, training, eating and working, working, drinking no alcohol or cigar. She is 40 years old and looks star. My lips come to me when they tell me they are.
Do you think sex sells?
It is a fact that man responds 'strongly' to a sexual image. I do not believe that helps to sell something. Be careful how you approach. The customer is a man, initially likes it, but it is / happens to be smart, friendly and does not like to be manipulated. It's a game and should not lose interest.
When you are not at work and in the movie shooting, how is your usual day?
With my sisters! As shallow as it sounds, we can fix it, adjust it, eat a good brunch or good lunch, and if we do well pictures for Instagram, it's called a successful day!
How much money do you have in your life?
Money does not enter into the most valuable things for me that I have been formed, but it is of some importance. Blessed is the one who uses it as a tool. It could be paper and coins as we have it, it could be skinny, it could be a mirror. I count things in my life with spiritual value, if they do not fulfill me in that respect, there is no money they can fix.
Three things to love you to be happy?
Love, passion, adventure. You will kill me, I dare to live every day alike, and I will strike like a zymbyl.
The ideal husband for you from which country of the world should come? Or would you prefer from another planet?
My husband will be Albanian that my mouth is not filled with expressing love or exploding in hysteria in another language. Suffice to meet the criteria mentioned above.
Are you drinking alcohol?
Only when I go out to dinner. If you do me three cups and finish almost always ... you will never learn.
Your favorite movie?
The emperor's madness. They come to Disney products.
Your favorite childhood game?
I did not have childhood like all the other kids playing with a pet ... petka, I do not know what's called. But I know that I worship to jump out of the wall and get caught in difficult terrain.
The first person you call just opens your eyes in the morning?
My mom, my love.
Last message you sent last night?
Two hearts. I'm in love at the end of the day!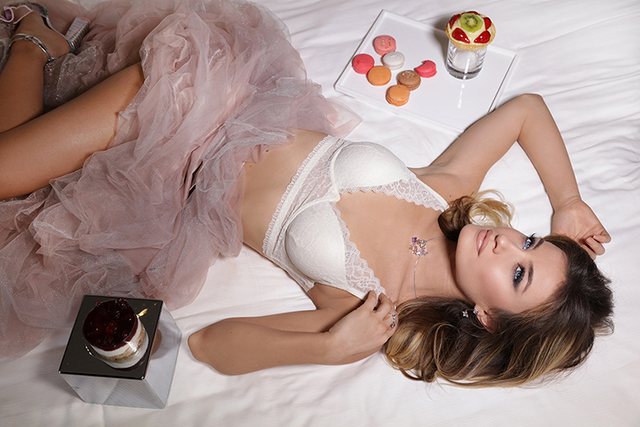 Dea Mishel Hoxha
Goddess, we know you through the series "Hostel by Anabel," but you do not know much about your life before you get involved in this series. Tell us a bit more about Dean we do not know ...
In every part of the hostel apart from the last part, we are in our character. So who knows me know enough enough I think. Before the hostel I believed I was alike, the only thing that has changed is that I've grown a bit, I learned new things and I'm a bit more familiar to people. Then I went to school, made video tutorials with make up and worked as beauty editor in Anabel.
From social networks, we have realized that the youngest member of your family is a small cat, which I do not disappoint and found in the street ... So much do you like animals?
Among my first childhood memories are the moments when my dad helped the injured or weaker animals we found on the street. I helped many animals, some I got, and then gave them for adoption, I decided to keep the cat. He quickly fit home, stole our hearts. Do not buy, adopt :)
Your greatest passion for the moment, what is it?
I have many passions, I am still creating myself. I do not know what happens to me but I have never been doing just one thing, always 2 or 3 or 4 ...
You graduated in architecture. Do you think that one day you will be locked up in an office by sketching important architectural projects or is it not work for you?
I'm not devoted to anything if I do not want it. The school of architecture lasts for 5 years and has a lot of workload. There can not be something that is done simply to have a degree. As I went to the end, it means that I like a lot of work and it comes naturally to me from everything I do. I do not know whether I would have had the same patience for something else, usually a year of long lasting pleasure, then I want change.
Meanwhile, you have another well-known hobby through various postings and videos: grim and make up video tutorials in general. You always do your own grimace?
Yes, very few times I have been teasing others and I always end up doing some touching myself. Sometimes I get angry :(
What do you like the most from the firing process?
I glam or glue at all. I like all the transformation I make to my face, I feel like a young man every time. I just miss some wigs and passports with other names.
What is the most important advice you will give all girls about skin care and make-up in general?
Skin radiates when focusing on your own life and not on others. Also do not sacrifice with makeup and always use moisturizing cream and spf.
Goddamn, are you happy at this stage of your life?
Yes, I'm doing the job I like, I'm surrounded by good people and the people I love have happiness and happiness.
What does it mean for you to have it all in life?
If I knew, I would have it now.
Are you well geared to your role in this series, but also to other girls in the hostel?
In every part we are in our character. Not only are I gearing up with girls, but I am very happy to have known and work with them.
Is there only work or friendship between you and the fifth?
We spent a lot of time with each other, it would be impossible to have only working relationships. I learned from each and despite being different we go very well.
What is the most beautiful thing that has happened to you in life?
The most beautiful days I remember are the days when my family has been added with new members, brother, small cousins. I am grateful for every new beautiful day I live, so if I started with other events I would never end.
What do you regret most often?
When I was 12, reading the Triumphal Arch from Remarque, the only thing I set in mind was:
"Repentance is the most worthless thing in the world." Since then I have become a lifestyle, I do not look back, I do not regret.
The last trip you did?
In January I visited Korca, Voskopoja and Dardha.
Vanity kit without whom you never travel?
I get a suitcase only for makeup and hair products when I travel.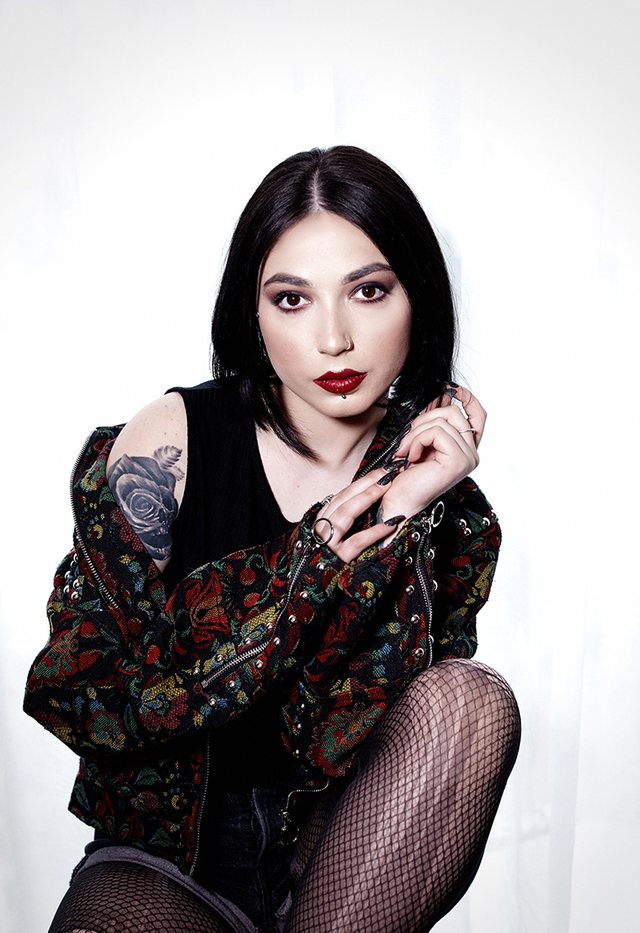 Ana Haxhimali
How many tattoos do you have in the body?
In my body I have six tattoos. Perhaps it seems to me that much because of the large size, but there are only six made in a four-year period. Not many or not?
Why do you think a girl is beautiful with large tattoos visible in different parts of the body?
I think a girl is beautiful anyway, tattoos are part of my individual style. I never thought of doing one to be nice, I did, and I think I will continue to do tattoos just because I like them and I feel good about them.
Do each of them have a special meaning? Who are you most affectionate?
Of course, each of the tattoos I have has a special meaning for me, while the one I'm most fond of is an Old School style horseshoe on the inside of the arm. The horseshoe of the horse is considered faded and I am quite superstitious when it comes to tattoos and their meanings.
Ana, let's admit that you have a little "gothic" style and that makes it a bit different to other girls, I think. Are you daring in nature?
The style is very personal but does not define my character. The fact that I have only black garments in the wardrobe does not make me bold anymore, on the contrary. I myself would describe myself more like a girl who, clothed in black, hides her uncertainties.
Count three things you can not do every day of your life ...
I am not in a nature related to material things, so I'm listing my family, friends, and the work I do.
What inspires you the most?
The job I do is what inspires me. When I recall what I have to be motivated to get up from bed even in those gloomy days when the desire to do things is lacking.
"Hostel by Anabel" was a find or breakthrough in your life?
It was a lot of both. Something I dreamed of and found it helped me discover myself.
How is your life after fame? Recognize on the street, speak unfamiliar, send invitations to friends on social networks?
My life continues to be the same and I'm happy about it. Of course in the street I happen to meet people who know me, while on social networks receive messages from followers who appreciate me. I'm enjoying it, but at the same time this recognition makes me look very caring about how I stand up on the screen, but outside.
How do you actually report to virtual life? Are you addicted or normal?
I think we've all become less addicted to virtual life. I certainly did not escape this addiction, but every day I try to offer more of my time to real reports. I want to meet people, look at them when I talk and not hide the situation that gives me a talk after some "hahahaha" or after some emoji.
A hidden talent of yours is that you know how to dance a lot of folk dance. How did you do that?
Since the age of 6 I have been performing in folk dance and dance. For a period of three years I was part of the "Ensemble Tirana". Jumping is a passion of my big, perhaps the greatest. I danced that little with the dream of becoming a professional ballerina, the dream dream come true and now I say that I'm glad I did not become a ballerina.
She sees many movies? What is the most beautiful film of all time for you?
I recently started to see many movies, before I was much more fond of books. My favorite movie is "Shaissian Redemption". I can see it 100 times and still fascinate as if I first saw it. "Get busy or dying" is for me one of the most beautiful expressions, I try to think of as the motto of my life.
Your favorite music?
I can not say that I prefer a specific musical genre. I hear rock music with the same pleasure as I can hear folk music, techno music or "4 seasons" by Vivaldi. Strangely enough!
Do you like having fun at the club of Tirana? Are you leaving every day of the week or just on weekends?
I like to have fun, why not in the clubs. How many times I can and I always try to find time for clubing. Weekend or not, for me it is not important, enough to be surrounded by the people I want and everything is fine.
Have you planned summer holidays this year? Where do you think you will go with and with whom?
I am very enthusiastic about going to summer! This year, together with my friends, we have planned to go on a "Road Trip" across the Balkans. I think they are going to be very active holidays ...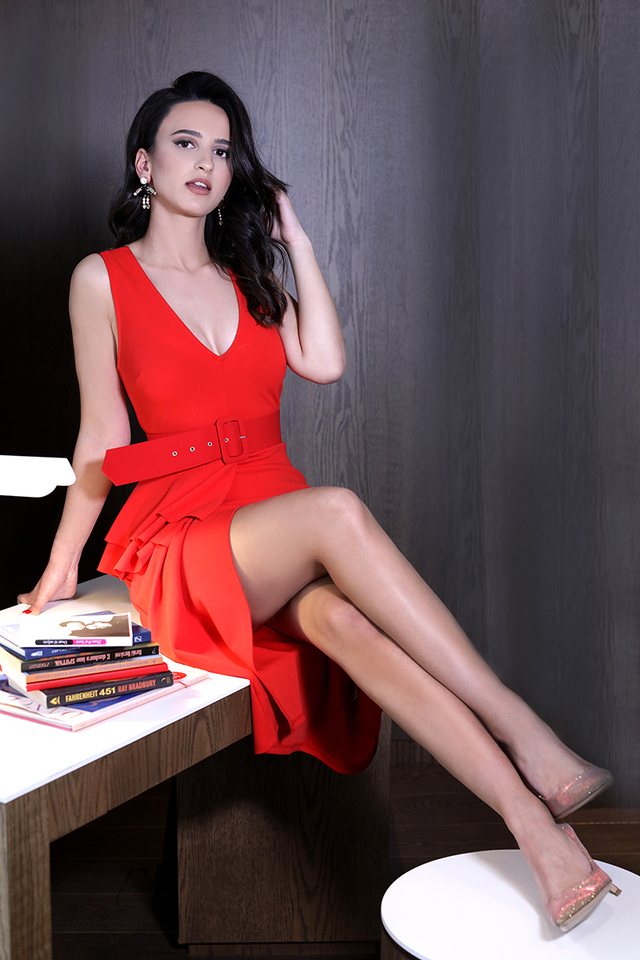 Alberta Kamenica
From the faculty of Economics to the shooting scenes of "Hostel by Anabel". How did you find this serial?
I believe I was in the right place at the right time. One year ago in Anabel and Dalina I proposed the idea of a series that went through its stages and appeared to the public as "Hostel by Anabel." I said "yes" no matter what. Until the first day of shooting, I refused to take photos of others, not to go out to cameras for a production of this nature. I grew up a lot, I bragged, I learned a lot. Things followed each other, and this year, instead of the skits that closed every host episode, Dalina wrote "#Love #Likes #Tirana" and took me into account for the role of Iris.
Have you ever thought that something like that would happen to you in life? (so it was part of a serial movie)
No never. I thought of myself in every kind of work, doctors, police, writers, translators, pharmacists, economists, only actresses. I was inspired by the professions that had the characters of the series I watched, but to my surprise, their real profession, actress, did not intend to me.
Alberta, what were the movies with which you grew up?
Movies just remember Shrek 2 and Monsters Inc, because apparently, now that I make accounts, I've been given more movies than the movies. I looked at each series that was broadcast on the TV until the day we got home at home and started selecting what to look for. Dr. House, CSI: NY, Breaking Bad, Sherlock's first seasons, these remind me.
If one day you would make a movie about your life, how would it be called?
Oh, you know. I would delay the answer to this question for months if I tried to find a title.
Are the books you read more when you were a kid?
My first books were all of Gaqo Bushaka. After him started my long-standing relationship with Harry Potter. I took one or the other seven volumes to the ward library, read it, and when I finished, I started again from the first. Then I bought them all and I followed them and several times the same cycle. I've been extravagant, I know. Remember, of course, some of the books of Victor Canosinaj and "The Nirup and the Book of Shadows," which I have just read once and vividly remember the feelings that caused me. In adolescence I began to argue with Sartre, Murakami, Sugar and Remark.
Imagination from reality, what do you think it recognizes?
Perception. When they all perceive it is reality. When you only perceive it, it is imagination.
Are you the type of girl standing on the ground or that inconsequential dreamer?
For myself I would say I'm standing on the ground. I like things planned, well-thought, clear. Spontaneity is not my best friend. Anyway, someone near me has pointed out to me several times that he sets himself goals perhaps more optimistic than it should be. So, a bit of both.
If it had only been left on a desolate island, the first thought that would come to my mind what is it?
"I hope Mom does not leave Sharlin out!"
The last trip you did?
Tushemisht, Past Christmas.
Was it accompanied or alone?
I was with the family.
What makes you laugh always?
Joey, my sister. We have a fantastic chemistry together. We're always moody, that's no wonder considering I'm Sagittarius, and that Dash.
Something that never misses in your bag?
A handful of old bills and completely unnecessary.
Who has the greatest impact on your life or what you do?
No one except me. I decide to do something if it increases, makes me feel embarrassed and improves me.
What is your biggest phobia?
The only real phobia I have is on surfaces with petty and frequent holes. It's called trypophobia.
What is your biggest ambition?
Ah, I would like to one day create the opportunity and open the door to others, just as it happened to me.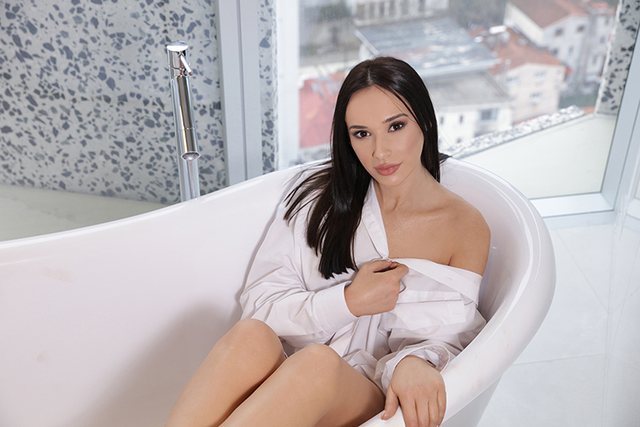 Violeta Gjoleka
How did you become part of "Hostel by Anabel"? Did you notice earlier that you would be part of such a series?
In fact, I have become very casually part of the Hostel. One day I was wearing my clothes when Dalina picked me in the phone and asked me simply if I wanted to be part of a show he was planning to do and I said yes to the endlessness without thinking at all and without knowing any details.
Viola, how do you relate to the other four girls in the hostel? After you finish filming, go out for dinner or for a glass?
We go very well with each other and we never had problems. We are all very different from each other, but this has not prevented us from being friends as well. Before we started the hostel we worked all at Anabel's offices besides me working in Via Anabel and you trust me when we say we are a very good team that we go very well support each other and get the best of each other especially in job functions. As far as we go out to eat or drink after filming, believe me we just want to sleep.
The strangest thing that happened to you during the first and second episode of "Hostel by Anabel"?
Hostel by Anabel looks very fun in the eyes of people and I am very happy that people have been very welcome. As for strange things I do not remember anything but there have been many gallata and stories to laugh back.
Do you have something to say loudly about yourself and let everyone know about it?
I'm a very open and social person, but I do not like to scream for myself.
Viola in the film and Viola in life, the similarities and differences between the two?
Viola in the serial is a very sincere, tactless girl in the good sense of the word, entertainment, in her world and often far from reality until she really begins to realize that something very important was happening to her life anyway this remains to be seen! While Viola in fact is deeply like a bit with Viola's serial, but much mature and closer to the reality and the things that take place.
You have studied finance, but have you practiced this profession some day? You see it as the solution to the future?
I work in Via Anabel as a sales manager and this makes me closer to the school I'm finished. Finance was not what I wanted to do, but what my mom wanted to do. Anyway, I would never do anything in vain. Finance is nice, but I will never be a real economist, but in another area of finance like management and marketing, definitely.
Do you think that fame changes man?
I do not think fame changes man. It is true that you are beginning to recognize people and to know new people that you are again the same person at the end of the day with the people you are near.
Three words, how would you describe yourself?
I am a simple, working and very loving girl. It is very difficult to describe yourself.
The characteristic feature that you think is convincingly different from the other four girls in the hostel?
But we all have our own special features which, when they join, make the beautiful hostel. Ahh yeah, voice.
What can you forgive more happiness?
The presence of people I love.
Your biggest strength?
My greatest strength and example is Mom.
Your biggest fear?
Let me not have the people I love. I know I'm very sensitive!
Credits:
Location: Plaza Hotel
Wardrobe: Via Anabel
MUA: Class Studio AV
Designer: Xhesika Berisha