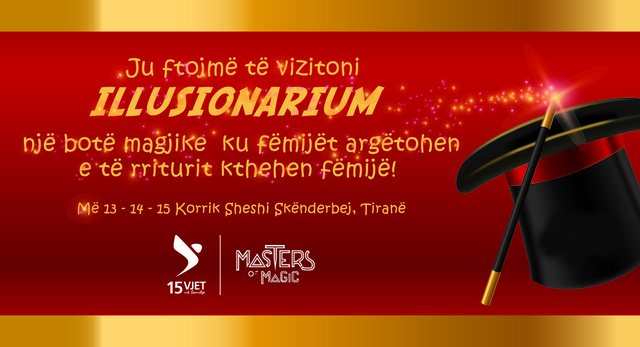 Digitalb birthday party becomes even more beautiful with the Illusionarium Museum on 13-14-15 July at Skanderbeg Square, a fun for the whole family.
The largest collection of optical illusions through which spectacularly reveal the secrets of the human brain.
Are there scientific principles that support optical illusions?
Reality is exactly what we see?
On this journey into the world of perceptions, children and adults will directly experience the surprises our mind offers, how our brain processes what the eye sees and sometimes lies.
https://www.youtube.com/watch?v=-sjfPwgA5pc&feature=youtu.be
An interactive museum that accompanies us in the virtual world populated by subjects that do not exist, faces that hide other faces, projects that seem to have been accomplished by drunken architects, statues that rotate like to follow our journey, drawings that seem to be .
♦♦♦
A unique experience in the world of perceptions where adults and children will have fun among the most beautiful optical illusions ever experienced.
But Illuzionarium is not just amazement and fun, but it also has many sciences in itself; only through the knowledge of the laws of science can be realized fantastic illusions.
Digitalb awaits you with one of the many gifts and superstitions to be enjoyed in Skanderbeg Square from the morning of the 13th and 14th and 15th of July.