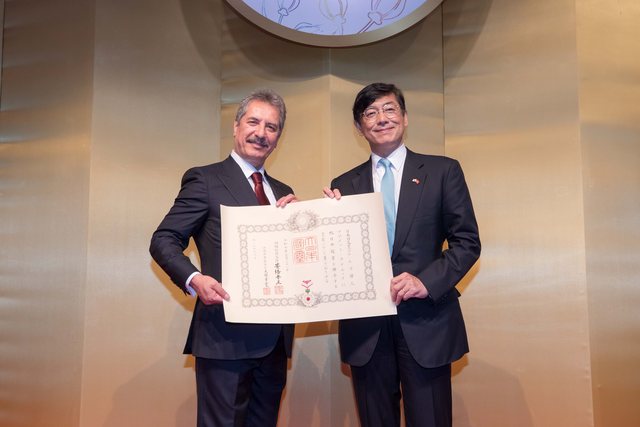 Ahmet Çal?k, chairman of the board of Çal?k Holding, was honored with the Sunrise Order for making valuable contributions to strengthening the economic relationship between Turkey and Japan. The decoration took place during a ceremony organized on behalf of His Majesty the Emperor of Japan. The Gold Medal is the third highest order donated by the Japanese government, as well as the highest order usually donated.
In his address, Ambassador Miyajima, as a representative of the Japanese government, praised Ahmet Çal?k's courage as a successful businessman, underscoring the great honor and happiness of being awarded the Imperial Prize.
On the other hand, the Chairman of the Board of Çal?k Holding, Ahmet Çal?k, said that this award was the result of more than 30 years of cooperation with the Japanese.
?I have to be honest that as I become more and more familiar with the Japanese culture and business world, which is based on knowledge, discipline, integrity and mutual respect; My love, respect and admiration for this country and its people is growing. Undoubtedly, my Japanese friends with whom we cooperate have greatly contributed to the award of this prestigious Order. This award is in fact an indicator of the success of the Turkish-Japanese cooperation that we have achieved in various countries around the world. I would like to emphasize once again that, as has so far, I will make every effort to further improve the economic, social and cultural relations between these two friendly nations, which, although located on both ends of Asia and geographically distant from they are very close to each other in terms of cultures. "
Mr. Çal?k also added in his address: "I would like to once again express my heartfelt gratitude to His Majesty, the Emperor of Japan, to all my Japanese friends, especially to the Ambassador, His Excellency Akio Miyajima, to his colleagues and my family, who have contributed to the delivery of this Order. "