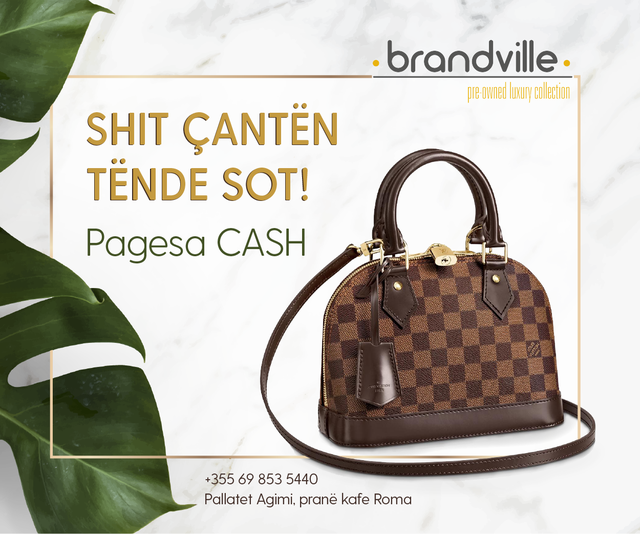 For various reasons, people decide to sell their luxury bags: You don't like the model anymore, they want to finance the purchase of a new bag, or simply because they need money. It doesn't matter the reason you might have it: if you want to sell your purse and get cash right away: there is only one place in Tirana that allows this. Remember this name well: Brandville .
For 6 months, this popular brand store has managed to operate confidently in the market, quickly returning to the ideal place where you can sell and buy luxury bags. However, what are the advantages of Brandville and why should you sell your items to this new business?
-The main advantage that Brandville has, compared to competitors, is that they make cash purchases at the moment. Yes, but you do not have to wait 1 or 2 months to get your money back. Brandville pays immediately as much as others pay after selling the bag.
Another advantage of Brandville is that they also enable you to sell brands at a very high level, such as Hermes, Chanel or other firms of the same level, something that our observation is currently not being accessed by other market operators. .
If you have doubts about the authenticity of the bags, Brandville works professionally. Every item purchased is passed on by trained authentication experts, as well as a foreign company, lolipuff.com. Brandville prepares for customers authenticity certificates for each product. This certificate is recognized by everyone and can be easily verified by calling the company.

How does product sales work in Brandville? It's quite easy:
If you are interested in selling your bag in Brandville, you should simply send a photo of your product to Whatsapp +355 69 853 5440, or on the Instagram page: brandville.al .
The Brandville team gives a preliminary estimate of the cash purchase of the bag based on the photos the customer sent. If the customer agrees to the offer, then he / she must bring the bag to the store, where the condition and authenticity are reviewed (the process takes up to 24 hours). If everything is confirmed, then the customer can withdraw the payment at any time.
At Brandville, you can not only sell your products, but also buy luxury bags. Everyone may want to buy a Louis Vuitton, Gucci, Chanel, Hermes bag, but their prices are a bit expensive. At Brandville, you can buy the bag you so love with a 60-70% off retail price. Is it great or not?
View this post on Instagram
You can easily find Brandville in the capital, at the Agimi Palaces, near the "Roma" cafe, or you can call: +355 69 853 5440.
Another way of communicating is through Instagram: brandville.al.
View this post on Instagram
What are you waiting for? Why not turn your CASH wardrobe into a "wardrobe" in CASH?