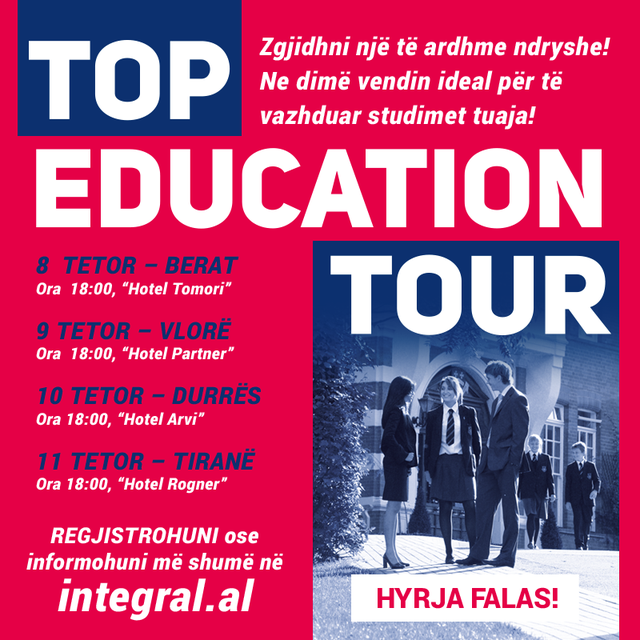 School is one of the most important factors in personality formation. There the children spend most of the day there offering behavioral patterns, cultural values and the knowledge they need for their future lives and work.
TOP EDUCATION TOUR helps you by bringing some of the best English and European educational institutions to your city. You will have the opportunity to meet closely with the representatives of these schools and be informed of any questions you may have.
These events are organized by Integral Educational Programs with 27 years of experience in the field of education consultancy abroad. Present for 8 years also in Albania Integral comes closer to Albanian students and students with a professional and qualified staff in the field of education.
At Integral you will find a wealth of options and assistance in applying for summer camps, high schools, colleges, universities and postgraduate studies in various European countries, the UK, USA, Canada, etc.
Top Educational Tour will include institutions such as: Coventry University, EU Business School, Academic Summer, Bucskmore Education, D'Overbroeck's Oxford, Oxford Sixth Form College, Chelsea Independent College, Oxford International College and Kensington Park School.
Take advantage of the opportunity to study in the most prestigious schools, with a dedicated student teaching to achieve the highest TV results.
By starting your studies at these schools you take the first and safe steps towards a great career.
We are looking forward to your city event! Free Attendance!
Sign up here at the link (https://integral.al/top_education_tour_2019) and save your place at the event!
8 October -Berat / 9 October -Vlorë / 10 October -Durres / 11 October -Tirana
"Hotel Tomori" "Hotel Partner" "Hotel Arvi" "Hotel Rogner"
Web: www.integral.al
Tel: +355 422 52 065
Address : Rr. Ibrahim Rugova, Nd. 46, H. 4, Ap. 5 Tirane
Facebook: Integral Education Software
Instagram: integral.albania