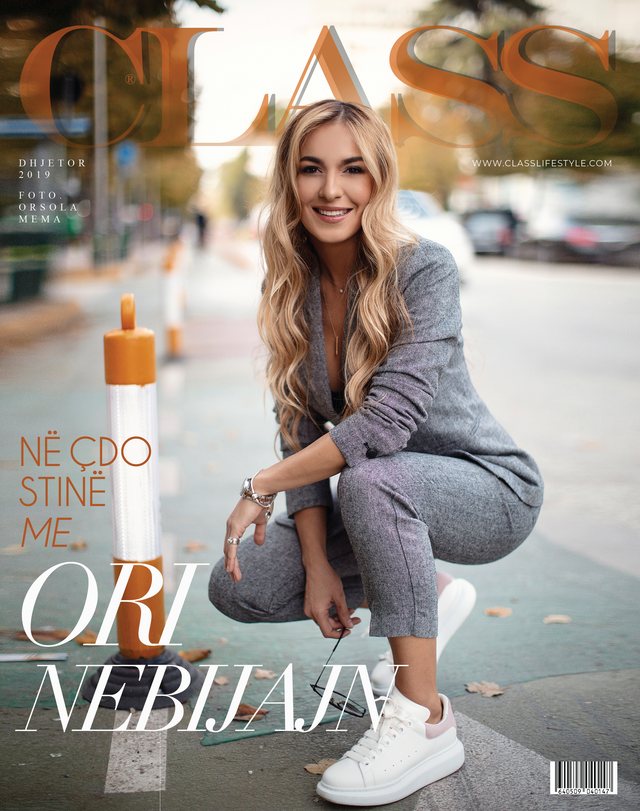 On one of those last days of spring, when the first thing that comes to mind is the holidays, it's no surprise to encounter the same character on screen again to alert you that she will accompany you again during the hot season. Even in the summer? Yes, even in summer! Even after the summer, even. Even in winter ... Yes, every season with Orin on screen.
However, as the seasons leave room for one another, television programs for each other, formats as well, Ori does not appear to be the same, on the contrary. Fits the program that runs with all its energy and dynamics, dives into the sea tens of meters deep, swims like a champion swimmer, wakes up at 4am to accompany a sheep shepherd south of the country, cooks and talks with each guest as if he had a lifelong friend and makes him discover everything previously unseen in public.
So we never get bored of her on-screen presence, on the contrary. Ori has the ability to make everyone follow her, never getting bored with the public, even because the formats she directs have different audiences. In the morning, there are other viewers who see and start the day with him. In "Vacations on Top", the atmosphere becomes more summery, while for "Orange Secrets" it is always interesting to know what happens in the stage of the humorous spectacle (unexpected situations where not everything goes according to the scenario). So Ori is "different" in all three formats she runs, so she may not be monotonous at all.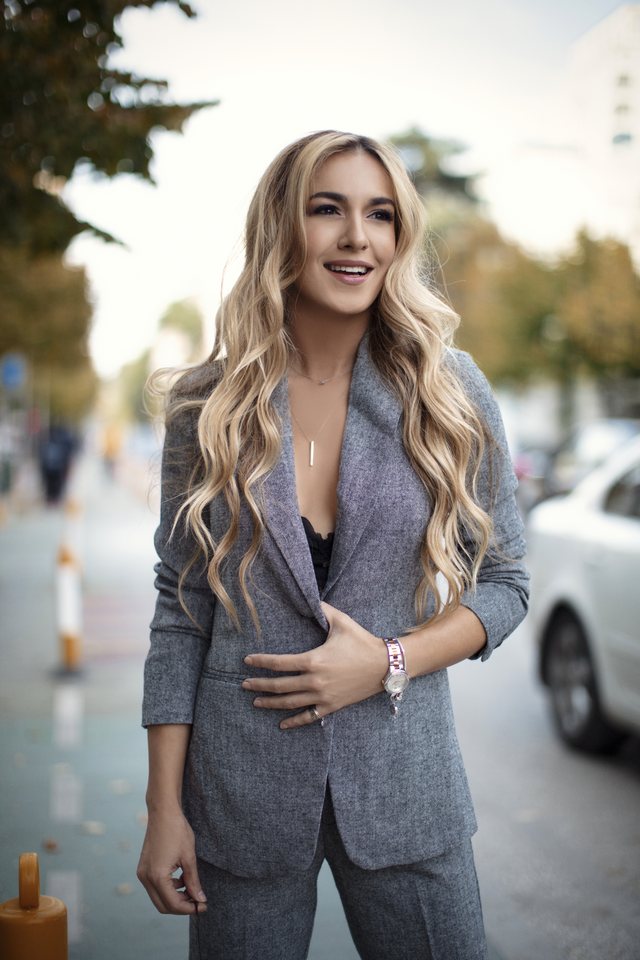 Being on screen every season, in fact, is not an easy task. For Ori, it is "rewarding" to be completely unattached from work, but in the end she is very pleased to see that the result of her work is the one she has loved. There is always room for improvement, says Ori in this interview for Class magazine, but this year we are leaving behind it has been quite successful for her. Twelve months into his career, Ori is now proud of what he has accomplished, but also of what he expects in 2020.
Leaving aside a career to devote himself to a more private profile of Ori, there is much to talk about here. Ori is always smiling at the screen, but we don't know how her life goes when the camera lights go off, because she seems to be careful enough to keep her privacy intact and will probably do so for as long as possible. life on screen. But Ori says one thing for sure - her partner won't be in the media field, because otherwise she wouldn't leave her job at home.
He has clear ideas. About her career, personal life, relationships with colleagues, anything you may not have heard on screen, you can read in this exclusive interview and you'll find that Ori has a lot to say.
This year you have presented three shows "Wake UP", "Vacations on Top" and "Secrets of Orange", which is the show that finds itself most?
- No discussion, "Wake Up". That's where everything started for me. I hadn't thought of a comeback on TV, it was the morning on Top Channel that made me rethink it. Everything went well, my experience with the new circumstances in Top made the executives entrust me with new challenges like "Vacations On Top" and "Secrets of Orange". There are three completely different formats of each other. I was moderately eager and contented, although it was a challenging season, because I was practically obliged to be at work from breakfast to dinner every day for 12 months. . It wasn't easy, but I'm excited about the results.
We are in the last month of the year, how will you define this year professionally?
- One of the best years without question. "Wake Up" continues to be the favorite morning of viewers, who are increasingly embracing the new and fresh format and spirit that Isley and I have rarely brought to the program. "Vacations On Top", even with its second successful season, convinced me that the public immediately embraces formats that have air, adrenaline and dignified content. I was starting to think differently, in fact, about what happens in the media. "The Secrets" , a love of its own, was a special experience with the characters and actors of Orange. I would say one of the absolute best seasons I've had and I say this with conviction, as fatigue is quickly forgotten when the public appreciates and expresses sympathy for the work done. I am happy for this.
How difficult is it to wake up early in the morning?
- Ah, this will be equally difficult, always. You just think that this is the working hours of every whim that comes from sleeping immediately. I believe this is what happens to everyone. We start early, but with pleasure and adrenaline we work in parallel with the drowsiness of every day. Wake Up is a completely different experience.
Ever happened to not hear the alarm and not wake up for work?
- Yes. I even showed it live when it happened. As much as colleagues are always laughing at the sportsmanship with which I tell what happened. I hate lies and excuses. I don't know how to do it, even when I'm live on broadcast. Phone alarms have been such a case, one of those nights when the phone updates, and I fall asleep at 7, even without an alarm, but that's a big delay in my work. The whole of Albania sees it.
A partner like Isley in the program, what are the drawbacks?
- Isli has no flaws as a colleague, no flaws as a professional, his media experience is over 11 years. Always careful and accurate. A fantastic guy, to become a friend immediately.
You look really good friends, is any other character on Top competing with Islin? So do you have anyone closest to Islin on Top Channel?
-As one more, it's Isli ... lots of empty seats, and then everyone else. As I said, he is not just a colleague but one of those friends who rarely come to life.
From the screen on the "Vacation on Top" show, the idea was to really enjoy this program. Is our perception true?
-As long as I did it for two seasons, it means I've enjoyed it too. "Vacation On Top" is a summer format, short but extremely engaging. 40 days on air, every day, 60 minutes, to get the quality we wanted from the beginning and that we had a lot of work to do, is challenging. Work does not stop, from breakfast to dinner, every day. No time for family, privacy, fun and rest. It's just work. But when it does, true love begins, as it experiences the tremendous support that the public gives to that format. These are irreplaceable moments.
Got to discover any Orange secrets you haven't told on screen?
- (laughs). Of course secrets also produce secrets. There have been times when actors have narrated moments that have not come out. This makes the format even more interesting. The big secret is that the program is done in record time with the maximum collaboration of all production.
In all three formats you have different outfits: in the morning you have more sporty or serious shirts, but it is about simplicity. In "Vacations on Top", of course summer attire, while in "Secrets of Orange" you have a more elegant wardrobe. What is your style?
-I am all three of you. It's the style I've had and have but adapted to the circumstance or situation I'm in. I always strive to have the right outfit, which gives me the opportunity to be comfortable, simple, elegant, but also attractive where appropriate. I never like to overdo it especially in clothing.
What is the character you invited to the show and haven't come to yet?
There has not been one yet. Hope it doesn't. Or hope there is a strong reason if it doesn't come, otherwise I don't forget (laughs).
Are there any characters you have invited and repented?
-There are many characters who are in the media every day but say nothing. Characters without experiences, without confessions, who need to ask the questions in advance in order to memorize their answers. Be it for personal matters. I don't understand what the public likes about them, but I understand being public for some time. After all, in this small country, it makes no big difference.
Between Isl and Flor, who would you choose?
-In fact, I wouldn't even consider it a question. It is clear I believe so far, Islin.
If you had to choose between the 3 shows you run, what would be your choice?
- The first love is "Wake Up". But "Vacations on Top" has also given me many opportunities to show off my sporting side that few knew. But anyway, "Wake Up" remains my pillar.
What is the format of the show you will never direct?
- Sports formats. I was proposed and it was the only refusal I made.
Who is the best moderator in Albania (besides you of course)?
- I don't consider myself the best moderator, in fact. I have a lot of work to do. No name comes to mind that deserves the best title. I'm really sorry about that fact, but now that I think about it I'm really sorry that in no area do we have a value system as a measure of one's success. Probably, because in most cases success is fabricated and not deserved. Arbana and Alketa are the most "senior" in the profession and I believe they hold this title because of the experience they have gained over the years.
You're airtight in personal life, is Ori in love?
-I am not airtight, but it is more beautiful and tastes great when the personal remains private.I believe so every individual in this world feels, but certainly understand the interest of everyone to know more, to dig more about the private life of someone. Although today, in the age of social networking, little remains private. I choose what I make public, and it will always remain so.
Would you like a partner to be part of the media?
- JOOOO. Cut and convinced of this. Otherwise, work at home would be indivisible and all talk would revolve around it.
What can't men endure?
- There's nothing I can say with conviction that I can't stand it. But I say what I would notice to a male: Purity, if not detailed in every detail, is a problem. When they see manhood in violence, both verbal and physical, and arrogance. There were three. I believe they are enough.
Do you consider yourself a mother of many children or 1 is enough?
- At first one, but I don't know how I will think after a few years. I have two granddaughters who I love very much and have a very special connection with. We spend a lot of time together and I would like this to always be the case. But when making plans for children, I think this is not a decision I make, and my partner has his part in this decision making.
Plans for marriage close or long?
- Have time...
Your hair (are love at first sight), tells us what makes you so beautiful ...
- This is the question that annoys me every day. It makes me very happy, but I'm also careful not to become abusive to the expectations that girls can create. There is no miraculous product. There are constant treatments and care in every product that is placed on the hair. I have been caring for almost 5 years. I don't change shampoos often, this is a gimmick. Rarely even. So think carefully before deciding on your shampoo brand.
At home, what treatments do you do for your hair and face?
- Occasionally, sleep with my hair mask and rinse them off in the morning. Sometimes I mix any vegetable oil I have at home, such as linseed, argan, avocado, coconut, olive oil, etc. I keep it in my hair long and then wash it several times to finish with the balm. My favorite is argan oil.
In these times we are living it is very difficult for screen girls not to be tempted to perform plastic surgeries. How did you manage to stay natural?
- Thankfully, staying natural does not require you to give it to you free of charge. Other temptations have my temptations :)
If there was something you would adjust to your appearance, what would it be?
- I am in favor of any regulation, not transformation. As a child, I complained to my father that I had taken the most unethical features from him; nose and ears for example. I am uncertain whether one day I will decide to improve either one.
The most frequent compliment you receive for the exterior?
- Eyes, smile and legs. Each with its own complimentary etalons.
You have a very unique style in dress, always in the simplicity but stand out from the others. Does anyone help you or is all your job?
-No, I've always taken care of myself. Maximum ever ask sisters.
Another month separates us from 2020, how has this year been for you?
- I would say very good. In the family and at work, everything has gone well. I wish the next year was even better.
What do you think you could have done better?
- All, everything. I am very demanding, I never say to myself "weep this job", but I care to have no regrets, just the desire to improve on everything. Not as a challenge, but as a motivation.
New projects we don't know about Orin?
- You'll know when the time comes. I haven't confirmed anything yet. I took some time off if I could call it that being every day at work since 6am.
Your perfect life, described in 3 words…
- I don't have a perfect life, I don't want it. I love the mistakes and successes that come after them. I have everything I want: I have three sisters and a mum who fill the soul with love, a good job, good friends and enough money to enjoy my moments. I don't think about what I don't have, enjoy what I have.
Credits:
Photos: Class Photography, Orsola Mema
Makeup: Class Hair and Makeup
Wardrobe: Lioness Kela
Design: Xhesika Berisha