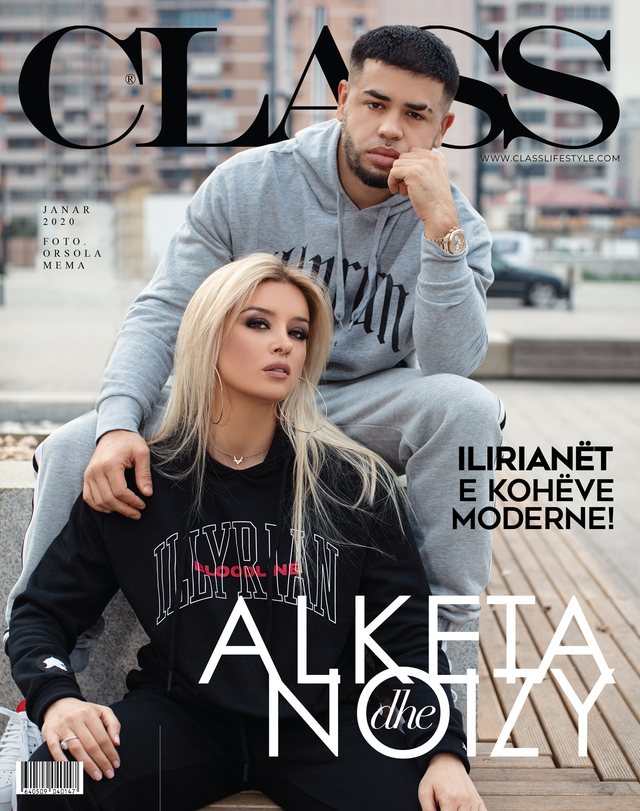 Their story resembles stories coming from ancient times ... For a people whose identity has been built through battles and challenges. In the bloody lands where enemies have rebelled and where Albanians have fought to defend what belongs to them. But, unlike the heroes of yore, they are both heroes of modern times. Of course! The ground is next! Weapons are the other!
There are neither spears, nor swords, nor shields that are held in the body to face the battlefield! Today, the challenges are quite different! Fighting with yourself is the biggest battle and if you win it, you have already won the hearts of many. Especially when you are a public figure who has invested confidently in his career and with the professionalism and talent you have been able to "grab" the attention of millions of people to follow and worship.
They both are the perfect example of this! Alketa Weysiu and Noizy seem to be two parallel lines that don't match anywhere, but basically for those who know that in the genesis of their career beginnings, art, competition and challenges, they know there's something that unites them unconditionally: the "struggle" to create each their own way! Noizy as the first most successful rapper in Albania and Alketa Vejsiu as a presenter, artistic and entrepreneurial producer of the company she built based on her energies and heart, Class by Alketa Vejsiu! Noizy, the not-so-common artist who is loved by many and attacked by others, has managed to see success shine through in the immensity of the starry sky. Thanks to the challenge of making his way! Initially with music as an entrepreneur with a brand name clothing line: Illyrian Bloodline, and finally with a super investment, the newest restaurant in Durres, Zins! With 100% Albanian blood, two examples and Albanian success stories that have already crossed the borders of fame well beyond our country.
And the two of them decided to make a different photo set! Many were surprised to see Noizy and Alketa for the first time! With two different professional fields, but with a passion for success and beauty, Illyrian Bloodline and the new outfits from this collection are presented for the first time by a pair of renowned artists who, along with photos, convey a brand inspired by youth , from trends and the urban world! Because as Noizy himself says, he chose Alketa Weiss to join the Illyrian Bloodline campaign because it only personifies the concept of this clothing line. A strong woman who supports and empowers other women! With all the capacities, worldview, style, Illyrian Bloodline is a clothing line where everyone can find themselves, women and men!
Beyond accessing business and entrepreneurship, Noizy's goals are even clearer than that! Another potential investment in catering and music studios will be the artist's next engagement. Along with new releases in music, collaborations with the world's most vocal rappers, another year closed with a positive balance are just a part of Noizy's story! For the first time he speaks openly about his relationship with journalists and media in Albania, the reasons why he refuses most of the time to be the protagonist in public interviews and studios! A glove-free story about collaborating with Alketa Weysiu, the project that brought them together, the music, the family, the girls in the artist's life, everything is shown here in Class!
Noizy, why did you decide to invest in a restaurant exactly?
Since childhood, I have enjoyed cooking. I always say, if I had not entered the world of music, I would have been involved in culinary in one way or another. Traveling around the world over the last decade has enabled me to try different cuisines and cuisines. This has inspired me to open my own restaurant containing some of my favorite dishes from different countries. In my opinion Durres has very good restaurants, but not one that summarizes several different cuisines or concepts under one roof. If you like marinated meats, vegetarian food, sushi or waffles, you can find them all at ZINS.
Why this name, Zins?
Zin is a nickname my friends have set for me, a shortening of Noizy, but back then. Zin's ie "Zin's Place", Zin's place.
What does the restaurant menu contain? What is the specialty of your restaurant?
ZINS offers cuisine from three culinary worlds; Italian with fresh craft pastries as well as other specialties; Japanese-focused sushi and more recently Belgian crêpes and waffles. It is difficult to choose a favorite, each dish being carefully selected until it is placed on the menu. I myself die of tartar salmon.
Did you choose Durres for the fact that you can relive the life of a city devastated by the earthquake "plague" or is there another reason? Why not Tirana?
The tragic earthquake was not the initial reason why I chose to build ZINS in Durres. I started building before that, but if any business of mine can for a moment make people forget about the traumas of those days, I'm more than happy. After all, nothing unites people better than food. Then why Durres and not the capital? I love Durres very much, it is my hometown and the view of the sea or the glamorous sunset with which Durres has been blessed and therefore ZINS, cannot be found in the capital.
Noizy, we are at the beginning of this year and not only artists but also ordinary people usually try to balance their year for the year we are leaving. How was 2019 for you?
Successful, lots of work, little sleep! Generally well, thanks to the unstoppable work every day.
Can you name your best year so far professionally?
I worked for a name and already the name works for me. At no point is my persistence to achieve more, I am not afraid of investing, as I have publicity power. As I strive to always deliver quality in every venture of mine, it is even easier to succeed.
In terms of music, you are practically the only Albanian artist invited to MAD TV in Greece to sing and perform hits there, above all in Albanian. For an artist invited to such an important Balkan competition is it an achievement or not?
In fact, I didn't know that no Albanian artist had managed to sing Albanian on Greek television. After the performance on MAD TV Awards they interviewed me and asked me this question. I was overwhelmed because there are so many Albanians in Greece, and I was thinking about how proud they are of those moments. It was truly a beautiful experience and one of the greatest achievements for me. A big thumbs up for MAD TV Aards for professionalism. I was warmly welcomed and made to feel good.
Your collaborations have been with the most vocal rappers of the moment in Europe, with Raf Comora for example. The famous Toto is a mass hit super hit. What is special about your cooperation in this field?
Raf Camora is one of the greatest and most successful artists in Germany. He collaborates with a super famous band, group 187 that includes artists like: GZUZ, BONEZMC, MAXELL, LX. As for our collaboration with the RAF the song "Toto" is an AfroBeat style and has a super rhythm that forces you to dance! I believe this is one of the things that made this song popular in many European countries.
Other popular hits are those with Italian rapper Ghali Snik, Capo Plaza, Gue Pequeno, which have been liked by many of your fans. Is it your intention that as one of Albania's best rappers, fame and success transcend borders and become international?
Yes, with all these names I am friends first and then the collaborations came naturally. My intention in my early days was to get to know Albania and to show that even in our small world we know how to "rap" and benefit from this music stream, which was born out of violence and violence. Not knowing how to express pain and suffering, I decided to write them down and recite them, in fact this is the content of the word "RAP": Rhythm and Poetry. Now my goal is to get to know the world and get to where no Albanian Rap Artist has come, and if God gives me life, I'll do it!
Noizy you are not just an artist and a beloved public rapper. Your early approaches and orientation have also been towards business, entrepreneurship. We come to the "Illyrian Bloodline" clothing line. How did you come up with the idea to create a sportswear brand?
I've had this dream since my early days. I have a lot of people who follow me, both in music and in everyday life, their lifestyles, their ways of dressing, etc., and even of what the barbers tell you: I love Noizie's fleece, so I came up with the idea of creating a clothing line. I thought maybe I could walk in, the ad wouldn't be missing and I said why not. This dream was sleeping every night in the drawer as I was too engaged with being an artist, not to mention the artist with more engagements and productions these last 10 years. As my work as an artist brought me huge profits, I could not put it aside and engage in something that I was not sure how I would walk. Creating a clothing brand takes a lot of time and effort to bring something quality to the market, and it's not that you do it once and you're done. It takes time, dedication and special care, with details and love. It takes a staff of professionals and I didn't have it at first, as my needs at that time were more important than desires. Now that I have met the needs, I can deal with the desires. In just two years, I think we're on the right track. The quality of IllyrianBloodLine is increasing every time. With each collection we release, we improve and learn to continue to expand our brand to countries other than the Balkans.
In just two years, Illyrian's store chain has expanded to five. You are already accustomed to the taste of success, but it does mean to experience such rapid growth in just 365 days a year, while we know that demand is high for Switzerland, Germany, etc.
A short story: when I ordered my first collection, the investment was about 15,000 euros. After telling him about the desire to open a clothing brand, my friend Blerim Destani told me: I have a friend who deals with clothing, if you want I can meet you and talk to her. I met him and introduced him to his designer. We decided at first to make short-sleeved blouses printed with expressions of my songs. In fact I didn't expect anything big by counting the modest investment, I told myself how much the profit would be! What struck us, however, was that the moment these online outfits came out, our server was blocked by a huge influx of people. The T-shirts cost around € 34.99 and the person I had left to manage the sales was a German citizen. He used to say to me, "Hi Noizy the sales are going amazing" and I responded because I had more important work than selling some T-shirts. But, these "some T-shirts" became a lot of T-shirts, passed 1000 pieces, 2000 pieces, nearly 3000 in a very short time, and this non-stop German wrote: Noizy are you here? You are selling really good! In the meantime I just returned it with "Bravo" or something to get through the queue and was forgotten. One day I shot my dad in the car when this German calls me several times and I get mad at him, and I say crazy! My dad asks me, who, what do you have? I told him I had made some T-shirts and had sold them and this crazy nonstop guy on the wire got me upset. Calm Daddy asks me how many T-shirts? I told him somewhere 3000 seems to me, ok said. You sit back and ask, what is a T-shirt? I said € 34.99. Daddy in the mirror by the boss and says "oh what are you saying ?!" I said how much? Over 100 thousand euros! And I directly turn to this person managing the site, "Bro hoë are you, hoë a lot of money is there"? Noizy said I have a week to say we have been selling a lot and getting some ridiculous answers, I started to think how rich should this one be that they don't impress? Since that day I have taken IllyrianBloodLine to another dimension.
Do you manage the clothing business yourself or have you delegated other people?
IllyrianBloodline already cannot be managed by me alone. It's a full staff of professionals that include: marketing managers who handle all aspects of advertising, from billboards to social networks; sales manager who is responsible for online sales as well as physical stores; expansion manager who deals with expansions and new store openings, graphic designer, clothes designer, of Italian origin and the other German. Also important are the sales or customer service staff. Coming to one of our points of sale should be a fun experience, not just a clothing sale. The goal is to be a worldwide brand, to have stores all over the world, in the coming years we will be in MILANO. It is my intention, I give my ideas and the staff takes it to higher levels.
What are your plans for the future?
Aside from music, as I said I want to do the international IllyrianBloodLine brand, and deal with big business, hotel type and giant professional studios.
We come to collaborate with Alketa Weiss. How did the idea of doing a photoshooting come together that we have to admit has surprised everyone?
Alketa is a very serious image in Albania. Having long sought a collaboration with a real lady of natural beauty, a collaboration she would never mind, the marketing staff suggested to me: who better fits this description than Alketa? There I decided to contact my own star. We agreed on a super photo set together, and I'm very pleased. She is very professional and correct in everything she does. I congratulate her on all her achievements and thank her very much.
You are both famous, successful in the fields you operate in, but what drove you to collaborate?
Illyrian Bloodline is a brand inspired by youth, street, trends and the urban world in general. Why Alketa? Because Alketa is a figure who has struggled to create her way. I and the concept of Illyrian Bloodline appreciate strong women who support and empower other women. In addition, we wanted someone who would surprise everyone, someone difficult to reach. She accomplished all that, she's amazing.
We have to admit: maybe this is one of your rare media interviews because your relationship with journalists in Albania or the media in general is not very pleasant. Why did you choose not to go public, in interviews or TV studios?
Because most of the time the media or journalists prefer to catch my mistakes, focus on the unpleasant things, labeling me as the ideal non-family person for the Albanian youth. In fact it is not. If you are familiar with my story, I am not the one who started the problems when problems occurred. Not to say I was the victim most of the time, I was attacked. And though I came out the winner, I'm still the one who's always attacked first. I have been protected as I know, without deceit and have emerged as a confounder. Just because I am a celebrity becomes very big every issue no matter how small, as it can be just a hassle that can happen to anyone everywhere, on the road, at work, on the bus, in the restaurant, at the airport, etc. So, small problems that are not worth paying attention to, but the fact that Noizy is in the middle, journalists or portals deliberately decide to throw gasoline for the benefits of clicking their banal articles even by using type headlines, Noizy dies, Noizy bruises his head, Noizy owes hell, Noizy bad example to youth, Noizy so Noizy so. I understand that in my role I have to accept such things but so many lies of pseudo-journalists have made me uneasy. This has distanced me from the media and journalists in general. Noizyn is too late to stop him with curses, because I've decided to kill them all with HONOR & LOVE for the close circle.
People love you and always have an interest in knowing more about projects, music, privacy and the media is a fantastic medium to convey these details. Why do you do the opposite, so never give them material?
Because the media uses my image to gain visibility and I no longer work for free, as the name Noizy has become a brand. I have decided that the news about Noizy can only be taken from my instagram which is @noizy and you can only find my music on my youtube channel, www.youtube.com/thisisnoizy. When the media changes, when their goal is really to convey the good news and not the headlines that are unrelated to the article or the unpublished fake and negative news, then my attitude towards them will also change.
Noizy, you are the rapper who often says in your songs, "I don't know what time it is"! In fact how does an artist's ordinary day start like you?
It depends what day, Monday to Thursday I wake up a little late, from 10:00 / 11:00, on weekends I usually go to concerts around the world. From Monday to Thursday, I dedicate time to music production and business management, while weekend concerts.
To whom are you grateful for the man you are today?
God, Mom, Dad. My dad is actually my most loyal friend, thanks to him I am who I am today. A father who never wanted to abuse his child's income, a father who never left his family to suffer for food, a father who, when his name is mentioned, says nothing but a hard-working, correct man and righteous. I adore this thing in him and pray to God to achieve these values when I am his age. He is a man without vice, seemingly tough, but with a big heart. I know he has done so because he is a Highlander from Debar, comes from a large family of 10 and his living conditions have been so difficult that when he tells me about his youth, his eyes are filled. in tears, I adore it. He is the most loyal friend I have.
Now that you have this "big weight" of fame and success, how do you feel?
I feel responsible, like I have to take care of what I do, how I do it, and whether I hurt anyone if I do it that way. People expect a lot from me, and I'm a sensitive guy, I get angry very quickly, I'm right, and when I am wronged, I get it very close to my heart. Every day I live, learn and try to improve because there is no one perfect. It is important to understand our mistakes and to keep our goals sincere.
Think you made mistakes along the way to success? Did you violate anyone?
I made 100% mistakes, but in most cases not on purpose, did I violate anyone? No person who deserved it, at least that's what I think. Maybe I'm wrong, as you know.
You're famous, successful, you have money, women love you, but has it ever happened to any woman to underestimate you?
That I know, to tell you the truth! It's not that I notice too much about these things. My goals are clear, who underestimates me is just an opinion of them, which doesn't bother me much. If they have underestimated me it means they didn't know me well.
How's the ideal woman for Noizy?
An honest, simple woman who is not too attached to make-up, if at all possible or very little. A woman of character, with honesty like my mum or my sister.
What is your relationship with women in general?
Good reports I believe, you know maybe you should ask them!
Are you in love at this stage of your life?
Yeah, with some women in fact: Mom, sister, daughter & granddaughter. I love them very much.
A genuine message for fans and readers of Class magazine?
If you want success, you have to love it more than breathing under water while you are drowning!