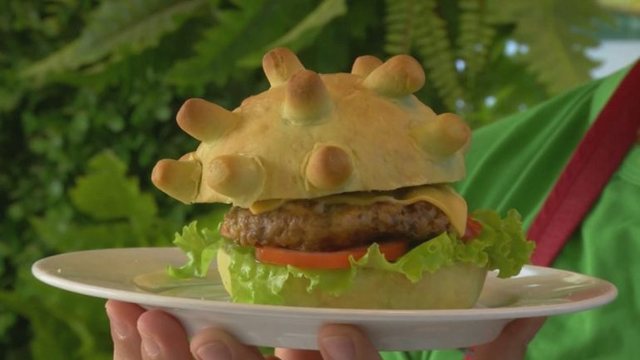 A hamburger that resembles a coronavirus. The coroner burger is associated with the slogan, " Bite it over " and is the newest "specialty" of a pizza in Hanoi, Vietnam.
" We have this joke that if you scare something, bite it, so coronavirus won't be so scary after biting that hamburger in the form of a virus. This way of thinking spreads happiness to others at this time of pandemic. In addition to having a new product to enjoy, people feel more psychologically positive , " said Hoang Tung, creator of the most controversial hamburger of the moment.
The pizza owner and his staff found that it took them a day to discover the ingredients that could be used and how the proper shape and color of the virus could be achieved.
They indicated that the first day of listing for this hamburger menu had few requirements, but they are now, increasingly, growing.
Vietnam, meanwhile, has hundreds of Covid-19 infected but fortunately so far no casualties have been reported./Opinion.al/