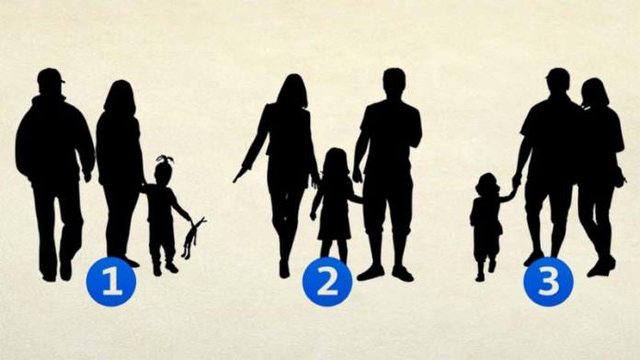 You think that maybe the three images in the picture are family, beautiful, happy, full of other details! But it is not so! Maybe you have an idea which of the three images is not real family, so try it yourself. Your answer will tell a lot about you!
If your answer is 1
You are not a family oriented person! You probably grew up without the figure of the father. In the photo, in fact, it is clear that he is not interested in the child that the mother is keeping away from him. You like to help others and try to make positive changes in their lives, but you are not completely sure what a real family is.
If your answer is 2
You are aware of what a real family is and the importance it has. Your family is always your priority. The parents in the picture are self-centered, the wife is wearing a miniskirt and the father ignores both, his wife and daughter. Believe in strong and lasting relationships, in a loving marriage and a happy environment for all family members.
If your answer is 3
This photo shows a happy and loving family. Two parents who love and care for their child. If you believe this family is fake, you may have a traumatic psychological illness, perhaps due to a life lived in a dysfunctional family. If one of your parents has been an alcoholic, has used drugs or suffered from mental illness, your mind may recognize what you have experienced as a real family and therefore think that this type of family is false.