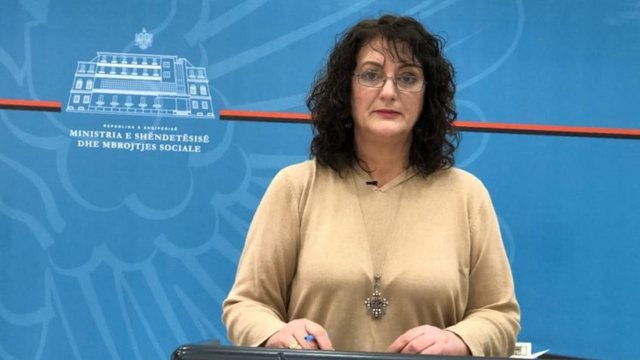 There has been a significant increase in the number of infected people in the last 24 hours, with 17 new cases confirmed, 11 more than the day before. The total number of infected people in Albania has reached 400, where it is learned that 58 of them are hospitalized in two COVID hospitals in Albania, specifically in the infectious hospital there are 52 patients and while in "Shefqet Ndroqi" 6 patients. This means that there has been a decrease in the number of patients admitted to hospitals, and an optimistic figure comes in terms of the number of patients. In the last 24 hours, 23 other patients have been added to the list of healed, and in total this number has gone up to 154.
Of the 17 confirmed positive cases, 9 are in Tirana, 1 in Elbasan, Fier 6 cases and Shkodra 1, thankfully there is no spread of coronavirus in other cities affected so far. So far, 2989 suspected cases have been tested and of these, two cases have been confirmed positive with COVID-19, 400, while 22 citizens have lost the battle with this disease.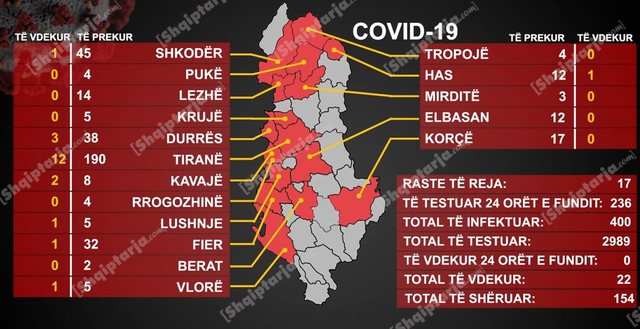 The geographical distribution of positive cases is as follows:

- Tirana 190 cases
- Durrës 38 cases
- Lushnje 5 cases
- Elbasan 12 cases
- Fier 32 cases
- Kavaja 8 cases
- Rrogozhinë 4 cases
- Korça 17 cases
- Vlora 5 cases
- Shkodra 45 cases
- Lezha 14 cases
- Berat 2 cases
- Has 12 cases
- Kruja 5 cases
-Tropoje 4 cases
- Puka 4 cases
- Mirditë 3 cases
The Ministry of Health and Social Protection urges citizens to continue to respect social distancing measures. As the figures of recent days show, where there are cases within the same family, it is important that infection control measures are respected to the maximum within family circles, avoiding visits to relatives for any reason to prevent COVID transmission. -19.

If you have signs of COVID19 disease call emergency number 127. For any questions or information about COVID19 call the green line 0800 40 40.
Source: Shqiptarja.Com