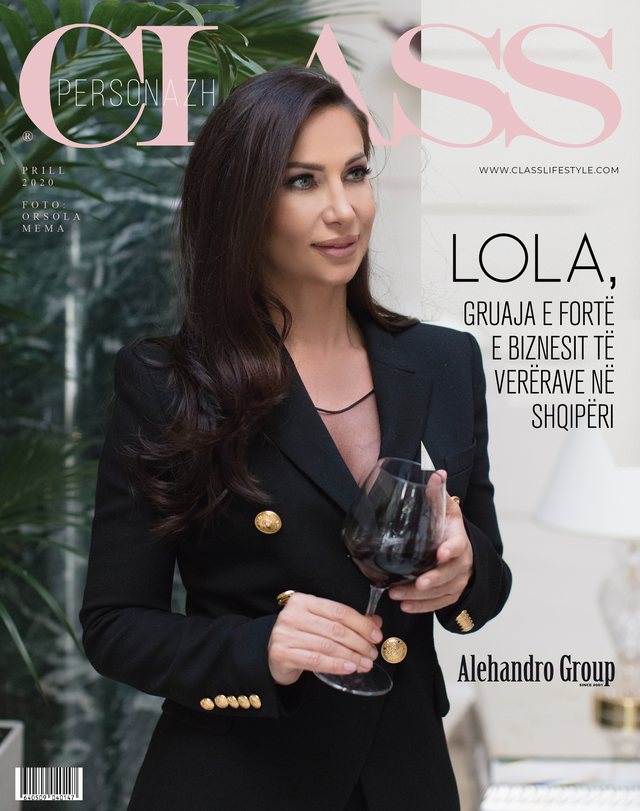 When I first met him, the impression was ordinary! I had often heard, in conversations between friends and at tables with colleagues, that his name was mentioned as a successful "self made woman", a label that would reinforce me in just an hour and a half of conversation together. It was like that first meeting, which went up immediately, because Lola of Alejandro, as everyone knows her, didn't wait long to get into the terms of discussion about the conditions for developing a cover that we had been looking for for months, following them. successful women in Tirana who leave a mark with their work and product. We are proud, or not, of such models! For a moment, I was tempted, for fear that perhaps the charming Lola would enter into wine terms, and tasting stories that, in all their modesty, do not categorize me as an absolute wine connoisseur. Because the magic liquid, which introduces you to other conversations only after the first sip, is a challenge in itself, not only for those who have it as part of their work and business line, but for many. It's a philosophy of life, it's a real school! The passion with which Lola begins to recount her entire journey to the Alehandro Group, with a fantastic distribution network and points of sale in the country's largest cities, made me strongly believe that this woman was not on top of to this pyramid of success, out of nowhere, or that the star had enlightened them by marrying a rich man, or that a family inheritance had made it even easier for him to progress in business, from the idea on paper to developing and perfecting a profile like few others . 20 years Alehandro, 20 years success story! It was not so in the first years, when Erjola, a teenager living with her family in Italy, passionate about the taste of wine, decided to challenge our Albania, where at that time the reality of drinking was translated into brandy and beer. She loved this thing, she fought, she set her heart, she never gave up, she even takes it seriously when she says that for the first time she recognized the south of Albania not for holidays, but with leaflets in hand going from one restaurant to another, from one bar to another to present the wines she brought herself, which she unloaded in Tirana and southern Albania, not without purpose: Lola wanted to lay the foundations of a new business in our country. She started it simply as a wine agent, to arrive today at a success story, as a well-known entrepreneur who owns the Alehandro Group business and counts nearly as many employees in the company she runs. "There were times when I would fall asleep on the couch due to great fatigue," she tells me as she reveals to me the details of her entire difficult and challenging journey, which resembles the chapters of a beautiful novel for me to read. the last page to learn the finale of a warrior woman, who today has success on her shoulders as the "victory" that she attributes only to work, and less to fate. The scent of our conversation is felt in the air and has the typical taste of sweet wines or that perfect tango that makes you a "slave" of the scene without wanting to run away. Lola is like a book that we should all read! From the vineyards of Veneto and Piedmont, where once a young and dreamy girl woven dreams for the future, comes the profile of a woman who today owns the assets of an extraordinary wine business such as Alehandro Group.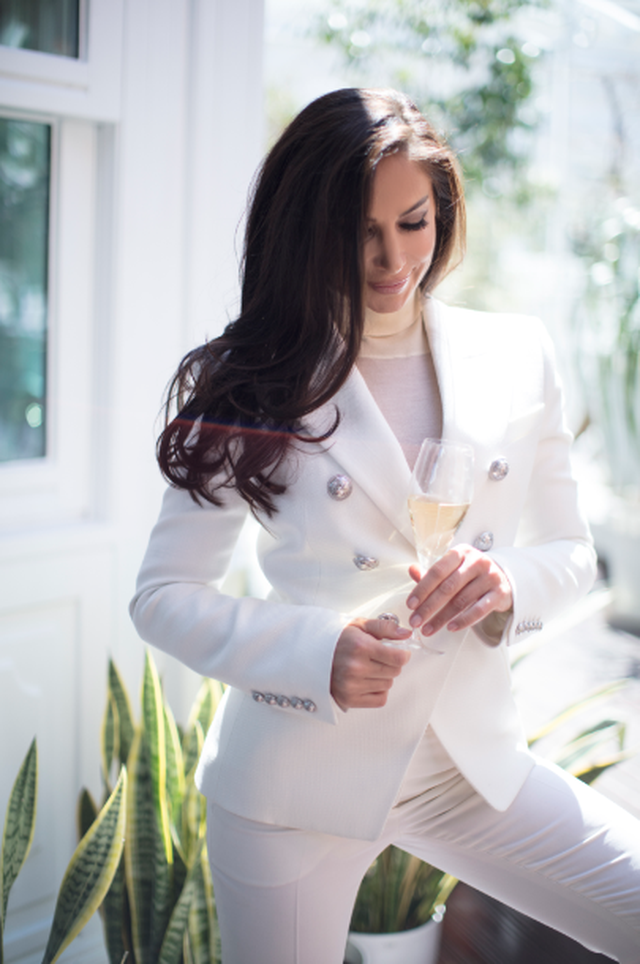 With the same philosophy and with the desire and intention to bring closer to Albania the most quoted wines and sprits in the world, Alehandro Group was founded in 2001 at the entrance of the new millennium, today one of the elite wine companies and the best alcoholic beverages in Albania.
This beautiful and difficult venture managed to make a difference in the Albanian beverage market, through a serious management and a high work ethic, based on the maximum observance of exclusive contracts based on the International Convention on Wine Import. Today the company has 25 experienced sales agents and five distributors in different districts of Albania.
Alehandro Group, today counts five Wine Shops in the main cities of the country, Tirana, Shkodra, Korca, Vlora and Durres.
The interview with Erjola Braha is one of those that leave an indelible taste, just like the rare wines that our grandmothers once kept in the pantry, or those found in the most ancient canteens in the world, with the thirst to enjoy it to the endâ?¦
Lola how are these days of isolation due to coronavirus?
Sad, it can't be otherwise, but with courage and love for life we will face it. Every sadness has an end.
Are you not used to this lifestyle, especially for a woman in business and constantly engaged in new projects?
True, not only me but all of humanity was not born to live in a state of siege! Circumstances sometimes make life a kind of war, so man has the Darwinian ability to adapt to extreme circumstances. We have no choice, no other choice.
You are a well-known businesswoman, a self-made success model, what makes you so professionally accomplished?
Determination, dedication, will and ambition for success.
Any special clients you have met during the years of your venture that have impressed you with their knowledge and passion for wines?
Special clients are all for me, both those who come to curiously discover a great world unknown to them, and those who know wine quite well and treat it with great love and delicacy. I do not want to single anyone out in this interview because I nurture respect and gratitude for all clients, and I have received emotion and pleasure from each of them.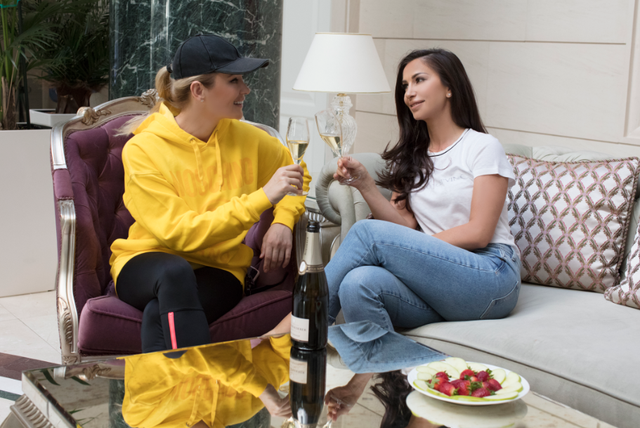 Are there passionate girls who know and love wine?
I think that after so many years in this business, the number of girls and ladies enjoying summer has increased significantly. It is interesting to find out the motive behind her. Perhaps it is related to the desire to be in good company; to discover more of the world inside you but also to share more openly your feelings and emotions with those closest to you; perhaps and is related to family warmth.
The place you like the most in the world?
Italy!
Why Italy?
Italy is magical. The combination of many elements make this place the most beautiful in the world for me. Ancient cities, natural beauties, wonderful cuisine, wine, style, the spirit of the Italians, make this place very dear to my heart. Only in such a magical place would I choose to build a part of my life and that is why my boys grow up and go to school there. I am heartbroken for the difficult days that this country is going through so close to my heart and the heart of all Albanians. We ask that all this be passed as soon as possible for Italy, Albania and the whole world!
How proud are you of working in an international environment? Although woman, you have received the most prestigious labels! How do you convince them?
I feel very privileged and honored to work in an international environment because in addition to professional fulfillment, I appreciate what I learn from my collaborators anywhere in the world. The work that I have chosen to do in life, gives me the wings to fly beyond the Albanian borders and to know many cultures, traditions and to learn from the best in the field. I think the key lies in my tireless work, open communication, cooperative spirit and without question the energy and passion I have to reach the stars.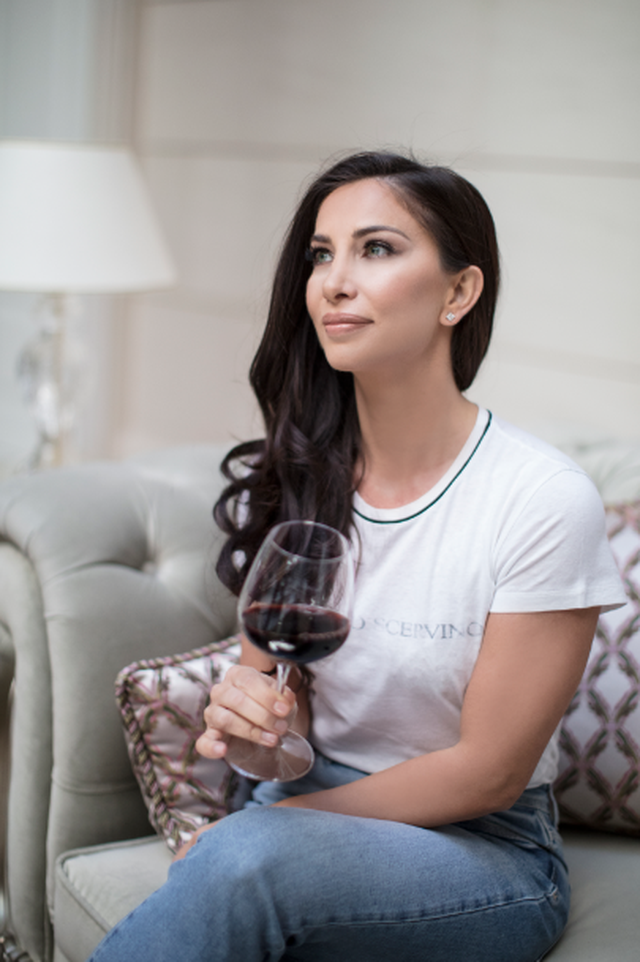 Who helped you on this journey?
First of all, I want to share with you the fact that this trip took me to Italy, to the wine region where I have lived an important part of my life. There I was introduced to the magic of the summer world. There I met professionals in the field who later became good friends and extraordinary supporters of my ideas to move forward. In this long and challenging but magical journey, I have relied on my strong and enduring principles and the full conviction that every dream comes true when you build your life on strong pillars of values. On this long journey I would never have been successful and motivated to do my best, if I had not been near my dear family, close friends and my wonderful staff. The path of my life is illuminated by the light of friendship, kindness, love, and the precious contribution of anyone who has walked side by side with me on this journey.
How is your day? With a driver, without?
My day starts near nature. I am very attached to everything beautiful that Mother Nature offers; with the greenery, the fresh air, the chirping of the birds, and I am also very much connected to its mystical side. Every day of my life begins with a walk in nature, during which I wander all the way to the magic of deep meditation, a magic that only 'meeting' with nature can forgive. As I am filled with good morning energy, I move on to the many things that await me. Depending on the daily program, I make the decision if I need the help of the company's drivers. Anyway I am a very good driver and many times I take the car myself to meet the goals I have set for myself.
How many hours does he stay in the office?
Stay in the office as long as necessary. I have an extremely qualified staff that gives the maximum in daily work. The boys and girls who have joined the company I run do the work with passion. We have a trusting relationship and fruitful cooperation where both parties give opinions, communicate and interact for the best result. We are a beautiful team full of energy and passion for work.
Do you deal with clients yourself?
I pay special attention to clients. I try to understand the world in them, to learn from them and to build relationships where both parties share and gain experience. To be honest, I would like to have even more time available to dedicate to clients, because I think this element of my work is also the one that is closest to my heart and nature.
Do you travel a lot?
I actually travel a lot because my job is based on relationships with wineries all over the world and that requires me to be in constant motion. But I travel and open my horizons. To get to know different people and cultures; to 'escape' from everyday life and to 're-ignite' energy engines for new ventures. I travel a lot and inside my beautiful country. I try to explore the wonderful nature that our Albania offers and to fill my soul with peace and harmony that only nature can give.
Lola and mom?
I am a mom who forgives a lot of love, care, attention and trust. Although I am not always physically close to my children, I am very attached to their daily routine, school, education, the challenges they face, the insecurities they have, and any other experiences. I try to encourage and support my children in the long run of growth and understanding of themselves and life in general. I donâ??t want to dictate their lives, but I do want to help them safely open the paths of their lives, based on the passions, dreams they have woven and the good patterns to which they refer. I want to give more to my children the good model of the man who believes that thanks to work and dedication he can achieve every dream.
Cooks? What is it like to be a career mom?
I cook very well and my kids enjoy endless lunches or dinners where the chef is mom Lola. Being a career mom is a great challenge. It's like competing in the path of life for yourself and your family, which is the greatest inspiration in every person's life.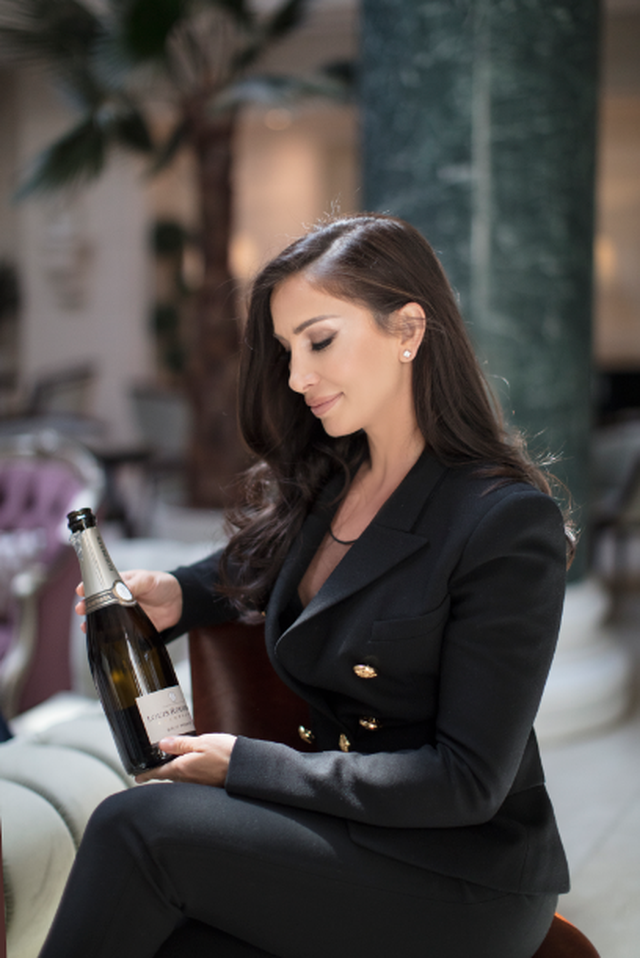 How were the days you spent in Louis Rodererâ??s big family, Alehandro already has the exclusivity of this label or not?
I think it is the work of many years, the passion that I conveyed during the meeting with this famous family where it was decided who would be given the representation this summer. And the Louis Roderer family decided to give me the exclusivity of this famous champagne not only for Albania, but also beyond. It was not easy at all. I had 10 years to insist on representing this champagne, and I waited for an answer, until the moment came. I think I deserved it. The Louis Roderer family has a limited amount of champagne, so we can't talk about doing business and big numbers, but getting the exclusivity of this champagne is prestige, of course. This is my success.
A valuable piece of advice for women in business, today?
I tell every girl and woman who is an entrepreneur to believe strongly in the values and strength of her soul. Behind every successful woman is herself and that is why it is very important for each of us to nurture our inner world and grow professionally. My advice: believe in yourself! Each of us has a lot to give to family society! Be optimistic and confident for a better future!
What inspired and motivated you to get involved in the wine business?
This desire of my early youth was born in Italy where I lived, which listened to me every step of the way until it became as dominant as love at first sight. Back then, in Albania, raki and beer were mostly drunk, but that did not stop me, on the contrary, it encouraged me to challenge that reality.
Your story of starting a business is like a "rare book" that not everyone has read, not everyone is ready to take on the challenges you have taken over the years. You don't know how to stop, do you?
As far as I understand, fate has been a loyal companion to me. With clear faith and vision, I will certainly not stop. My dreams are overlaid, they are waiting for deeds to be done.
What are the difficulties you have constantly faced over the years to get to the successful business stage you have today?
The difficulties are related and have gone hand in hand with the development of our country, which with its socio-political turmoil, made the progress of our affairs difficult.
Lola and wines, an eternal love or not?
Of course they are the love of my life, the relationship with wine is twinning.
What kind of wine do you like the most?
These are elegant wines, mainly the Pinot Noir grape variety of the Alto Adige (Trento) region of Italy, as well as the Pinot Noir of the Bourgogne area, this French wine. Also, I am passionate about Bollicines (sparkling wine), champagne and Roses that I enjoy a lot, especially now in the spring.
Lola, you are not the typical delicate woman who, although with a financial standard, can afford hours at SPA centers, shopping, travel, etc. You have life strongly tied to work. What makes you passionate unconditionally?
Adventure related to the love of life.
Do you have a philosophy that you follow in your work?
Philosophy is the goals you set for yourself, the perseverance to move forward and up. This is the path to achieving the goals.
The thing you love most about your job?
Relationship with people and customers, as well as harmony.
Do you ever think of quitting?
Not! The energy I have makes me walk hard with everything.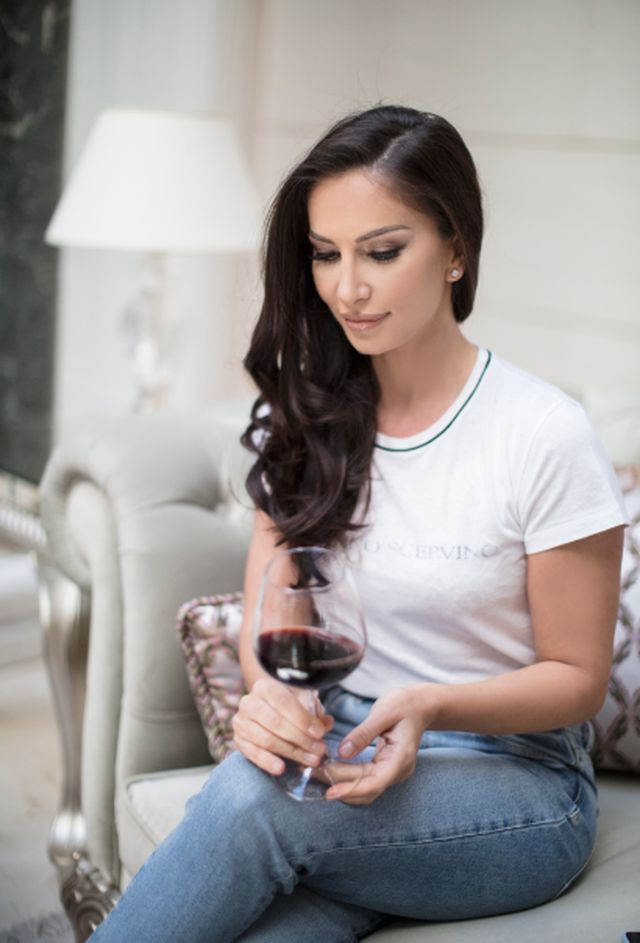 Do you consider yourself a feminist?
Of course, in terms of gender equality. I feel hurt for the violence against women. This male demon needs to be cured. As the poet says, my friend Raq Spirollari: "There are no strong men, there are weak women ... the woman is a lily, but also a lioness."
Are you a strong female?
"I'm also a lioness, but also a lily."
What makes you happy without hesitation?
When getting business ratings. Of course family, children, travel.
What do you worry about most in life?
For the future of children. The parental doctrine remains ever divine.
New projects waiting to be developed?
New projects always breathe on the side of God.
Credits: