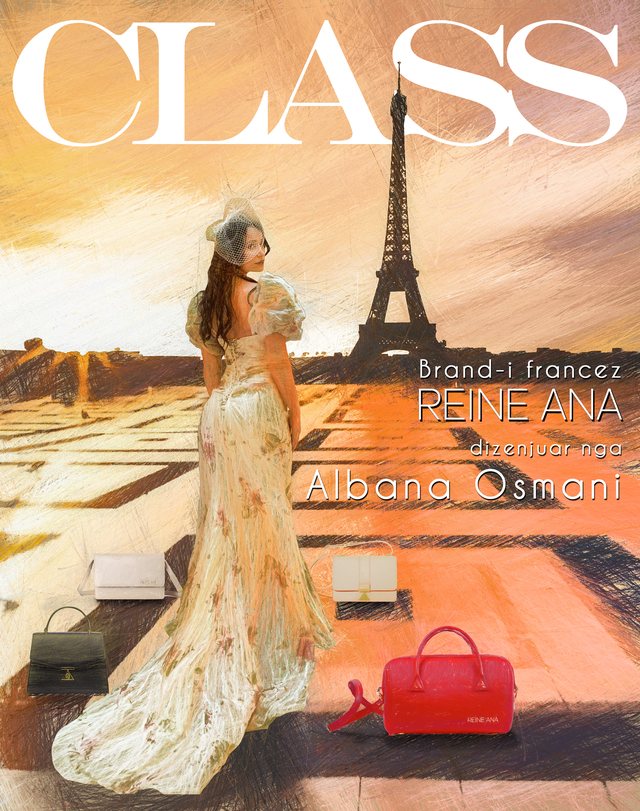 Television, first and permanent love

"The camera loves you and your career will be long, you were born to make television." Who wouldn?t be happy as a child after hearing this statement from those who know the world of television well? And who do they tell? A teenager who, by chance and fortunately, found herself in a place that would just start writing her long television career. It happened as they told him from the beginning: today marks 17 years since the first time Albana Osmani appeared on the screen, but spiritually she feels the same passion for the screen. She does her job quite well, devotes herself to it to the maximum and, most importantly, gets the most pleasure when she realizes that she serves as a model of inspiration for all those who follow her and that, one day, they will have the opportunity. to follow their dreams just like Albana once did.

It took a relatively long time to miss the screen, however Albana has made the most of it to do beautiful things, jobs which were either shifted due to priorities, or waiting for their time to be made public. But he never stopped, on the contrary. He runs in nature, so, in one form or another, he would catch the pace to achieve other ambitions, inside and outside television.

Currently, Albana is working in parallel on several projects. The closest is the one with the screen. There is almost a TV show, which will be dedicated to the whole family and will bring a fun package for all ages. Albana is an author, director and presenter. She is expected to make the details public soon. What is certain is that the transmission time is near.

For the screen, the new projects related to television, but also for those that have already started outside of it, Albana confesses in an exclusive interview for Class magazine.
It took a relatively long time to miss the screen, did you miss it?
Of course yes. It became a piece of time and that is true. But let?s just say I needed some rest. Television is the first job I've done in my life. And it has been very intense. For 17 years on screen, in many formats I have fully lived my dream. With a lot, a lot of work and a lot of dedication. For me, working in television is living television, not doing a job that you could have planned, invested, done in any way you could. After my studies in Visual Arts at the Artistic High School and the Academy of Arts, it was and was no coincidence that I found myself on screen.
I looked for work for graphic design and they asked me to do a test for the presenter in a while. And, as I was told, with the first test, "the camera loves you and your career will be long, you were born to make television." In fact, as the work of that "happy and confident" child, I knew this inside me, I felt the capacity to run hard and not just take a few steps. This was natural to me - a gift for which I am grateful to God. When you grow up among artists and art is thrown at you, as a result of that, everything on screen is impossible not to be clearly reflected. It is a treasure that provides you spiritually and intellectually, at the time you grow up and train yourself as a person.
I loved it and I love the screen. I love the screen not for fame, nor for money or any benefit that gives you being a person with a public profile. I think I do my job very well and that?s why I love it. When you feel that you are educating, it is making a whole generation follow you and you are a source of inspiration for an even more integrated, more artistic, more fun, cheaper world, there is a moment of running that you cannot stop. It is a great pleasure and an equally great responsibility at the same time. That's what I want to do next.
What's the thing that you missed the most "off screen" and you didn't understand?
In the last 3 years, I have had a lot of physical load. In addition to the screen, with the launch of the "You are a Sunflower" campaign, my time became 'timeless'. So a job at a very high pace. "You're a Sunflower" became bigger than I could have predicted and what I could keep. There came a time when with medical advice I had to take a break, after I had exceeded all limits, I was only sleeping 4-5 hours of sleep, as I was working. After this parenthesis, let me tell you that, in fact, I never stopped. I couldn't stop. For me, it is a mission that will continue as long as I breathe. But I made a decision: I cared a little more about myself during this time that I wasn?t engaged on screen. Things like "You're a Sunflower" were soon structured. There is already a new CEO and everything is going wonderfully well. That is where my day begins and with my heart it closes. I have missed the screen during this time, of course, because it is like now that we are in quarantine due to Covid-19. You can't go out, have a behavior like the first two months. So you find yourself in a reality like in a dream. And I know that for a while everything will be as before. So I, too, let a piece of time pass and I will return to my reality. But I will never regret the time invested for sublime motives, ever. Leaving Top Chanel was not what was wanted by either side. However, I have already been reviewing the return to the screen immediately and this, in very good conditions, where every party will again be honored. For me, doing television is not doing business. So here I will choose what makes the difference.
Is there a concrete screen that will welcome the project with which you will return?
It's a great feeling to be loved. By nature, I am very loyal, almost in absurdity. But, as it is written somewhere in the books written "Be clean as pigeons and smart as snakes", I will choose smart and clean, after all this form I have always chosen and I have enjoyed success.
You said that the new project will involve the whole family, can you tell us a few more details where it will focus?
I have a lot of written projects. As a presenter, as an author and as a director, I have done the post-production of all my programs that have been in the field, such as "Look", "Kupid", "Waiting for Supermodel of Albania" and have been at the level of Mediaset, making their history here in Albania. So much so that they were rebroadcast three times a week in the afternoon bandages in the afternoon and then again at midnight. As a moderator, I managed to touch every format on the TV. I had this luck and pleasure. I guarantee you that my ideas include family and lots of fun. As can be a license of a well-known format that will be something new and that will arouse a lot of interest in the public. It's just a matter of time. I'm ready, it matters. Wanting to take things in stride, let this period of pandemic pass and let us all be well, first. Then, in turn, we will take everything to bring very good things to the public.
For the new program, I recently publicly revealed some details. So it involves the family and is very humorous. Already, things have gone their way and I will return to my course. I am believing very quickly, as we are all believing, that we will return to normal after the 2020 global start.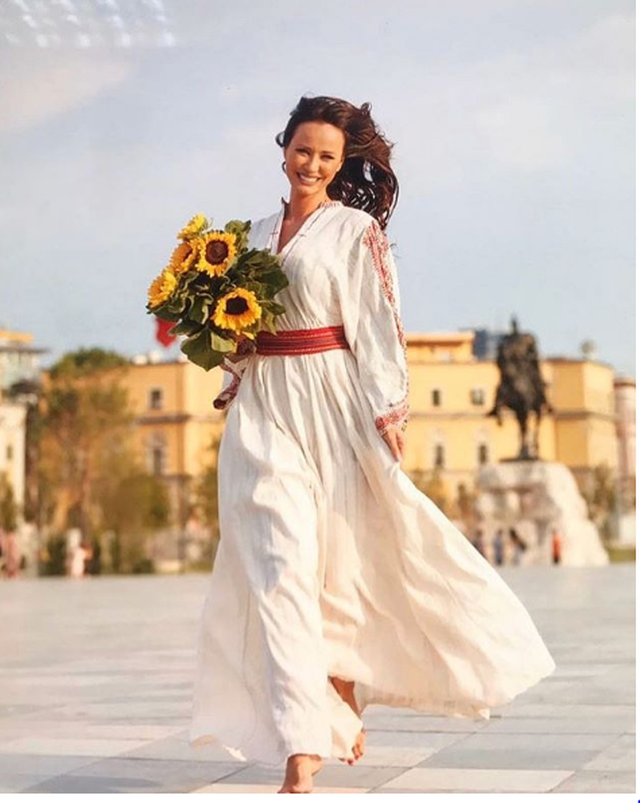 Sunflower, the greatest joy of life

If you ask him where his heart is, of course the answer is immediate: "To the Sunflower." He had worked hard, made very beautiful programs, lived a life of pleasure and had endless fun, but his soul found a place in "You are a Sunflower". It was like a call from above that "shook" Albana and told her that she was chosen: "The sunflower belongs to the children. When I say that, my heart is full of smiles and the greatest joy of life gurgles ", - he says and it is not difficult to understand that this kind of commitment, which in the end does not translate into financial income like any other project. , there is a reward that Albana would not exchange for anything else in the world - the love of sick children, one more day of life, a hope of a great light in the heart.

There have been many who, in such humanitarian initiatives, if they do not want to get in your way, are always skeptical when they see your commitment: "What do you need this job for, girl?" it is the simplest question that has been asked of Albana, it has been even worse, much worse, but it was not about going back, absolutely, not even about dilemmas. The call to turn on a light was from above, Albana had been chosen to carry out a mission and, by no means, for a moment did she intend to stop. On the contrary, the more skeptical she was, the more strength she found within herself to continue: "When the one who holds the universe in his hands has opened your paths, whoever is against you is against Him." At the end of the tunnel was the children's light - a little more life for them.
Do you continue to be voluntarily involved in a cause that fills you up and gives you a lot of emotion, currently at what stage is "You're a Sunflower"?
Yes! I touched it and a little higher. I start my day at the foundation office. I am a volunteer. I founded and directed it without having the importance of status, or things of this kind that for me have never had value in such a job where you are dealing with human life, it is a sacred responsibility. Pleasure is when you see it working, when you see that people have faith in your work and enjoy life and health after the efforts of society through the help provided. I say it to society, as I always want to emphasize that it was and is the people who make the difference, while I and the staff follow this work rigorously and with all the strength of spirit. We recently closed the 'APP Game' project, a project that was nominated as one of the best projects in the world, by the World Summit Awards for "Digital Innovation / Digital Creation" in health care. We closed this project and we were in the phase of ordering the equipment required by the medical staff of the Regional Hospital of Kukës, for newborns. Once we are back to normal after the pandemic, we will close everything with a public ceremony in Kukës. I can't wait for that day. The realization of this project technically, personally for me and the staff, has been among the most difficult, but among the most beautiful and I am very proud of every Albanian everywhere in the world, who downloaded the game "You are a Sunflower" for charity. Meanwhile, we have many other super innovative projects, such as sunflowers in Tirana, already part of a digital map approved by Google, will be another humanitarian map that will put Albania in the spotlight, as commented by tabloids e world-famous compared to San Francisco with red hearts there, which seemed to scatter like sunflowers around Tirana, igniting hope and representing the highest level of being human above all else, helping those in need, such as in our case where the focus is on children.
There was a circle of you (relative, friend, companion) who told you, "What's wrong with this job?"
Ohh, of course! Worse than that. I was told ?okay, okay, you became a war man from fatigue, now when will this job end? Is there an end? Or " look, girl, do what all your colleagues on TV do, do makeup, look beautiful, do those shows, leave these jobs because you're tired, you don't even know anyone for honor . " Or even worse , much worse, they have persecuted me with messages, emails sending all those who supported "You are a Sunflower", desecrating my name in the latest ranks, only cannibals and murderers have not made me, that everything else may have been written and marked in every email message thus destroying public credibility and wanting to stop child labor. They have broken sunflowers around the city and scribbled them on. I have been told many versions of who can be, such as a another organization, which inadvertently lost its focus and does this job for a career and fame, any business that sells medical equipment and we took out the prices on every public bill and broke the figures. But all I can say is that it is under investigation and they are taking the right time. So, as you understood, I gave up on myself and my career to help with all my soul and it was not easy at all. But when the one who holds the universe in his hands has opened your paths, whoever is against you is against Him. Especially on a sacred mission. I preferred to share this with you in this interview, very honestly. Although in any case I have made public reactions, every time something has tried to stop the "flight of the sunflower", always wanting to underline the difficulties, how extraordinary it is to give without expecting anything in return to life. And what happened in this story was and continues to be a miracle that has united thousands of hearts in helping those in need, who pray day and night for one more day in their lives.
Until the moment you dedicate yourself to this cause, you have asked yourself a question, "What have I done so far?" Are you proud of yourself more than anything else you?ve done?
I see this as the work of that calling in life. I don?t see it as something I did. I see it as something I was called to turn on a light. And then there were the hundreds of thousands of extraordinary people who gave and give from the heart and make a difference in this world. I am grateful! I am proud of all good Albanians and with a big heart, humbly.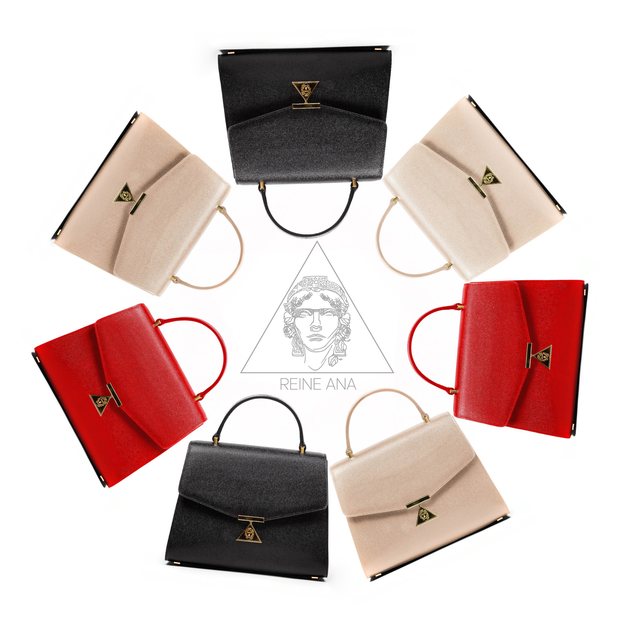 Albana, designer of the French brand "Reine Ana"

Along with the other things he does, Albana is always creating. Organically, the brain receives visual images that always associate it with drawing, painting - the created. This is how she was found as the designer of the new French brand "Reine Ana" , a new line of luxury bags, the design of which bears the signature of Albana Osmani. He chose the bag, because the bag speaks for each of us, identifies the personality of what he wears and has chosen to have luxury and class as part of himself.

The first collection is closed and Albana is looking forward to creating the second. Yes, they are expensive bags, but everything is in direct proportion to the quality of high fashion. For their creation, every detail works the same as for the bags of world famous names, Dior, Chanel, etc.

More than half of the first collection has been sold online and all those who have visited the online site of "Reine Ana" have expressed a lot of enthusiasm for these interesting models of alta fashion. Those who bought them and liked them even more live, of course gave Albana a pleasure on their own. Currently, the artistic director is waiting for the next step.
Recently, you are dedicated to a new line of luxury bags, which will come to market soon. Why bags?
Always in a part of my brain, constantly, I am creating. Maybe I'm talking to you and in the background I will have drawn the dinosaur that has the skin with shark scales, which I have one of the favorite characters of my book with illustrations entitled "Chika", still not public. So what I mean is that creating is part of being for me, of existing, of perceiving. Designing French brand bags, such as Reine Ana, was a lot of fun for me. And I can say that it is natural that I take things to the end, so in the time dedicated to this work I realized with great dedication every detail. I chose bags, as bags are not just an object. The bag relates to everyone?s personality, talking about its owner. As inside it holds a "part of life", I would prefer to always keep it in a high fashion bag :).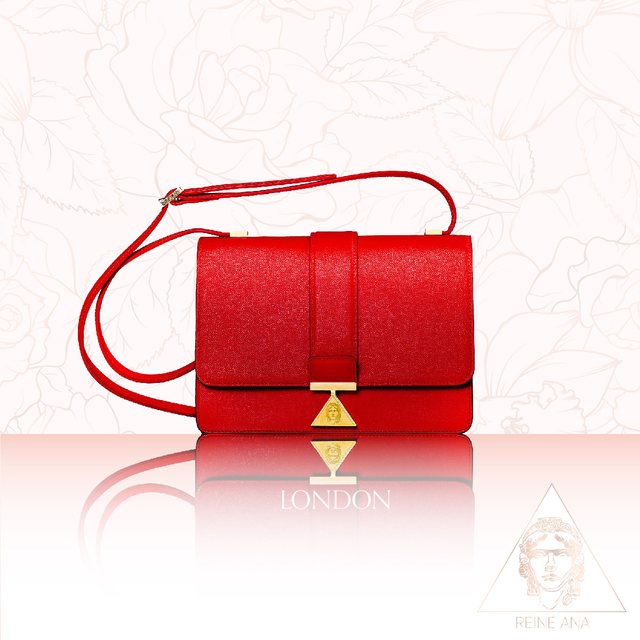 What is your role in this venture other than design? What about the group you work with?
I am an Artistic Director. Creator of designs, ie designer. Also, in the company created I have my role as one of the entrepreneurs. There has been a lot of interest from French and American investors right away. Every review is valuable in what will bring success to this brand. The company is international and has other steps forward towards its development and growth. The bags were manufactured in Venice by Venetian artisans. They are the same level in terms of quality in every detail, with Chanel, Dior and every other name that has made history in the fashion world. "Reine Ana" is a new brand in the fashion world and very ambitious to go very far with every innovative, conceptual, quality component and as a business towards a guaranteed success.
What are the main models of these bags; daily bags, work, evening?
The bags are inspired by metropolises such as New York, London, Rome and Paris. Jane alta fashion, high fashion and luxury. So it is for bag enthusiasts who have their own collections and who appreciate a bag based on many reasons, beyond the visual look that are really very beautiful. I am glad that after they bought them, we received the comments, "they are very beautiful live", for example. This for me as a designer is a pleasure in itself. Bag models are for all ages. Elegant and at the same time conceived with enough space to hold inside the main things of a woman. They are elegant and a bit retro as a concept, but they are so unique that sketches are required to be purchased and reproduced by other well-known designers. For now, the bags are only sold online on the official website www.reineana.com , but I believe that in a short time the company will have a physical store in Europe.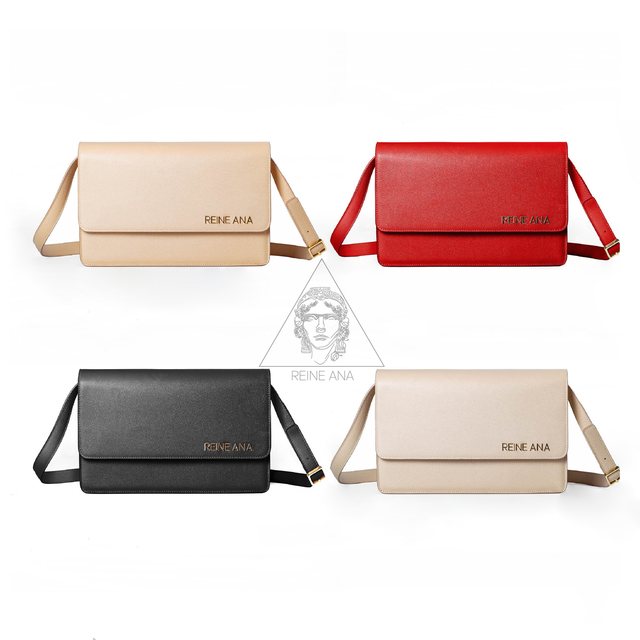 1000 euros does not seem a bit expensive as a floor price for the Albanian market?
It is more than 1 thousand euros. Jane minimum 1200 euros. And this, as an international company, compared to quality, since it is a new brand, ambitious and with big goals, as a first step, has released them. The same bag sizes, and elegant concept, other well-known brands already sell for over 3,500 euros. In fact, we produce them in the same factory, with the same quality and with the same artisans. It?s just the name that makes the difference and that?s normal. As are years of investment and success. I wish "Reine Ana" for everyone, but also for my dear and dear Albanians, to become their favorite. After all, I am an Albanian and I am proud to be one. I would like to select it among all the other brands for this reason as well: what it designs is an Albanian one. They really liked it, in fact, and bought it right away. Those who are passionate about leather bags and know their culture in detail, I am glad that they managed to distinguish the caviar leather used by YSL or Chanel, also in "Reine Ana". I can't wait to make the second collection. Meanwhile, for the former, there are still a few online bags. If you want to have parts of the wardrobe in the first collection and save it, as over time the value will be added many times more. Unique codes and certificates will make the "Reine Ana" bag you have even rarer and you will get it.
Of the number 80 of the initial bags, how many are currently sold by them?
Of the four collections, more than half have been sold. But the time of pandemic happened, where the pace is not as it seemed, it seems that currently there are fewer purchases and more visitors to the website of "Reine Ana". Apparently, it is normal, as the idea of saving saved us all. However, fans of these high fashion bags write dozens every day on the social networks of "Reine Ana" and can't wait to be on a calmer day so that, after buying them, they can go for a walk around the world.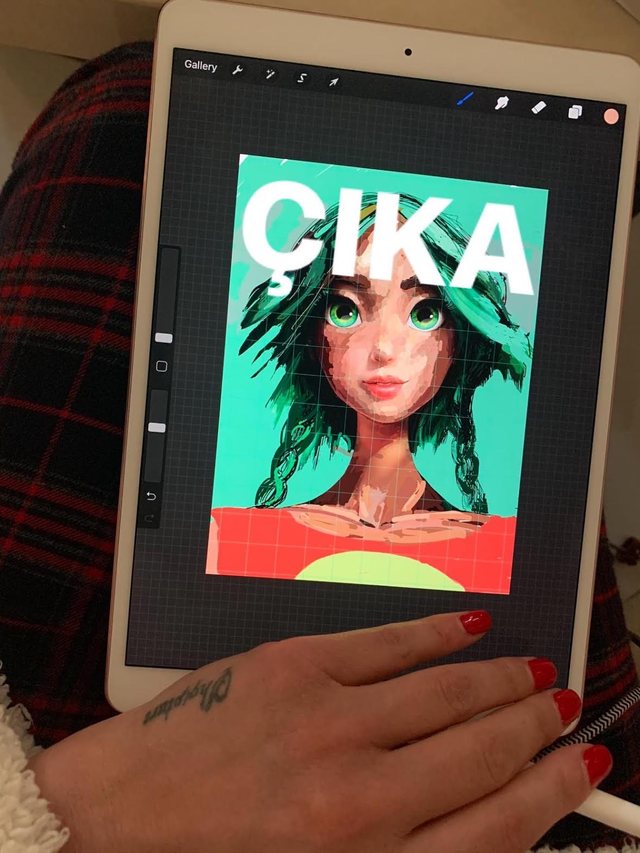 "After quarantine, I think I'll cry."

For almost two months, in quarantine. Of course, Albana hadn't even tried to stay home that long without her daily activities, but with both parents, in an area outside Tirana, the quarantine couldn't be better. The whole day is dedicated to the parents, the beautiful life of the private house with the yard and, of course, the suspended works that continue even in these conditions. There is still a little bit left, Albana believes, to get out of this situation, but it is very important that for each of us, this will be, more than anything, a time of reflection - to find within ourselves our best part.

Karantina was a shocking time for Albana, especially at the beginning. But "the real battle comes after quarantine." Not only to teach ourselves a new behavior, but also to see our way of life, our daily life, differently. In addition, Albana has experienced a period of "shock", because everything started to happen in early March, she had written a year ago in her book "Chika": "Oh God, everything is happening as in my book" ? It was only the beginning, because what would follow, for Albana, as for many of us, would serve as a separate school: what we did not study in school, was not taught to us by family, nor by society, but life has injected us - to appreciate the small and inherent things. For this, Albana says that, at the end of it all, she would like to cry with joy.
Does it happen to you, like many artists, to be more creative at this quarantine time?
To me, like many, no matter if he is an artist or not, a lack of concentration has occurred to me for many days. So what was happening in the world was completely unpredictable. I speak in the calendar, as these last days it seems like we have more information and we know, at least, to be careful, to distance ourselves and talk more every day about a vaccine that will come out, which I wish to be as soon as possible in public. Then, in my book I wrote in 2019 (still unpublished), one of the battles since the first chapters is against a pandemic that has invaded the world from an unknown virus. Although I myself had written this book and knew the end according to the book, that humanity is saved and man is extraordinary, he is never defeated, again in a part of me by man under the panic of the unknown, in what is happening in reality and not in one book, the repetition with itself: "O Lord, it is done as in the book . " In my book, humanity suffers, anyway. But apart from the pandemic, which is periodic as the cure is found, the real battle is another. It is a book of the science-fiction genre. I say that there will be many interested in buying this book, as it will come with illustrations, which I am working on in the meantime, and there will be many specials for this aspect as well. Karantina, therefore, found me a little shocked and then, day by day, wanting to believe the best, I stopped in creative parts, in addition to meditating with free lectures of Oprah Winfrey that offers online.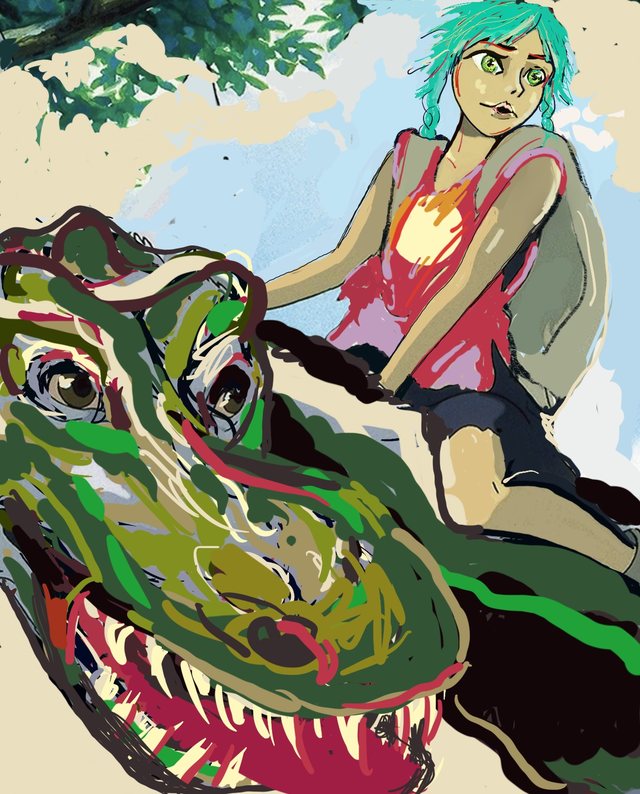 How are you doing today, are you alone or with your parents?
I am with my two parents, whose eyes I do not share. We have a great time, just because we're tired of Daddy in particular, reminding him to wash his hands after every little thing he does inside the yard. I am in the village, in Hamallaj near Durrës. I came here the day before the state of emergency was declared, to visit my parents, and we did not move. My father has bees, which he has near the house in the yard, takes care of them and spends the day. I help her and deal with everything else she needs inside the yard with both parents. In addition to the weekly shopping and disinfection of every deataji, like all of us these days. I worked on the book and made new sketches. I talked to friends and tried to keep the morale of my parents and mine high. In life sometimes these are needed, nothing more. So, with positivity, we will succeed and be unique in our lives as before, healthy and well.
What?s your favorite thing to do at this time? What did you miss the most?
I miss everything. My friends, my day, the pace. The feeling of security over everything. But after every rain, the sun comes out and I fully believe this, it will pass. I just wish that this time has come upon us humans to make the best possible effect, to have reflected to be our best version, to be even better people.
The first thing you will do after leaving the quarantine?
I think I will cry. And I say this without humor. In fact, these days, especially the first few days, our eyes filled with tears at every informative edition. It was inevitable. Human tragedy was happening everywhere. So I think I will cry for joy. Then, I will meet friends, comrades and I want to embrace all people. Then, like everyone else, I will work towards my goals and goals.
You also have problems with kilos in this period, how do you manage with the diet? Are you in the group of those people who care not to spend a single gram on the way you eat?
I am more or less the same as the kilos, as a person I do not gain weight easily. Simply, I am relaxed, I have not been in a typical run of my own. I can't go on a diet, I've been lucky enough to have a very good metabolism and I'm happy about it, because if it was a diet, I would surely fail and I would have gained 120 kg by now. But, as everyone says, health above all, so I pay attention to these words, a few kilograms less or more.
I wish you health and thank you for reading my interview given to Class magazine while we are all inside the isolated house.