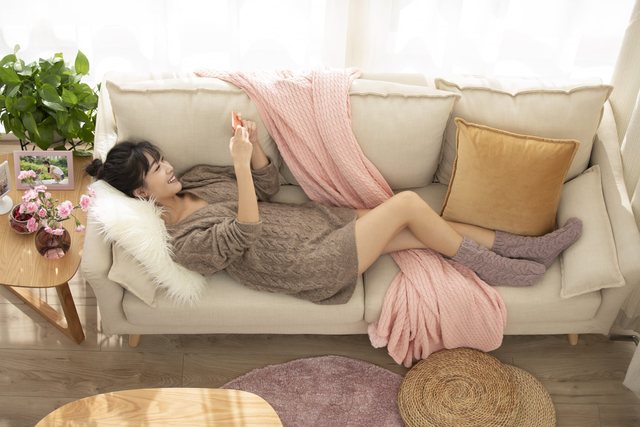 When it was first announced in Los Angeles that I was staying at home in response to coronavirus pandemic, I immediately felt a panic that shook my whole body. What would this mean for me, as the only girl who has life ahead of her? The "fearless", "independent" version fell off very quickly and was replaced by someone who envied all the couples who had someone to go through this difficult period.
Thankfully, that thought did not last long. Within a few days, I followed in the footsteps of social distancing. The daily chaos of ordinary life in the city had gone away and instead it was a slower version, which I really needed. Slower, simpler and much calmer. I started working from home and without the usual work plans, I had a lot of time to reevaluate some aspects of my life. Finally, I was able to focus on something I had forgotten for a while: myself. And I felt really good.
What did I do? I bought some weights for home workouts; I sent the recipes to old friends and enrolled in online dance classes. Soon, I was spending my free time exercising and taking care of my body, doing things I had never done before like practicing ballet, and enjoying home-cooked meals for myself. I felt strong and quickly gained self-confidence.
If the home stay order had been imposed a few months ago, things would have been drastically different for me. I was still in my last relationship, which was very dynamic, even running for pizza from midnight to lazy mornings where the gym didn?t seem so important. These habits, I know, would not have served me well during social distancing. Being in a relationship would have prevented me from slowing down and thinking about what makes me really happy. Rather, I now feel more connected than ever with myself. I have gained a new sense of independence - a deeper one than I have ever felt before. And I did it all myself.
You do not need to learn something new, exercise every day or bake more banana bread to feel fulfilled during your stay at home, but you need to understand what is best for you during this time. For me, learning to be alone is not synonymous with being alone. This is extremely important to distinguish. Am I still jealous and now when I see photos of my friends who are a couple on social media? Of course, I can't be hypocritical! But mostly I feel lucky. I have to spend this time the way I want and at the end of the day, I know my heart needs bachelorhood now.
As some businesses and beaches have slowly begun to reopen in LA, I see a light at the end of this still very long tunnel. While there may be some other waves ahead, I know no one else would want those storms more than I did.
SM