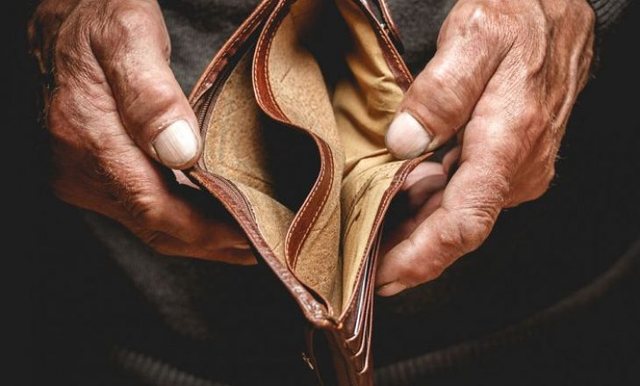 Albania remains one of the most vulnerable countries to the consequences of Covid-19, which is related to the characteristics of its economy, such as the high level of self-employment and informality. The unemployment rate is expected to reach 40% today, up to 48% (the number of people living on less than $ 5.5 a day, according to purchasing power).
According to a recent report by the World Bank, which assesses how COVID-19 can affect Poverty and Family Welfare in the Western Balkans, self-employed people with informal employment and those with temporary or non-temporary employment are particularly at risk. very safe.
Government measures in response to the crisis, which help firms in the formal sector to maintain jobs, will not be able to reach informal employees directly. Many of these informal or self-employed employees are not beneficiaries of social assistance, the last means of protection reserved for the poorest, leaving them vulnerable. About 14 to 33 percent of employees in sectors heavily affected by the COVID19 crisis in the economies of the Western Balkans are self-employed, and therefore they are even more vulnerable (Figure 1). This percentage is particularly high in Albania and Kosovo.
Nearly a third of workers in crisis-stricken sectors, mainly in Albania and Kosovo, are self-employed and particularly at risk of losing their income.
Poverty can reach 48%
Albania: The crisis caused by COVID-19 and restrictive measures are expected to reverse recent achievements in reducing poverty in Albania. In March, Albania decided to close hotels, theaters and non-vital trade activities and restricted the movement of people both inside and outside the country. Many industry sectors, including textiles, mining, telephone and construction centers, were forced to reduce activity due to the implementation of measures for social distancing but also due to declining demand as a result of the collapse of export orders. It is likely that Albanian emigrants will also be affected by this global crisis, which will lead to a reduction in income and, consequently, remittances.
According to the simulations performed for this note, it is estimated that the poverty rate in Albania can increase by 4 to 8 pp, going to about 40 percent in the first scenario and 44 percent in the second scenario. Thus, according to the most optimistic scenario, poverty would reach the level of 2012 and, according to the most pessimistic scenario, it would be equal to the level of 2005.
Since most people working in agriculture are already poor, and simulation does not assume a decrease in income in agriculture, the increase in poverty will come mainly as a result of people in cities working in the service sector and expected to lose some considerable of their income.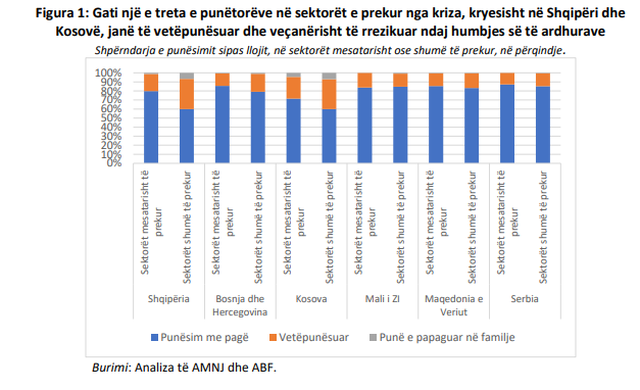 Simulations for the Balkans
According to World Bank estimates for the Balkans, revenue losses are likely to be seen across the revenue distribution segment.
Average household incomes are expected to fall from 3 to 12 percent in all six countries in the region. Figure 4 illustrates the decline in revenue distribution segments due to COVID-19.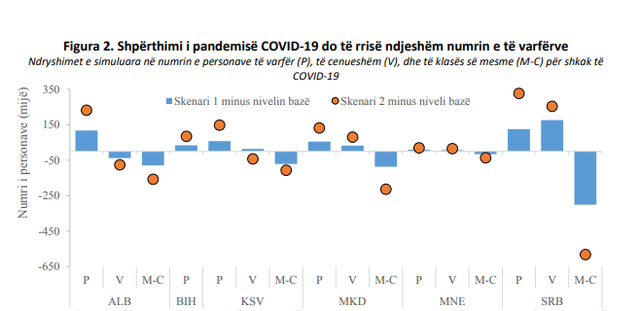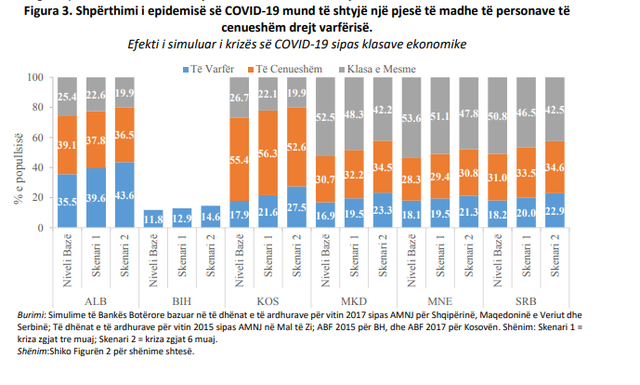 Income losses for individuals and families in the poorest quintile may vary from 3 percent in BiH to 5 percent in Kosovo under Scenario 1, or will double according to Scenario 2. The poor in most Western Balkan countries , compared to the rest of the population, rely more on different income from work and less on employment income in the sectors most affected by COVID-19. However, as poor families start from a low income base before the crisis, the loss of income can jeopardize their ability to meet basic needs and invest in critical stages of human development. Individuals in the second to fifth quintiles will face greater revenue declines, as revenues from the most affected sectors of the crisis account for a larger share of their total revenues.
Source: Monitor