Yogurt, especially homemade yogurt, is a good and very healthy source of protein.
Because some people do not like the taste of plain yogurt, the producers offer a variety of flavors, in many cases quite artificial.
The problem lies in the fact that producers do not save at all on the quantities of sugar they use in industrial yogurt.
How healthy they are
In some types of industrial fruit sour cream that is also sold in Albania, the amount of sugar reaches up to 36 grams!
And this amount is found only in a small plastic cup with 125 grams of fruit yogurt. How many of us were not satisfied with the first one and ate a second yogurt?
Imagine how much sugar you get in just a few minutes. Add here the possible artificial dyes and understand that you are not helping health.
Even if you consume a single fruit yogurt, the amount you take is excessive.
It exceeds the daily limit of 25 grams that the World Health Organization has set as a sugar limit consumption for women per day.
While only a small glass manages to equal the limit of 36 grams of sugar set for a healthy body in men.
This means that you are making a very busy choice of sugar for breakfast. This way you are overdosing on your first meal of the day.
If you start your day with such a high sugar standard, you will have problems.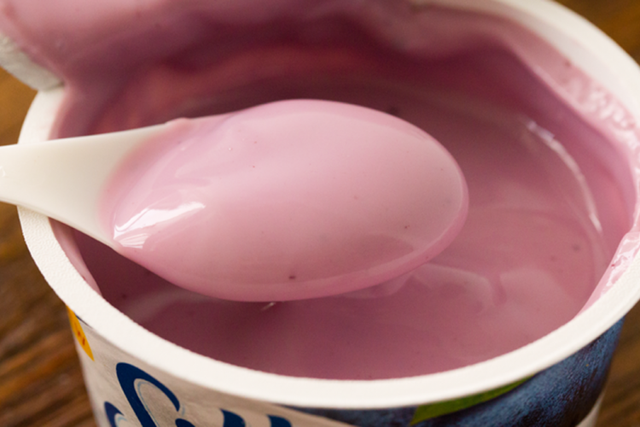 This is because you will force your body to require even more sugar for the rest of the day.
But even if you choose fruit yogurt with artificial sweeteners, you are not making a healthy choice.
Studies consulted by AgroWeb.org show that artificial sugars can trigger the release of insulin just like sugar.
Studies in humans but also in everyday habits show that if you use artificial sweeteners as sugar substitutes, you are essentially keeping the need for sweets high.
This only makes it even harder to reduce your sugar intake for the benefit of your body.
Can we add flavor to natural yogurt?
The best way to add flavor to natural yogurt is to use fresh fruit, vanilla extract or a little cinnamon./ AgroWeb.org