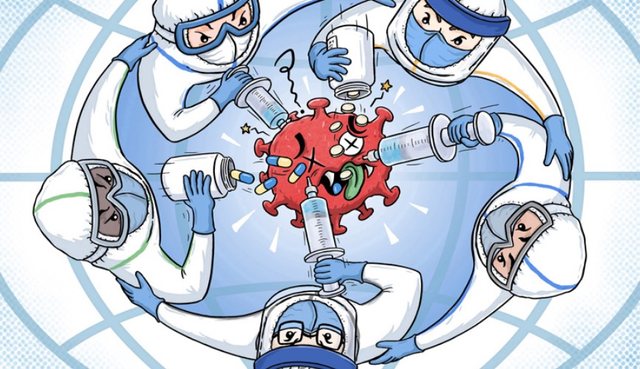 As governments struggle to curb the transmission of covid-19, they are also struggling to stop the spread of Internet-related misinformation.
The pandemic has resulted in the rapid spread of conspiracy theories posing a risk to public health, an increase in anti-Asian hatred on the Internet, as well as a spread of fraud on covid-19.
Most of the online misinformation about coronavirus is being disseminated by sites that have backed conspiracy theories on other topics, such as the September 11 vaccines and attacks, says John Gregory of the New Guard, a firm that values news reliability and pages. information. The firm initially noticed an increase in disinformation on covid-19 in the last week of January, as the virus began to be widely covered in newscasts.
"Most of the sites we've identified for exchanging misinformation about coronavirus and pandemics are sites we've already deemed unreliable," says Gregory.
In Europe, the firm identified 36 Facebook pages that it considered "super-spreaders" of coronavirus misinformation, which together had more than 13 million users. "The volume is unparalleled," says Gregory.
Some sites are using covid-19 as a new way to spread news, Gregory says. For example, conspiracy theorists who falsely claimed that 5G signals cause cancer have since been linked to 5G by pandemics.
In the UK, Kate Daunt at Cardiff University and her colleagues surveyed more than 700 people between March 21 and April 5, and found that 51 percent of respondents had seen misinformation about coronavirus over the past month.
Among the group that reported not seeing any false news about covid-19, the researchers found that 41 percent never checked the news for their authenticity before sharing it with others. "These individuals are less informed and can see misinformation, but without realizing it," says Daunt.
It's not just fake news spreading online. Srijan Kumar at the Georgia Institute of Technology in Atlanta and his colleagues noticed an increase in the language of anti-Asian hatred on Twitter, analyzing nearly 31 million posts on this platform, regarding covid-19.
They defined the language of anti-Asian hatred as any post that was abusive or degrading to an individual or group of Asian people, or blamed them for creating, spreading, or misinterpreting covid-19.
The team identified approximately 3 percent - or 891,000 posts - as hate speech, and 10 percent of them were posted by online bots. He also revealed that about 200,000 posts were anti-hate, meaning they actively criticized racism and hate speech, or supported or defended Asian people.
Hate speech, like the virus, seems to be contagious. Even considering the fact that people tend to follow others with similar views, users who saw anti-Asian hate speech posted by someone who followed it were five times more likely to post more hateful posts.
In contrast, the researchers found that anti-hate posts discouraged others from sending similar messages. This suggests that social media platforms should take measures to reduce user exposure to hate content, Kumar says. "It's not just about hate speech on the Internet," he said. "It's also how people are affected in the real world."
scams
Coronavirus pandemic has also led to an increase in fraud. In April, UK communications regulator Ofcom warned of phone calls and texts from fraudsters removed as government, public health agencies and even Ofcom itself.
Text messages often mimic official wording, such as seeking money through false fines for allegedly violating blocking rules. Callers are presented as health workers or contact trackers, offering tests and treatments.
By May 29, nearly 4.7 million pounds had been lost from these types of scams across the country, and more than 2,000 people had been deceived, according to ActionFraud, the UK's reporting center for fraud and cybercrime.
She had also received more than 11,200 reports of fraudulent e-mails linked to coronavirus, which seek to steal a user's personal information.
The UK's National Cyber Security Center has seen an increase in websites, scams that sell fake tests, face masks and vaccines.
It launched a suspicious email reporting service on April 21, receiving more than 600,000 complaints in just over five weeks.
Internet criminals are taking advantage of people's fears for their health, says Jake Moore on the online security firm ESET. "Captured by this panic, [the people] are giving a lot of information that they would probably think twice about, in another situation," he said.
Moore says the coronavirus scams have followed the news trends. A current concern concerns those around the UK contact tracking app, where people receive fake texts or emails from addresses only slightly different from official ones. / New Scientist - Bota.al