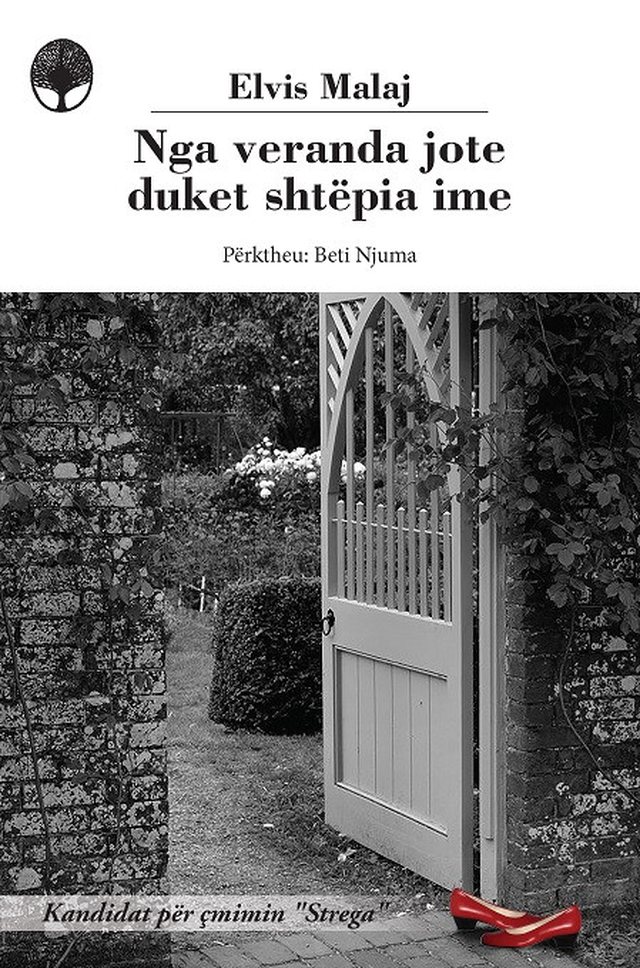 A story about two shores, both known and unknown to each other, for different people, but basically similar.
General information about the book
"My house is visible from your veranda" is the first volume of stories by the Albanian-Italian author Elvis Malaj. In his 12 stories, two worlds revolve, both different and the same. Two worlds facing each other through language, worldview, emotions, tradition and innovation, known and unknown.
Malaj narrates without gloves and without clichés the real life of Albanian youth in Italy and Albania; tells of bullying, sex, family, stereotypes, joys, pains, ordinary life, the inadequacy and turmoil of the immigrant, but with a completely new and fresh perspective, away from the already ready-made templates.
His stories do not simply represent being Albanian, they are stories about human beings who suffer, quarrel, laugh, do stupid things, love and hate.
They are fun, entertaining and captivating. At their center, apart from a rare case, are young Albanians raised in Italy and as Italians, perhaps the author's alterego. Youth on the one hand and Albanian identity on the other are the two sides of the same coin, which Malaj manages to bring to us as a deep but never banal division of Italian society.
"My house is visible from your veranda" was ranked among the 12 best candidates of the "Strega" award 2018.
Critics
It is an unusual, grotesque, sober, loving, boastful, sentimental book: bold. The tragicomic record is the hardest: here, we have someone who uses it with the unbridled freedom of the man who knows he has a lot to show; and what he has to show is life itself.
Sandro Campani, writer
Malaj's stories - because they are stories and this seems to me another reason for interest - measure all the distance between dream and reality, and demonstrate what "foreign" means in Italy or Albania.
Luca Formenton, academic, president of the publishing house "Il Saggiatore"
The distance that pervades the lives of Malaj's characters is internal and manifests itself through the cynicism that, in fact, hides something opposite, namely his melancholy loneliness, designed in search of the place that belongs to him in this world.
Il Manifesto
The presence of a largely external and comprehensive narrator, along with the ironic view and the choice of a language colored by a "dirty realism", creates the opportunity to maintain the right distance (emotional but also cultural) as from the host society, as well as the native one.
L'indice dei libri del mese
author
Elvis Malaj was born in Malësi e Madhe, in 1990. At the age of 1, he moved to Italy with his family. "From my veranda, your house can be seen" is his first volume of stories, published in 2017. He has published and won various literary awards for the stories he has written.
Today, he works and lives in Padua.
Excerpts from the book
1) To feel good or not somewhere, does not depend on where you are, but on yourself. Wherever he goes, he always takes with him something that, after all, makes every place the same as everyone else.

2) For me, the fact of being Albanian has never been a discriminatory factor, on the contrary, it was that detail that gave me an exotic nuance and made me more attractive; not to brag, but in fact, I?ve always been a donzhuan.

3) The fifteen-year-old son came out when he was teased, of course, only because he was a more closed type and, when he returned from school, stayed all day inside the four walls. He once said to her, "Hey, Dad, I had sex."

His uncle stood up and came out in front of him: ?You are only fifteen years old and you have sex now ?! Come here, babushi's playboy! ?, He had returned to her health and wine, beating her shoulders several times.

- Union, did you hear? Have sex! He's a guy who, as I say, a gentle sage, stays in a corner, but in the end he snatches it all away. Eh, how fast the kids grow up. Yesterday was the opening, today it has become a man.

- Oh ba, what about sore throats when they rest?

At first, my uncle did not understand the question, but then he fainted, no sound came out of his mouth, it looked like a beast at the butcher. At that point, Union and cousin burst into tears.
Title: My house is visible from your veranda
Original title: Dal tuo terrazzo si vede casa mia
Author: Elvis Malaj
Translated by: Beti Njuma
Genre: Stories
Publication date: June, 2020
Number of pages: 156
Price: 700 ALL
Collection: Mosaic