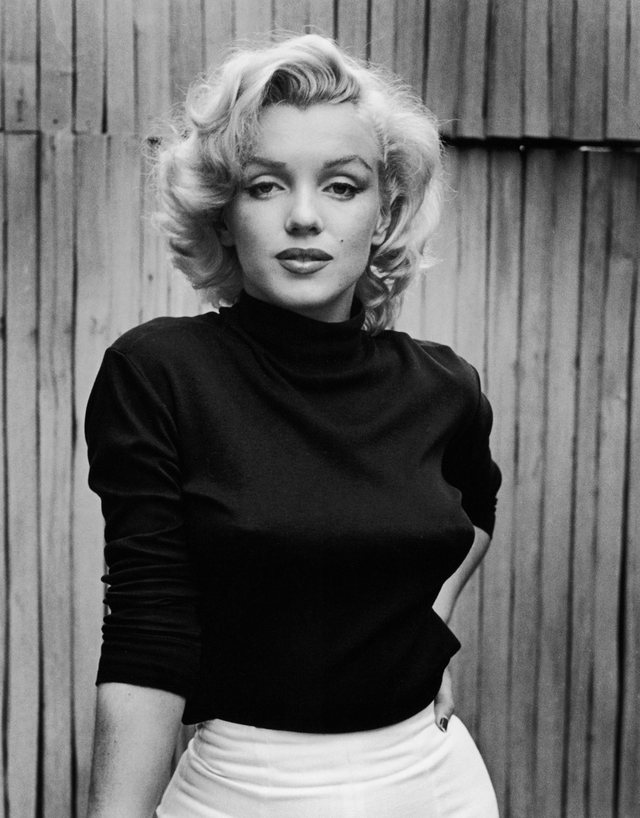 For many people, Marilyn Monroe, who if she were still alive today would turn 94, will always be that sensual girl who drives men crazy on the street; with her ruffled dress around the waist. For others, she is the woman who sweetly wished President John F. Kennedy a happy birthday with a song.
But in reality, she was neither one nor the other. In fact it can be said that Marilyn was not even a real person. She was a glamorous character created by Norma Jean Baker, the little girl who dreamed of becoming a movie star. Born June 1, 1926, Norma Jean was the daughter of Gladys Baker and Charles Stanley Gifford, a colleague in the film lab where Gladys worked.
Gladys Baker was an intricate woman. Married twice before, it was only when Norma Jinnie was born, and although she was determined to take care of her own little child on her own, that was by no means easy. A single mother, she was looked down upon by the society of the time.
Because of this pressure, just 2 weeks after giving birth, Gladys took Norma Jean to the home of Ida and Wayne Bolender, her mother's neighbors, Dela Monroe. For almost 7 years Norma Jean lived with the Bolender family, who took great care of her, and even wanted to adopt her.
Gledis was shocked by this, as she had lost 2 other children when her first husband took her after the divorce. So she was determined not to allow such a thing to happen again. In 1933, Gladys decided to take Norma to a house she was sharing with the English couple Atkinson, who was making movies.
From that moment on, Norma Jean's life turned into a maze of uncertainties and confusions. Soon, news came that Gledis's grandfather, Tilford Hogan, had committed suicide, while her son, Robert, had been tragically killed. Gledis had always been of an emotional nature, and these two events were enough to plunge him into depression.
"Why weren't you better?" She shouted to her daughter, terrified by what they were hearing. Some time later Gledis suffered a nervous breakdown, which drove him from one psychiatric hospital to another for the rest of his life. For Norma Jinnie, the disappearance of her mother was very serious.
She was sexually assaulted by a young resident of the home. And how to make matters worse, no one would tell her what had happened to her mother. She began to believe that Gladys was dead.
A belief that was reinforced when her new caregiver (and Gladys's best friend), Grace Godard, packed her bags of clothes, and took her to the Los Angeles Orphanage, where she lived the following year. Further passed from one house to another; where Anna Louer, Grace Godard's aunt, became one of the most influential people in Norma Jean's life.
In 1942, she married Jim Daugert, a neighbor of the Godard family. The marriage lasted 4 years, during which Jim went to war. She was upset and lonely, so she started working in a weapons factory, where she was discovered by a photographer. The photos paved the way for her career as a model. Norma Jin quickly quit her job at the factory. Jim disagreed. He warned his wife that when she returned from the war, she would have to give up everything, and dedicate herself to the family.
In response, she went to Las Vegas as she filed for divorce, an act that disappointed her husband.
In Las Vegas, the young model met Bill Persell. She became so popular on the covers of magazines that when she went to Los Angeles, she was invited to a film rehearsal by the well-known company "Century Century Fox". She immediately signed a co-operation contract, but was disappointed to learn that she would have to change her name to Marilyn Monroe.
Her career was initially modest, with a few minor roles. Fortunately, he was finally spotted by the famous Hollywood agent Johnny Hyde, who arranged for Angela's small but important role in the movie "Jungle Asphalt". The two fell in love, but rumors that Marilyn had an affair with her over money were completely unfounded.
In fact, Hyde asked her many times to get married, but she in any case refused. After Hyde's sudden death, Marilyn began taking on major roles in films such as "Love Nest", "Clash By Night" and "Don't Bother To Knock". Her star was climbing.
But everything risked taking a turn for the worse after it was discovered that she had posed nude, and that the mother she had long declared dead was actually alive, and was living in a psychiatric hospital. These discoveries almost ended her career.
But Marilyn took heart, and decided to tell the truth. She admitted that she had taken nude photos as she was desperate and needed money. As for her mother, she wanted to keep her location a secret to protect Gladys, not herself. The audience appreciated her honesty, and her career continued to climb.
In 1952, he fell in love with the famous American baseball player Joe DiMaggio. Over the following years, she starred in a variety of high-profile films, including "Niagara" and "Gentlemen Prefers Blondes." She wanted better roles, and when asked to give studio explanations for a role she liked; retaliated by fleeing to San Francisco, marrying Joe Dimajo.
The studio decided to suspend her, but later things returned to normal, and she starred in "There's No Business Like Show Business" and "The Seven Year Itch" in 1954. It was the last film, which unfortunately ruined her new marriage. . As she was filming the promotion scene, which showed her in the loose dress that swelled around her waist, a furious Joe was around, and was not at all polite to the photographers and viewers who were admiring his wife's charm.
A violent altercation ensued, with Marilyn seeking divorce. In 1956, she began a relationship with playwright Arthur Miller, whom she married. The couple went to London in July 1956 for the filming of "The Prince And The Showgirl" co-starring actor Laurence Olivier.
But that time was not happy for anyone. And what shocked Marilyn even more was the revelation of Arthur's diary, where he spoke in detail that he felt neglected by his young wife. The couple returned to New York, where they tried to resume a normal life.
But for Marilyn, that meant some misbehavior, one in 1957, and another during the filming of the hugely successful "Some Like It Hot." She underwent several failed surgeries in an attempt to become a mother, and after the last operation in 1959, the doctor informed her that she would eventually be unable to have children.
From that moment on, she gave up her efforts to become a mother. Her relationship with Miller broke down after he wrote about her role as Rozlin in "The Misfits," co-starring actor Clark Gable. The film was emotionally very heavy for him; extremely personal portrayal, and when filming was over, Marilyn faced life alone.
Recent years have seen a series of depressing ups and downs. One of the crises occurred when Clark Gable's widow allegedly blamed Marilyn for her husband's death. In fact, he passed away just days after the filming of "The Misfits" ended. Marilyn began to have suicidal tendencies, so she agreed to be hospitalized for some time.
Sadly, she had no idea she had mistakenly entered a ward for patients with serious mental disorders. Only Joe Dimajo's departure secured her release, as he threatened to dismantle the hospital "brick by brick" if staff refused to release her from the hospital.
The following year, Joe became the friend Marilyn had always dreamed of. They went to Florida together, relaxed on the beach, and played baseball together. The newspapers talked about a reunion of them, but Meryl denied this.
How was the truth? We will never know, as the night between August 4-5, 1962, Marilyn was found dead in her home; victim of an apparent overdose. To date, many theories have been put forward as to why or how Marilyn died.
Some say because of her intimate relationship with the president of the United States. Although this has never been proven. All we know is that she sang about him on his birthday, and that she was a friend of the president's sister. The truth is that we will never know how Marilyn Monroe passed away.
She took her secrets to the grave, and any story of her death that has come up over the decades may at best be just speculative. But in the end the truth does not matter, as the seduction from her public life is much more attractive.
All Norma Jean Baker wanted was to be loved by someone. So focusing more on life than on her death is the best way we can tell her how much she meant to the world she lived in, and how much the world lost when she left her. Bota.al