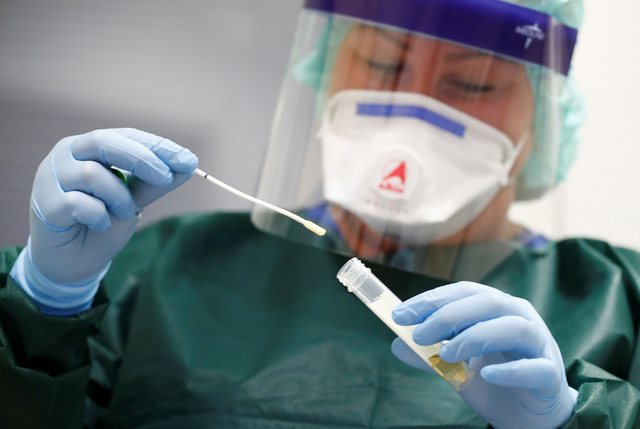 Tests to see if you are affected by SARS-CoV-2 are the main condition for preventing a pandemic. But how many times should the tests be done and who should be checked?
More and more types of coronavirus testing are being introduced to the market. At the end of July worldwide there were 270 different products used to do the analysis. They are mainly divided into three groups: PCR analysis, serological analysis (ELISA) and antigen analysis.
PCR analysis
The analysis of whether someone is infected and can spread the virus to others is mainly done by the polymerase chain reaction (PCR) method, an enzyme that creates certain polymers, especially DNA. There are also so-called DNA amplification assays, which function similarly to PCR assays.
In both cases the patient is tested for saliva in the mouth with the help of a cotton swab. Even coughs from the depths of the lungs are suitable for taking the test.
A certain part of the genotype, a certain kind of gene, taken from the sample is multiplied several times and finally a biochemical process called Agarose-Gelelectrophoresis determines if the genotype of the virus is in the test. If the genotype is found in it, then the patient is infected. If the genotype is not there, it does not mean that the patient is not affected. It may be that the virus is not present in the saliva test, and yet is present somewhere throughout the body.
This may explain why in some cases patients with COVID-19, who think they are cured, later become infected when they undergo PCR tests. It is possible that in these cases the virus was present all the time, although it was not found in the test. Infectious disease doctor at the Charité Hospital in Berlin, Christian Drosten, says that it would be like knowing how to catch fish in a lake gold using fishnet. When you pull the net out of the water and see that there are no fish in it, it does not mean that the fish are not in the lake.
Rapid PCR analysis
Analizat tradicionale të PCR duhet të bëhen në një laborator. Shpesh ato bëhen me shpejtësi të madhe, sepse në të njëjtën kohë bëhen mijëra analiza. Kjo do të thotë që zakonisht pacienti merr përgjigje pas disa orësh, ose pas disa ditësh. Më shpejt bëhen analizat e ashtuquajtura analiza të shpejta të PCR. Prova në këtë rast nuk dërgohet në një laborator qendror, por analizat bëhen në vend me pajisje ambulante. Këto pajisje mund të përmirësohen aq shumë saqë rezultati është gati pas treçerek ore. E keqja e kësaj analize është se pajisjet nuk arrijnë të bëjnë më shumë se 80 analiza në ditë.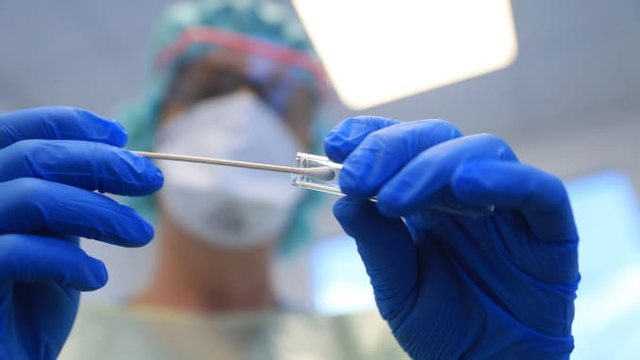 Analizat e antigjenit
Këto analiza të shpejta kanë dalë në treg para disa javësh, dhe janë shumë të lehta për t'u përdorur, pothuajse si kontrollet e shtatzanisë. Edhe në analizat e antigjenit merret prova nga pështyma. Kërkimi i virusit bëhet me metodën e immunoassay-it fluoreshent (FIA). Këto analiza e japin rezultatin brenda një çerek oreje duke treguar nëse një pacient është i infektuar akut dhe është ngjitës. Megjithatë analizat e antigjenit nuk janë aq të sakta sa analizat e PCR. E mira e tyre është se vihen lehtë në dispozicion dhe krijojnë mundësinë për t'u përdorur në vend.
Analizat e gripit që funksionojnë sipas të njëjtit parim, arrijnë ndjeshmëri diçka më shumë se 50 përqind, dhe saktësi prej 99 përqind. Kjo do të thotë se një në dy persona të infektuar, identifikohet si i tillë. Një në 100 persona të testuar, pati dalë gabimisht me rezultat pozitiv.
Megjithatë, gjithnjë e më shumë mjekë preferojnë përdorimin e analizave të antigjenit, sepse shpresojnë se kështu mund të zbulojnë gjithnjë e më shumë të infektuar, sepse analizat kanë rezultate të sakta sidomos kur pacientët kanë ngarkesë të madhe virusi. Ky është dhe momenti kur një Superspreader mund të infektojë të tjerët.
Në pjesën më të madhe të vendeve, përshembull në Gjermani, analizat e shpejta nuk janë falas. Meqenëse sipas ligjit për mbrojtjen nga infeksioni të gjithë të sëmurët me SARS-CoV-2 janë të detyruar të lajmërohen, analizat duhet t' i bëjnë vetëm mjekët.
Dëshmi për një infeksion në të kaluarën
Serological tests (ELISA) show antibodies that are in the blood because it has been released by the immune system to fight the virus. This means that the body has already had an immune reaction against infection with a certain virus. For this the person being checked must give a blood test. Tests are performed in the laboratory.
Meanwhile manufacturers have released a quick analysis according to this principle, however the tests have to be done by a doctor. A few drops of blood are enough for this, just like during the control of diabetes, which are put in a measuring device together with the shock-absorbing solution./DW/