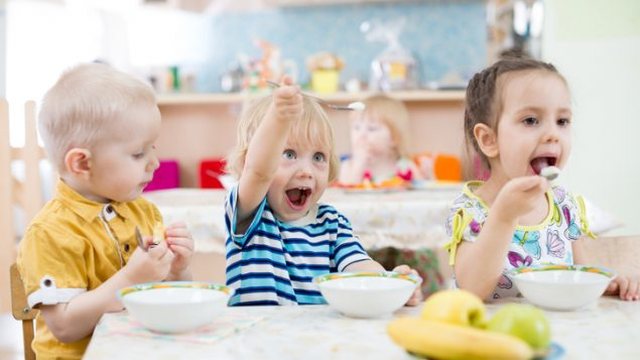 Although the use of traditional Mediterranean food is still characteristic in the Albanian society, according to which we benefit from a varied diet, rich in fruits and vegetables, very harmful eating practices and phenomena have started to be identified, phenomena related to malnutrition in certain individuals and strata, as well as malnutrition in other cases. Our study gives us very interesting data in this regard, data that should be taken into account and should be the focus of the work of the teaching and educational staff of the educational structures and the medical staff that supports them.
According to our survey, regarding the question "how many days a week do children eat breakfast" we find that 42% of school-age children do not eat breakfast on weekdays when they go to school, and only 35% of them eat breakfast every day before than go to school. In Europe the figures range from 51% in Slovenia, who eat breakfast every day at school, to 90% in the Netherlands, who eat breakfast every day. Why this happens, at a time when we all know and advise it as necessary to eat breakfast, especially for children, for the needs of their body to be well-nourished, in order to cope all physical and mental activity during school hours and in various extracurricular activities? We believe that the main role in this behavior of children is related to the attitude of parents towards this phenomenon: how engaged they are in the upbringing of children, how much they undertake to follow in detail the way children start a normal day and continue it, just as children prepare to face life day by day. Some of the reasons we think we have such a phenomenon in these dimensions are as follows:
Parents have not taught their children to feed themselves. In other words, it is the duty of parents (mother and father, without exception) to take care not only of their children's food, but also to teach them the basic skills of preparing a simple meal. In this way we avoid malnutrition in children when parents are not at home, or when they leave home early for work reasons, or other reasons. We think that such a role can be played by the school, which has the opportunity in certain teaching hours, as well as in certain educational subjects can help children to prepare their own meals. These are practices that, although rare, have occurred in certain schools in our country, but that we find frequent in schools in other European countries.
Parents do not pay proper attention to breakfast. It is often a habit of Albanian parents not to eat breakfast for various reasons such as lack of time, diet, lack of practical things to consume, etc. And this behavior, not at all healthy of them, is also reflected in the way children experience breakfast at home. Also, we must say here that the parent, as with everything, is the first role model the child imitates in his or her own life. In this sense, a bad, not at all educational model regarding the way of eating in the family creates unhealthy attitudes and behaviors in children from early adolescence, behaviors that were crystallizing as such, it is very difficult to change anymore. after, despite the work that schools, family and society can do with them.
Në shumë raste prindërit gjejnë rrugën më të shkurtër duke iu dhënë lekë në dorë fëmijëve të tyre, në mënyrë që ata të hanë në shkollë dhe përreth saj. Me këtë nënkuptohet që fëmijët të blejnë ushqime në lokalet e shkollave apo pranë tyre, ose edhe në shitësit ambulantë që janë të shumtë përreth shkollave, sidomos në oraret e pushimit, kur fëmijët kanë më shumë kohë të lirë.
Kjo sjellje shtron disa probleme, ndër të cilat mund të përmendim si më të rëndësishmin atë që lidhet me higjienën e ushqimeve që tregtohen në këto lokale, sa të kontrolluara janë ato nga ana higjienike. Është momenti të kujtojmë këtu se jo në pak raste kemi patur ngjarje epidemike, ndër fëmijët, me burim ushqimin përreth shkollave. Pasi, jo të gjitha lokalet kontrollohen për higjienën përditë nga Inspektorati Sanitar, jo gjithmonë ky institucion kryen si duhet detyrën në çdo skaj të vendit, po ashtu në shumë raste është praktikisht e pamundur që të bëhet një gjë e tillë. Por nga ana tjetër, na duhet të themi se edhe nëse realizohet si duhet ky kontroll, janë të shumtë shitësit ambulantë që nuk i kontrollon askush, që i shpëtojnë rrjetës së kontrollit sanitar shtetëror, duke përbërë kështu gjithmonë një rrezik potencial për shëndetin e fëmijëve. Përveç sa më sipër, ka edhe një shqetësim tjetër që lind nga kjo sjellje e fëmijëve për mënyrën e tyre të të ushqyerit dhe që lidhet me faktin se kjo mënyrë të ushqyeri me më shumë kalori se sa nevojiten na ka çuar edhe në lindjen e një rreziku të ri për shëndetin e fëmijëve, që është mbipesha apo obeziteti.
Nga anketimi ynë kur u pyetën fëmijët: "A mbani dietë?", përgjigjet e tyre ishin si më poshtë: 66% e nxënësve deklaronin se nuk mbajnë dietë; gjë që nënkupton se ata ishin me peshë normale dhe nuk kishin probleme shëndetësore. Por 15% e nxënësve, pavarësisht se u përgjigjën se nuk mbanin dietë, theksonin nga ana tjetër se duhet të binin në peshë, gjë që të bën të nënkuptosh se ata ndjejnë mbipeshën në trupin e tyre. Duke shkuar më tej, janë 7% e nxënësve që deklarojnë se janë mbipeshë dhe kanë nevojë për kura të caktuara ashtu si edhe për aktivitete specifike fizike, që të mund të normalizohen dhe të humbasin kilogramët e tepërt. Krahasuar këto të dhëna me ato që vijnë nga vende të tjera europiane, të bëjnë të mendosh se vendi ynë ka tregues relativisht të mirë për obezitetin. Kështu, shifrat më të ulëta të obezitetit në fëmijët e moshës shkollore janë në Holandë (rreth 8%), Lituania (rreth 6%); ndërsa më të lartat hasen në Maltë (gati 30%) etj.
Por të gjithë e dimë tashmë se dietat e tepruara dhe të zgjatura kanë pasoja serioze për zhvillimin e fëmijëve. "Ato mund të çojnë në probleme me përqendrimin dhe shqetësime gjatë gjumit, në parregullsi menstruale, rrezikun e vonesës së rritjes, shtyrje të maturimit seksual dhe deficenca ushqimore". Dietat ekstreme (në rastin tonë, ato të rënies në peshë) besohet se shoqërohen me gjendje negative psikologjike si depresioni, ankthi, çrregullime në ushqyerje etj. Është një fakt tashmë që dieta tradicionale mesdhetare "po zëvendësohet nga produkte perëndimore të përpunuara, me më shumë kripë dhe yndyrna të ngopura", duke ndikuar në obezitetin e fëmijëve të moshës shkollore. Shifra e mësipërme 7-10% e obezitetit në fëmijët e moshës shkollore, si një tregues i kequshqyerjes së tyre, është një shifër me trend rritës. Nga viti në vit kemi numër gjithmonë e më të madh fëmijësh me probleme të mbipeshës. Dhe ky është një fenomen që vërehet edhe me vëzhgime të thjeshta empirike. Mjafton të vizitosh shkollat 9-vjeçare në qytetet e mëdha, shkolla që kanë edhe një numër të konsiderueshëm nxënësish, dhe vëren fëmijë që janë më të shëndoshë se sa duhet, fëmijë që vrapojnë me vështirësi dhe që kanë probleme për realizimin e detyrave të ndryshme në orët e kulturës fizike.
* The article is detached from the study "Healthy behaviors in school-age children", authored by Dr. Shk. Engjëll Mihalin and Dr. Shk. Eliziana Petrela.