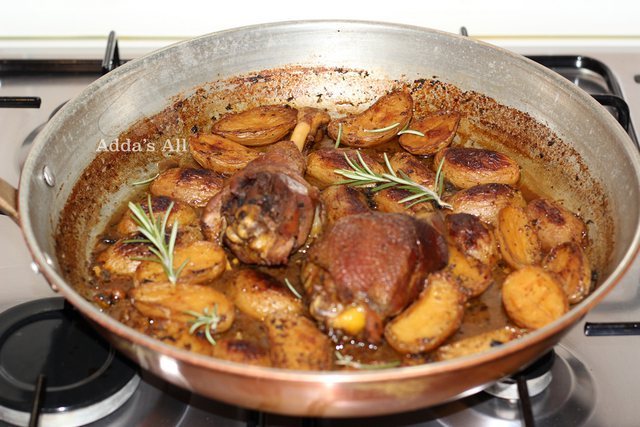 From those instant recipes that are invented with what you have at the moment and that turn out better than the ones you thought to prepare for days. A meal that will remind you of family weekend lunches in the 90s.
Ingredients for 2 people
2 pieces of chicken
200 grams of new potatoes
rosemary
a little spicy red pepper
2 cloves garlic
1 limon
salt and black pepper
olive oil
rigon
Preparation
Give a quick boil to the chicken in a little salted water and set aside the liquid.
Divide the whole whole skin potatoes in half and give them a boil in salted water for about 10 minutes. Drain and add a little salt, oregano, red pepper, black pepper and oil. Mix the contents of the dish so that the potatoes are smeared on all sides.
In a non-stick pan add a little oil and toast the chicken pieces well, add the potatoes with the portion of the pulp down so that they are well browned, turn them over and let them brown well again.
Add finely chopped garlic, a few slices of lemon, rosemary and quench with a little lemon juice. Allow the lemon juice to evaporate and add 1 cup of the broth. Cover with a lid and allow the liquid to become creamy.
If desired, when you add the chicken broth you can continue cooking in the oven for about 10 minutes. Serve.