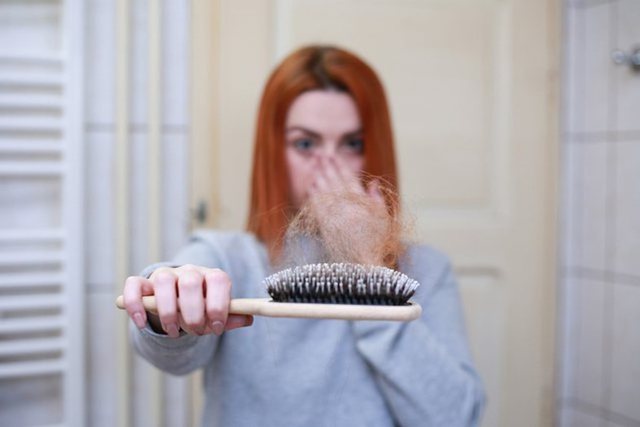 Dermatologists in the US, in a recent study, noticed an increase in cases of individuals who reported that after having tested positive for Covid-19, they noticed piles of hair on the pillow or in the shower.
But experts say this is due to higher levels of stress as a result of infection by the virus and is by no means a symptom of the virus itself.
People can also lose their hair during this period due to the season where most individuals tend to experience a hair loss.
Hair loss in the fall is a myth?
Although seasonal hair loss is still a topic of debate, the general consensus is that weather changes can increase hair loss and this phenomenon is more common in women. The reason is thought to be due to hormonal changes or even stress. However, many doctors attribute hair loss this season to environmental factors such as sea salt, pool chlorine and summer sunlight that accelerate fiber consumption.
On the other hand, studies have shown that during the summer, hair grows more to protect the scalp from sunlight. Warmer weather increases the supply of nutrients needed to produce keratin, which results in faster and longer hair growth. But after the summer, many people complain of excessive fall, especially between September and November.
Scientists say that the fact that seasonal hair loss is more common in women is explained by two main reasons: awareness and hormonal and psychological changes. Women tend to be more aware of the condition of their hair and spend more time with it every day. Women, too, go through more hormonal changes every month, which affect their psychological state, so dermatologists assume that this effect also increases hair loss.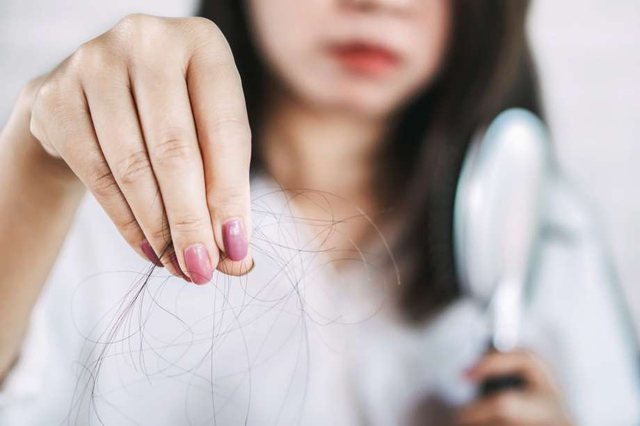 Why does hair fall out in the fall?
Rënia e flokëve në këtë stinë është e ngjashme me rënien e gjetheve të vdekura të pemëve. Pra, edhe flokët bien, sepse përsërisin ciklin e tyre të përvitshëm (lindja e një floku të ri, rritja, faza e maturimit dhe vdekja). Këtë proces e përshpejton një faktor kryesor: dielli. Kështu, gjatë pranverës dhe verës, rrezet e diellit rrisin sekretimin e hormoneve përgjegjëse për rritjen e flokut dhe shkaktojnë një reaksion të ngjashëm me atë të bimëve. Një periudhë prej gati 4-6 javësh mund të fillojë në fund të gushtit dhe të zgjasë deri në fund të nëntorit. Pas kësaj periudhe, gjithçka kthehet në normalitet.
Por norma e rënies së flokëve ndryshon nga një person tek një tjetër, ndaj është e rëndësishme të kuptosh, nëse kjo rënie është sezonale apo duhet të shqetësohesh e të konsultohesh me mjekun për të marrë trajtimin e duhur.
Si ta kuptosh që është thjesht një rënie sezonale?
Për të kuptuar nëse është vetëm një rënie sezonale, bëj këtë test të thjeshtë:
Mbaji flokët të palarë, të paktën për tri ditë. Kalo gishtat midis flokëve nga rrënja deri në majë. Vëri mënjanë flokët e rënë. Përsërite këtë veprim të paktën pesë herë, duke e kaluar dorën tek të gjitha pjesët.
Rezultati:
- Nëse në total të kanë rënë më pak se 10 fije floku, gjithçka është brenda normales.
- Nëse të kanë rënë gjithsej 10-15 fije, nuk është thjesht një rënie sezonale, prandaj duhet të marrësh një trajtim shtesë me vitamina.
- Nëse të kanë rënë më shumë se 15 fije, duhet të bësh patjetër një trajtim specifik për të parë nga se të shkaktohet kjo rënie.
Trajtimi për rënien sezonale
Para se të marrësh një trajtim, fillimisht duhet të bësh këtë test të thjeshtë (ose të konsultohesh me mjekun), për të kuptuar në ç'nivel të rënies së flokëve je. Ki parasysh që trajtimet e flokëve nuk veprojnë në mënyrë specifike tek flokët që bien, sepse ato tashmë janë të vdekur dhe rënia e tyre është e pashmangshme, por ato ndikojnë në rritjen e flokëve të rinj për t'i rikthyer densitetin normal.
However, keep in mind that not everything has to be justified with the fall season. Hair should be taken care of just like any other part of the body. Dyeing with different chemicals, drying and combing at maximum temperature, malnutrition, etc., are external factors that affect hair damage and loss. In such cases, use as many masks with natural products, such as masks with eggs and olive oil, 30 minutes before washing, will help a lot to eliminate the fall.