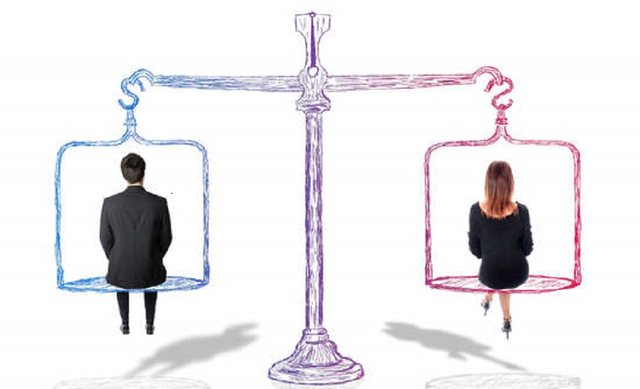 UN Women and Sweden aim to reform funding policies and actions in Albania, Bosnia and Herzegovina, Kosovo [1] and Serbia to accelerate the implementation of national and international commitments on gender equality.
(September 29) - UN Women and Sida (Swedish International Development Cooperation Agency) today launched a four-year regional initiative in support of the governments of Albania, Bosnia and Herzegovina, Kosovo and Serbia, to advance gender mainstreaming in all policy-making and budgeting phases at national and local level. The virtual presentation included key commitments by senior government officials to lead transformational efforts in finance and budgeting, and to accelerate progress towards gender equality and women's empowerment.
With the "Transformational Finance for Gender Equality in the Western Balkans" Program, UN Women will continue to lead gender equality funding efforts in the Western Balkans region through strategic partnerships, providing personalized technical assistance and guidance to government institutions, and improve their institutional capacities and knowledge.
Anila Denaj, Minister of Finance and Economy, said: " We aim at public finances that provide improved public services, enabling women and men to benefit equally, which will thus stop inequalities and redirect them. "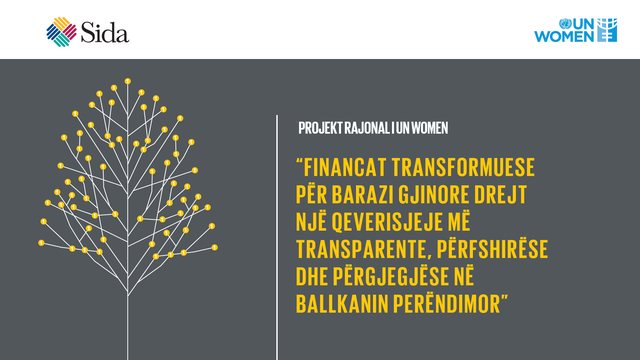 Gender responsive budgeting in Albania is mandatory by law for central and local government finances. As a result, budgets that have gender lenses today make up 7.2 percent of the annual budget, compared to 1 percent five years ago when UN Women began supporting this initiative in Albania. Gender equality issues in health, social protection, education and agriculture are addressed through 38 budget programs (which make up half of the budget programs in Albania today).
The program will aim to strengthen government actions and policies and finances to advance the implementation of the national and international commitments of the Beijing Declaration and Platform for Action, which is the most visionary agenda for girls' and women's rights, and the agenda. 2030 for Sustainable Development.
"Vendosja e barazisë gjinore dhe zërave të grave në qendër të planeve dhe buxheteve mund të nxitë ekonomitë dhe të sjellë ndryshime transformuese në jetën e komuniteteve – çka është më e rëndësishme se kurrë tani në funksion të krizës së COVID-19", - tha Carolina Wennerholm, Shefe për Ballkanin Perëndimor, Turqinë dhe Amerikën e Jugut në Sida.
"Ky program zbatohet në momentin e duhur, ndërkohë që ne vlerësojmë dhe shohim deri ku kemi arritur dhe sa rrugë kemi ende para nesh për të arritur barazinë gjinore. Qeveritë në këtë program janë tashmë advokuese të fuqishme dhe partnerë të përkushtuar në këtë rrugëtim",- u shpreh Alia El-Yassir, Drejtoresha Rajonale e UN Women për Europën dhe Azinë Qendrore. Ajo shtoi se "do të vijojmë të punojmë ngushtë me ta dhe do të mbështesim përpjekjet e tyre për tejkalimin e pandemisë së shkaktuar nga COVID-19, me qëllim që të sigurohemi se ribalancimi i buxhetit të përdoret si mundësi për të rindërtuar më mirë sa i përket barazisë gjinore.
Prezantimi virtual i programit bëri bashkë përfaqësues të Sida-s dhe UN Women, pjesëmarrës të nivelit të lartë nga qeveritë kombëtare dhe vendore dhe shoqërinë civile nga vendet e Ballkanit Perëndimor, për të diskutuar mënyrën për të ecur përpara, me qëllim sigurimin e financimit dhe buxhetimit transformues për barazinë gjinore në rajon.
Buxhetimi i Përgjithshëm Gjinor (BPGJ) është një strategji e mirënjohur për të çuar përpara barazinë gjinore dhe fuqizimin e grave. Strategjia u mundëson qeverive të zvogëlojnë në mënyrë efikase pabarazitë gjinore nëpërmjet politikave, planeve dhe buxheteve që i adresojnë nevojat e grave dhe burrave në mënyrë të barabartë. Ajo forcon llogaridhënien duke nxitur hartimin e buxheteve transparente.
The importance of GRB became more apparent during the COVID-19 pandemic, as policy and budget decisions need to be made more quickly and flexibly in the face of rapid change, and to respond to the needs of everyone equally.