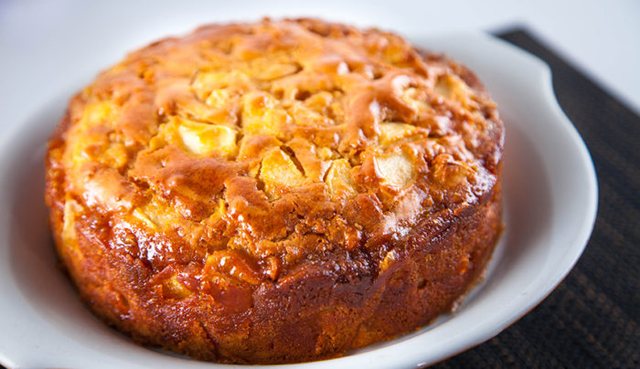 To be honest cakes is the most important meal of the day. But it can be called a great investment in time. Daily life does not always allow you to bake cakes and do not feel guilty about it. Sunday may be the right time to cook a dessert.
How about a cake with apples and honey? A light dessert, not with too much sugar.
Preparation time - 20 minutes
Baking time - 40 minutes

INGREDIENTS FOR 26 CM DIAMETER PAN:
• 200 g wholemeal flour (brown) • 100 g rye flour • 4 eggs - whites except yolks • 100 g raisins • 3 apples • 130 g honey • 130 ml oil sunflower or 150 ml melted, lukewarm butter • 1 sachet of baking soda (16 g) • 1/2 teaspoon cinnamon or optional • 1 pinch of salt • 1 sachet of vanilla • a handful of peeled walnuts
PREPARATION:
Turn on the oven at 180 ° C.
1. In a bowl of hot water (not boiled), put the grapes to hydrate for 10 minutes. Then, drain, dry with absorbent paper for the kitchen and sprinkle with flour, so as not to fall to the bottom of the dough while baking the cake.
2. In a bowl, mix the flour, cinnamon, salt, vanilla and baking soda, which we sieve.
3. Peeled apples, cut them into not very small cubes.
4. Mix the egg yolks with a fork with maple syrup and oil. Add the apples and raisins and mix with a wooden spoon. Add the flour masses and mix these with a wooden spoon.
5. With the electric beater, beat the egg whites, make meringue and add parts to the bowl where we have the apple dough.
6. Put the dough in the pan where we laid the baking paper, spread the nuts on top and bake it for 35/40 minutes or until when we do the test with a toothpick, it comes out clean. Let it cool in the casserole and then remove.