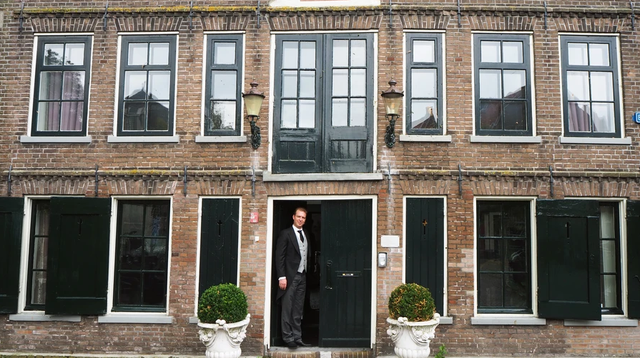 This article was adapted by Vice
For six years André Meester worked as a servant, caring for the needs of a 56-year-old Dutch gentleman for 60 hours a week. I met André, who is 38 years old, at his employer's house near Hoorn, 40 miles from Amsterdam.
When I arrived, Meester was eager to let me live the life of a person who has a servant for a moment - he greeted me, then took my coat and served me a piece of homemade cake and coffee in a very expensive Chinese porcelain cup . I asked Meester, who insisted on calling me "madame" (while referring to her employer as the "owner"), to tell me about his life and daily tasks.
VICE: Hello André, this house is giant!
André Meester: Yes, there are five floors. The owner owns another house across the street and has a third in Dubai. He develops software and lives with his partner. They both love the classic decor and have a maid dressed in an old fashioned uniform. I work mostly in this house, but when he leaves for the weekend I often accompany him. I have my room in the hotels where we stay. I bring his shopping bags when we go out shopping and worry about booking everything.
What do you do on a typical day?
I'm here about 60 hours a week. From Monday to Friday I work from seven in the morning until seven in the evening. I prepare breakfast, lunch and dinner, serve coffee when requested. Always open the door when he comes back and go shopping. My tasks change - in December, for example, I was busy decorating the house for Christmas. My boss loves this holiday very much. We always place a two meter tall tree in the kitchen, I have to build a pier to decorate it.
I go to the baker, the fruit seller, the butcher and the fish seller - everything should always be fresh. The owner decides what he wants for the afternoon dinner, so I buy twice a day. I also take his clothes to the laundry, clean his shoes and prepare cakes. He likes home-made ones - crispy on the outside, soft on the inside. Also organize the cleaning, which is entrusted to two employees.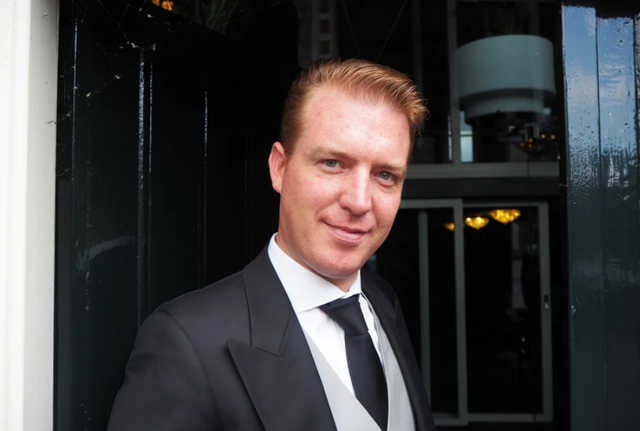 Are there any interesting requirements?
The owner likes to watch movies. If there is a dish in a movie that inspires him, he likes to prepare the next day. Lately they were Chinese cakes, so I had to figure out how to prepare them. He asked me to prepare them, so I learned to do them too.
Are you with him all the time?
Jo, unë jam gjithmonë në stacionin tim të punës në kuzhinë. Pronari më dërgon mesazhe kur i duhet diçka, si një filxhan kafe ose drekë. Unë jam pranë tij vetëm kur ai ka nevojë të jem atje.
Po nëse ai dëshiron një kafe ndërsa jeni duke bërë pazar?
Unë duhet të kthehem shpejt. Kurrë nuk them jo. Nëse gati kam mbaruar me blerjet, do të kthehem menjëherë në shtëpi. Nëse sapo dola, do të kthehem.
A punoni gjithë ditën apo keni pak kohë të lirë për veten tuaj?
Kam ndërmjet katër dhe pesë orë në ditë pushim, nëse nuk është ditë e ngarkuar. Për të kaluar kohën, shikoj shumë 24Kitchen [një kanal televiziv holandez kushtuar gatimit] ose shikoj telefonin. Pronari ndonjëherë më merr për darkë kur udhëtojmë.
Si miq?
Jo, nuk e kam kurrë atë rol. Paraardhësi im e bëri. Ai punoi këtu për 14 vjet, por kishte probleme sepse marrëdhënia e tyre u bë shumë miqësore. Unë mbaj një distancë profesionale. Kur shefi më kërkon të shkoj në darkë, nuk flas shumë. Kurrë nuk kaloj në biseda personale - qëndroj mënjanë. Gjithmonë them "po", edhe pse ndonjëherë mendoj "jo".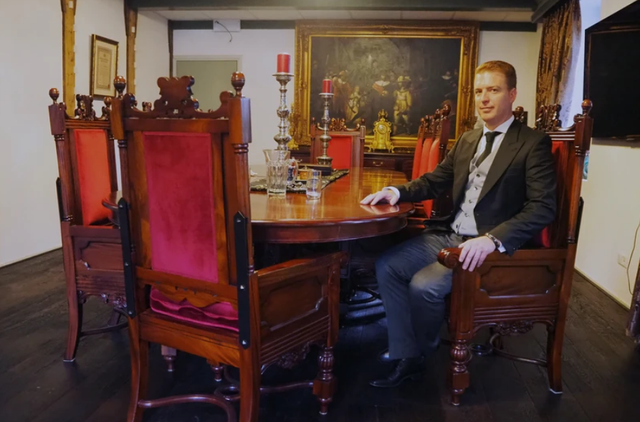 A jeni gjithmonë kaq i sjellshëm?
Po, kështu jam. Kështu jam edukuar. Kam punuar në këtë sektor që kur isha dhjetë vjeç, ndihmoja në hotelin e xhaxhait tim. Pastaj kam punuar si banakier në hotelin Krasnapolsky në Amsterdam. Një ditë, nëna ime pa një reklamë në internet për një shërbëtor privat... u intervistova dhe u punësova të nesërmen. Për mua, kjo është puna përfundimtare. Lidhja e besimit në marrëdhënie është shumë e veçantë.
A nuk ju pengon të keni një rol kaq vartës?
Jo, kjo është një pyetje që shumë njerëz më bëjnë, por unë nuk ndihem si një derë. Pronari gjithmonë më pyet nëse mund të bëj një gjë të caktuar. Nuk është se ai i bie ziles dhe më jep një urdhër.
Sa para ka?
Nuk e kam idenë. Por unë e di që njëra prej makinave të tij vlen 1.8 milion euro dhe ai ka gjithsej 14. Unë mund ta kontrolloj llogarinë e tij tani, sepse i kam të gjashta kartat e tij të kreditit. Por kurrë nuk do ta bëja këtë gjë.
Nuk i duhen kartat e tij të kreditit?
Jo. Kur ka nevojë për para, ai më kërkon të bëj tërheqje për të.
A merrni ndonjëherë dhurata luksoze?
Një Mercedes-Benz SL… a është luks mjaftueshëm? Për tre vjetorin tim të punës me të, munda të zgjidhja një makinë 160,000 euro. Gjithashtu, shpesh marr dhurata të këndshme. Kohët e fundit, portofoli im u prish dhe ai më dha një Cartier. Ky portofol kushton më shumë sesa paratë që ka mbajtur ndonjëherë.
Sa fitoni?
Unë fitoj 4200 euro neto në muaj. Kjo është më pak se në vendet e tjera - shumë shërbëtorë fitojnë midis 5,000 dhe 15,000 € në muaj, por unë kam fundjavën pushim. Dhe gjatë fundjavave punoj për persona të tjerë, për darka të rëndësishme, për shembull. Unë gatuaj, shërbej dhe pastroj. Tarifa ime është 35 euro në orë dhe zakonisht punoj për rreth 10 orë rresht në total.
Dëshironi të punoni këtu për pjesën tjetër të jetës suaj?
I take care of my boss and cook him healthy meals, so I hope to stay until it comes time to retire. But if something happened to the boss, suddenly, I would be out of work. As far as I know, he did not include me in his will.