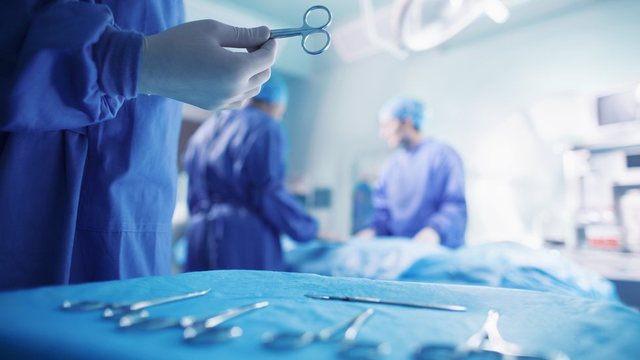 It is 3 o'clock in the afternoon. You may be in the hospital doing routine checkups before an operation that starts in 15 minutes. This is the first time you are undergoing surgery.
Lying down and wearing a thin patient dress. The only sentence that comes to mind is: "will he die today?"
You then meet the staff with doctors and assistant doctors and anesthetists located in the operating room. Everyone tells you words that can increase your confidence and remove your fears. That's all you need in those moments.
Your pulse slows down. The surgeon and nurse hold each of the hands. The anesthesiologist then injects a powerful sedative. The last thing you hear before you leave reality is, "We will take care of you."

Suddenly, you wake up shocked. Intense and dazzling lights sparkle on the face. Find yourself with a thick plastic tube stuck in your throat. The eyes begin to clear and you see four faces you have never seen before.

The time of day when you do an operation can affect your outcome

This was the finding of a 2006 Duke University study published in the journal Quality and Safety in Health. The researchers analyzed operations which were between 3 and 4 p.m. There was a higher rate of complications, vomiting and pain after surgery.

Why does this happen? It is suspected of two main factors
Our bodies follow natural 'circadian' rhythms, which regulate the sleep / wake cycle, brainwave activity and some bodily functions. These 'circadian' rhythms are activated between 3 and 5 in the afternoon, every day, making many of us feel drowsy. The Spaniards apparently discovered this long ago when they created afternoon sleep. And George Costanza of the Seinfeld brand is not the only one napping at work. Nike and Google have reportedly created formal bedrooms so that their employees can deal with the 'circadian' activation of the afternoon. Unfortunately, there is no napping room in the operating room. So it is definitely possible to get a 'sleepy doctor' case

But there is another factor that is probably more important. Most members of the surgical team arrive at work between 6:30 and 7 p.m. This means that when you calculate a 30-minute lunch break, the eight-hour shifts of most anesthesiologists, or nurses and surgical technologists, end at 3 p.m. There are times when staff can be changed directly after the operation process. So whoever puts you to sleep will not necessarily be the one who wakes you up. Although team members are very knowledgeable about key patient details, they may not pass them on correctly to the next shift substitutes. These details are usually not life threatening, but can still have an impact on a patient's outcome. For example, the original anesthetist may forget to inform her surrogate that the patient is not responding well to a particular medication. So is there anything that can be done to prevent shift changes in the operating room? Not really. We are all human. Health care providers cannot work endless hours or be expected to be completely error-free. Anesthetists and nurses can come and go. Your surgeon should be with you at all times. But if he or she gives you a choice between surgery at 7:30 a.m. or 3 p.m., think about it. Then choose 7:30 p.m. Health care providers cannot work endless hours or be expected to be completely error-free. Anesthetists and nurses can come and go. Your surgeon should be with you at all times. But if he or she gives you a choice between surgery at 7:30 a.m. or 3 p.m., think about it. Then choose 7:30 p.m. Health care providers cannot work endless hours or be expected to be completely error-free. Anesthetists and nurses can come and go. Your surgeon should be with you at all times. But if he or she gives you a choice between surgery at 7:30 a.m. or 3 p.m., think about it. Then choose 7:30 p.m.

Dr. Anthony Youn for CNN, adapted from Class Magazine