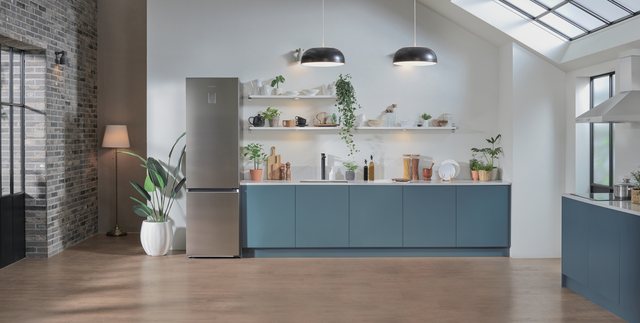 A e dini se shtëpia mesatare lan 22 kg rroba në javë dhe 6000 artikuj veshmbathje në vit? Po se personi mesatar hap frigoriferin e tij 15-20 herë në ditë? Këto janë statistika të çuditshme, që nuk na vijnë në mendje. Por përbëjnë rutinat më të shpeshta dhe të nevojshme të stilit tonë të përditshëm të jetesës. Me kalimin e kohës, ditët tona janë bërë më të ngjeshura. Ky është momenti kur Samsung vjen në ndihmë me një linjë inovative të pajisjeve që përdorin teknologji të përparuar dhe inteligjencën artificiale, për të kujtuar rutinën dhe sjelljen e përdoruesve, duke siguruar kështu një përvojë të personalizuar gjatë përdorimit të tyre. Një rëndësi e madhe i jepet modelimit të pajisjes, që të përshtatet në mënyrë të përkryer në çdo familje.
Frigorifer plotësisht i heshtur që u përshtatet të gjitha ushqimeve
Nëse ju pëlqen stili i sofistikuar i pajisjeve shtëpiake, linja Samsung RB7300 me një panel të parmë prej inoksi do t'ju kënaqë! Nëse marrim parasysh qoftë dhe performancën e ftohjes, faktin që nuk prodhojnë pothuajse asnjë zhurmë, kombinuar me dizajnin e thjeshtë por praktik të këtyre frigoriferëve, është e qartë se kjo është ajo që na ka munguar në kuzhinën tonë. Është e rëndësishme të theksohet se këta frigoriferë kanë një thellësi standarde të dizajnit prej 600 mm, prandaj përshtaten në mënyrë të përsosur me dollapët e çdo kuzhine. Dizajni i jashtëm minimalist vazhdon në brendësi të frigoriferëve, të cilët, ndër të tjera, përmbajnë një ekran të fshehur, një raft të sheshtë për verërat dhe kuti dhe kontenierë për ushqimet.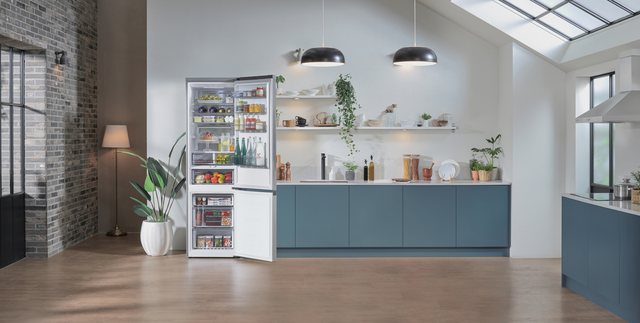 Izolimi me performancë të lartë i teknologjisë SpaceMax e bën murin e radiatorit shumë më të hollë. Për këtë arsye, në frigorifer ka shumë më shumë hapësirë. Modelet krenohen gjithashtu me një derë të bukur të sheshtë, dhe në varësi të modelit, me një aparat uji të integruar. Falë teknologjive All around Cooling dhe Metal Cooling, këta frigoriferë me ndarje të veçantë Optimal Fresh+, do të ftohin ushqimin në mënyrë të njëtrajtshme që do të mbajnë freskinë shumë më gjatë. Gjithashtu, është e mundur të keni dy ndarje në frigorifer në mënyrë që të mund ta ktheni ruajtjen e ushqimit në një ritual të veçantë me partnerin tuaj. Frigoriferi është jashtëzakonisht i qetë, pothuajse pa zë, dhe qëndrueshmëria e tij është rritur, gjë që e bën atë një "shok dhome" ideal në planin afatgjatë.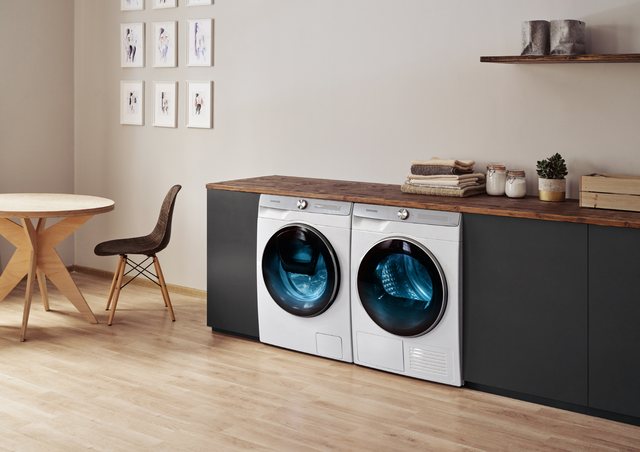 Laundry and savings in one
Once you are familiar with the opportunities that home appliances can offer you as you do your homework, you will be pampered and want to go one step further. The first thing that will come to your mind will be the large amount of clothes. In case you have a dress code at work, but would also like to relieve stress by exercising more often, your clothes will certainly pile up on an incredible scale. Of course, water and electricity consumption becomes an essential element in this case.
The Samsung WW9800T washing machine will successfully address all of these challenges. The washing machine comes with Quick Drive technology that reduces washing time by up to 50% and power consumption by up to 20%. Thanks to EcoBubble technology, the washing machine enhances the effect of the detergent, even in cold water. The detergent turns into bubbles, which quickly enter the fabric and easily remove impurities while saving energy. The hygienic steam cleaning, which is provided by this washing machine, deeply cleans any clothing and thus removes impurities and 99.9% of bacteria and allergens. The clothes are thoroughly washed, protecting the fabric and colors.
This washing machine with QuickDrive technology also has a simple Al Control interface, which suggests the most suitable washing programs. AI Wash technology uses sensors to calculate the weight of clothes and the optimal amount of water and detergent for washing them. In addition, it is possible to add clothes you forgot to put inside thanks to the Add WashTM door . So far, we could only dream of such a thing.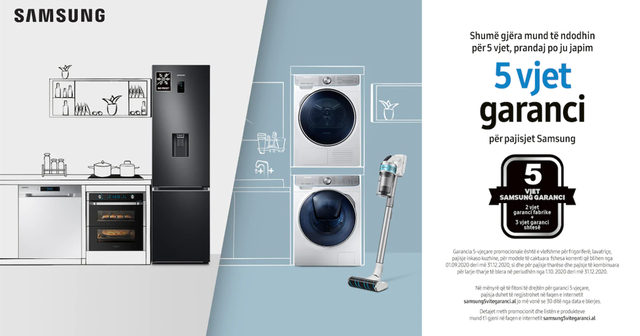 Be aware that with the purchase of Samsung home appliances you can expect another five years warranty for comfort. Samsung believes in the quality it creates and for that it gives you 5 years warranty for refrigerators, washing machines, kitchen appliances, for certain models of vacuum cleaners from Samsung , which are purchased in the period from 01.09 to 31.12.2020, as well as for appliances dryers and combined washing-drying equipment purchased in the period from 01.10.2020 to 31.12.2020.
Find more information here: https://www.samsung.com/al/offer/5yw-promo/