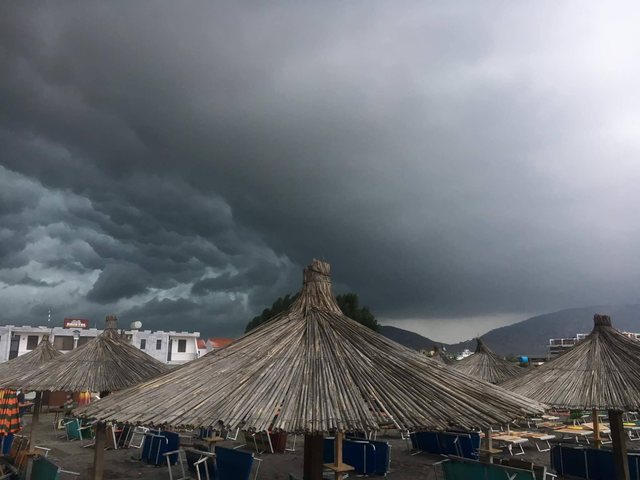 Rainfall and low temperatures have affected most of Albania. The storm that has affected Europe has affected our country as well, but according to meteorologist Lajda Porja, there is no room for panic. The weather is expected to improve during the evening.
Albania will remain under the peripheral impact of the 'cold lake' storm that has hit Europe until late Sunday evening. Weak to moderate rainfall will be present in most of the country. The wind, according to meteorologist Lajda Porja, will continue to blow with moderate intensity, causing waves at sea.
"Në fakt sikur e kemi parë gjithë stuhia që ka përfshirë Europën qendrore është zhvendosur drejt alpeve, ka prekur veriun e Italisë dhe vendet e rajonit. Ka ndikuar, megjithëse shumë pak, celula të vogla edhe në Shqipëri, mbrëmë ka pasur reshje që kanë nisur në veri, kanë përfshirë edhe një pjesë të zonave qendrore edhe bregdetin e Adriatikut. Nuk kemi pasur shira të konsiderueshëm.
Orët në vijim pritet që të mbeten nën ndikimin e vranësirave dhe reshjeve të shiut sidomos në zonat malore. Kemi një përmirësim në bregdet.
Shqipëria pritet që të mbetet në ndikimin e rrebesheve në zonat lindore, zonat e ulëta dhe bregdeti me reshje më të pakta, përmirësimi i situatës pritet që të vijnë gjatë mbrëmjes, ku bregdeti dhe zona e ulët të ketë vetëm pika shiu dhe zonat malore mbeten me rrebeshe."
"The wind is expected to remain some problematic this morning until late in the evening where there will be significant weakening.
The situation is improving, the most problematic are the countries of the region, Serbia, Macedonia, Kosovo and Bosnia are expected to have more significant rainfall, while in Albania it remains located in the north and northeast, and the rest, although there will be showers. be temporary for a few minutes.
"From Monday, the situation is expected to improve for Albania and the rainfall will be localized only in the mountainous areas, while a significant improvement is expected after Tuesday for the countries of the region," she said.
The gradual improvement of the weather according to Lajda Porjas from "Meteoalb" is expected to start at noon on Monday. On Wednesday, the return of the high temperatures of the previous days is predicted.