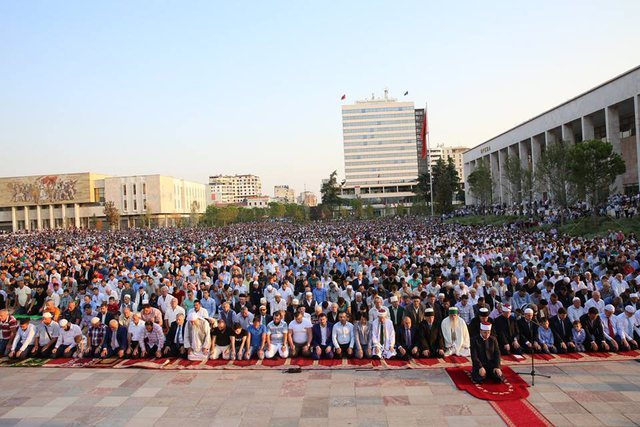 Tomorrow, July 20, all Muslim believers will celebrate the feast of Eid al-Adha. On the occasion of this day, the Albanian Muslim Community has informed all believers that the prayer will be performed at 06:20 on Tuesday, in "Skënderbej" square.
NOTIFICATION!
KURBAN BAJRAMI 2021
Dear citizens, tomorrow is the first day of Eid al-Adha!
Below you will find the official organization program of the Muslim Community of Albania.
Kurban Bajrami is on Tuesday (tomorrow), July 20, 2021.
The Eid prayer will be offered in "Skënderbej" square, Tirana.
The Eid al-Adha program is as follows:
• 05:50 Opening the program
• 05:55 Quran recitation, Imam Bilal Teqja
• 06:00 Welcoming speech of the Chairman of KMSH, H. Bujar Spahiu
• 06:10 Lecture by the Vice President of KMSH, Mr. Taulant Bica
• 06:20 - Prayer, led by the Chairman of KMSH, H. Bujar Spahiu
• 06:25 - Eid sermon, Mufti of Tirana, Mr. Lauren Luli
We also inform you that the traditional receptions on the occasion of this holiday at the headquarters of the institution will take place from 09:00 to 12:00
The Muslim community of Albania, wishes you all Albanians, Happy Eid al-Adha!