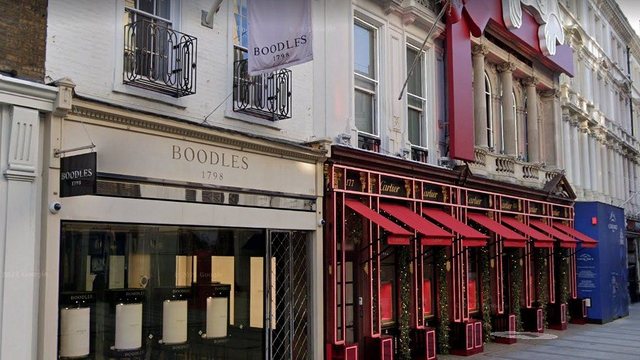 A woman stole diamonds worth 2 4.2 million from a luxury jeweler in London, posing as a gemstone expert and replacing them with some garden pebbles. A very sophisticated trick, but one that has not gone unnoticed.
Lulu Lakatos allegedly introduced herself as a gemologist and sought to examine and evaluate seven diamonds in the Boodles showroom on New Bond Street in Mayfair, central London.
After the examination, the jewels were placed in a sealed bag and were being held pending payment. But when the bag was opened, as the Boodles diamond expert suspected, there were seven small pebbles inside.
Lakatos, 60, who was born in Romania but lived in France, denies the theft plot.
Fraud scheme
In February 2016, Boodles chairman Nicholas Wainwright was introduced to a man who called himself "Simon Glass", who said he was interested in buying high-value diamonds as an investment. They met in Monaco the following month, where Wainwright was introduced to Glas's business partner, a Russian named "Alexander", and the sale of seven high-value diamonds was agreed upon after further discussions.
The gemstones, with a total value of 2 4.2 million, included a 20-carat heart-shaped diamond worth more than 2 2.2 million and a 3-carat pear-shaped pink diamond, worth 1 1.1 million.
Buyers brought a gemstone appraiser, "Anna", to examine the stones, before they were put in a sealed bag to be held by the Boodles until the jewelers received the funds.
The woman introduced as Anna, was exactly Lakatos, who was escorted to the jewelers' meeting room on March 10, 2016 by Mr. Wainwright and the firm's gemologist, Emma Barton.
Prosecutor Philip Stott said Lakatos sought to examine and weigh each of the seven diamonds, before wrapping them individually in pre-cut napkins and placing them inside dark boxes. When the examination was over, the boxes were placed in a chained bag, which was then closed. The prosecutor said Lakatos placed the sealed bag inside her handbag when Wainwright moved a little to talk on the phone. Barton told her to put the bag back on the table. Lakatos changed the bag where the diamonds were inserted with an identical bag, inside which were seven small pebbles.
The next day, Boodles staff remained skeptical, so they opened the bag and inside each of the boxes was a small pebble, instead of a diamond.
Stott said Lakatos took off her hat and scarf, as well as changed her clothes in a bar toilet, assisted by another co-worker. She then left London.
Two of the group members, Christophe Stankovic and Mickael Jovanovic, have already been convicted of conspiracy to commit theft. While Lakatos was arrested in France in September last year, before being extradited to the UK. The trial continues.
Burimi: BBC & The Guardian