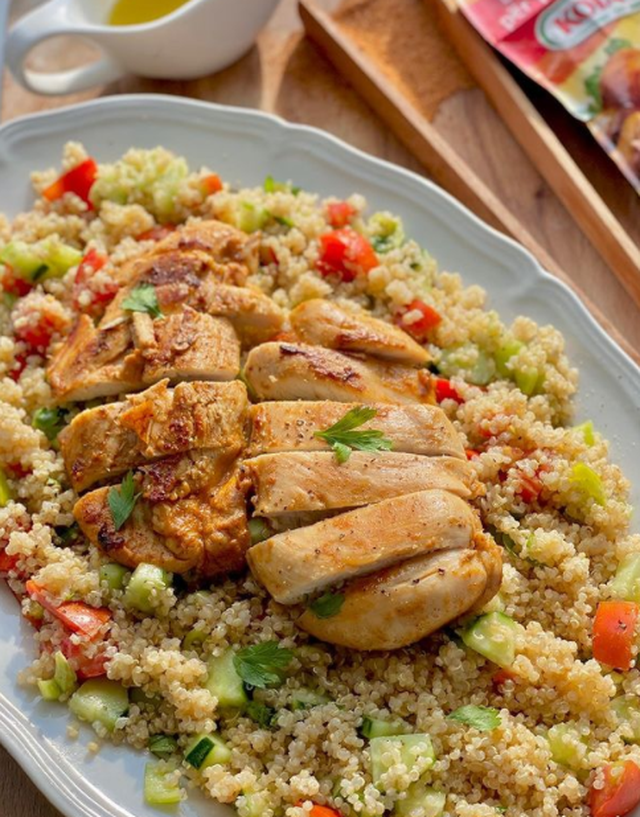 If you want to eat healthy and not overdo it, but you know a salad that will not satiate you, then we have the perfect proposal for you - vegetable salad, quinoa and chicken fillet. But healthy and full of nutritional value, this salad is very tasty and will keep you full. The recipe, according to Erida Kabashi, is as follows.
Ingredients you need:
1-2 chicken fillets
Mixe spices for chicken
1 cup quinoa
Optional vegetables (tomatoes, peppers, cucumbers)
Method of preparation:
First we prepare the fillet, marinating it with spices mix. Fry it in a pan with a little olive oil until it is ready (about 7-8 minutes).
Meanwhile prepare the quinoa, which should be boiled according to the instructions on the package. Usually you need 1 cup of quinoa with 2 cups of water. Once the quinoa is ready and cooled, finely chop the vegetables and combine with the quinoa.
For the marinade sauce you need:
4-5 tablespoons olive oil
The juice of half a lemon
A little salt
Minced parsley
Mix them until it becomes creamy and add quinoa with vegetables. Add the fillet to the plate and we are ready!
View this post on Instagram