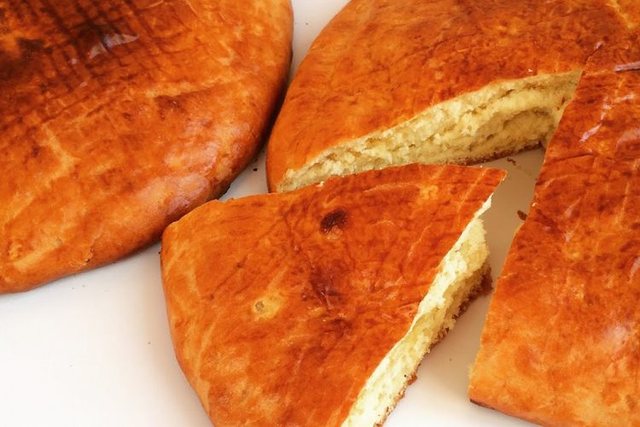 The cake is one of the most beloved recipes of every family. There are so many ways to prepare that if you used a new one every day, you would enjoy it for months.
Easy to prepare and with special ingredients, this cake promises only good aroma and taste.
Combines with everything, both salty and sweet, it makes it perfect for any occasion.
Ingredients for the dough
1 glass of milk water
1 and a half glasses of pana water
2 separate eggs (1 whole egg and one white)
3 tablespoons honey
4 tablespoons melted butter
1 teaspoon salt
1 and a half teaspoons of dry yeast
3-4 cups of water flour
Ingredients for the filling
1 half glass of sugar water
1 half cup water flour
1 and a half glasses of water with softened butter
Preparation
Preheat the oven to 180 degrees and place a baking sheet on the pan where you will bake the cake. In a bowl combine the yeast with the lukewarm milk and leave until it creates a cream on the surface.
Meanwhile you have thrown the flour in another container and in the middle you have opened a 'pit'. Pour in the yeast milk, butter, honey and egg whites.
First, mix with a fork until the dough binds slightly. Then work with your hands so that the surface is smooth and does not stick.
Place in an oiled bowl and let rest until it doubles in volume.
Prepare the cake filling.
Put the ingredients in a bowl and work with your hands lightly.
The mass should be crumbly and shiny from the butter.
Divide the cake dough into four parts, and roll each into a thick noodle.
Add a little of the filling and fold in half.
Open this stuffed noodle carefully so that the stuffing does not spill into a thick noodle
Repeat the steps until you have finished the noodles.
Put them in the pan and prepare the eggs to paint their surface.
Bake for 30-35 minutes or until they have taken on a light golden color.
Let cool slightly and you can serve it full of flavor./AW/