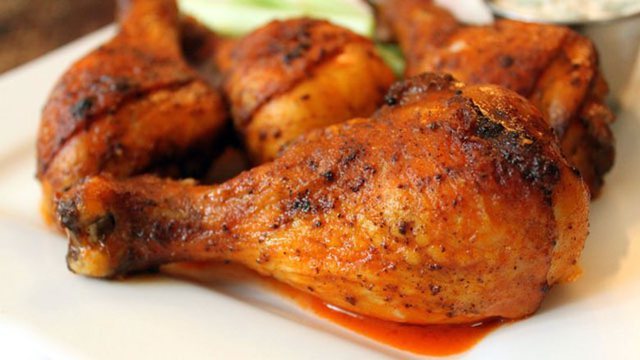 If there is some turkey left and it is not as tasty as it was when it just came out of the oven, here are some ideas to create other recipes.
Healthy salad with turkey
Ingredients:
1 cup yogurt
1/4 cup raisins
1/4 cup nutmeg
Salt
2 cups remaining chopped turkey
Cabbage or lettuce leaves
Preparation:
In a bowl, mix the yoghurt with the grapes, add a little salt (if you want nutmeg ¼ a cup to taste). Take four bowls and in each of them put the chopped cabbage. Mix with chicken and yogurt mixture. Garnish with cabbage or green salad.
Serve with a glass of red wine!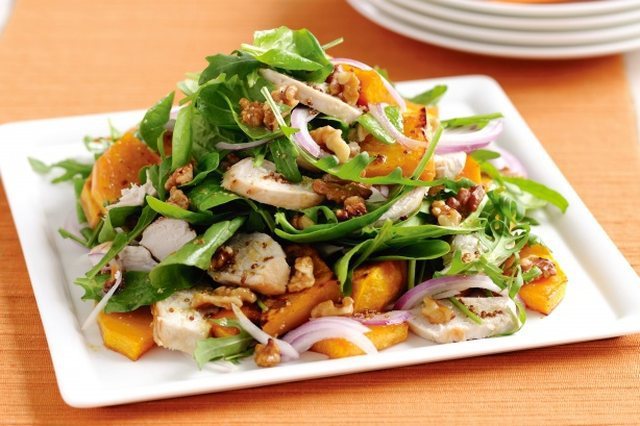 Carbonara with turkey
Ingredients:
30 g unsalted butter
4 slices of prosciutto, cut thin
2 tablespoons pine sticks
4 eggs, beaten
300 ml whipped cream
3 cloves garlic, crushed
1/3 cup (25g) minced parmesan cheese, plus extra for serving
500g spaghetti
2 cups chopped turkey
2 tablespoons chopped parsley, plus extra for serving
Preparation
Melt the butter in a deep frying pan. Add the bacon and cook until it starts to become crispy. Add the pine nuts and cook, stirring, for 1 minute or until golden brown.
In a pretty large bowl to keep all the spaghetti cooked, beat the eggs, panna cotta, garlic and cheese. Add the bacon and pine nuts and season with salt and pepper.
Boil the pasta according to the instructions, drain them well. Pour the warm pasta over the egg mixture and stir for 1 minute, letting the pasta heat cook the sauce. Mix the meat and basil and serve with parmesan and parsley.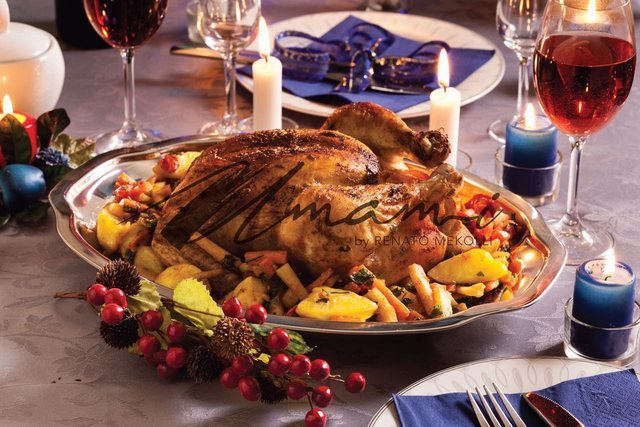 Pies stuffed with turkey and sausage (empanda)
Ingredients:
60ml (1/4 cup) olive oil
1 red onion, finely chopped
2 cloves garlic, finely chopped
2 red peppers, finely chopped
2 teaspoons thyme leaves
1 sausage, peeled, cut into cubes
1/4 teaspoon chopped dried chili peppers
400 g finely chopped roasted turkey or chicken
180ml (3/4 cup) dry white wine
250ml (1 cup) chicken or turkey juice (if you have not saved, cut a sachet with concentrate)
400g (2 2/3 cups) flour coming
Tomato & olive sauce
250 g small tomatoes
50 g green olives without core, cut
1/2 red onion, finely chopped
Preparation
To prepare the filling, heat a tablespoon of olive oil in a pan over medium heat. Add the onion, garlic, pepper and thyme and cook, stirring, for 10 minutes or until softened. Add the sausage and cook, stirring, for 5 minutes or until the peppers are slightly browned. Add the chili peppers, chicken, 125 ml (1/2 cup) wine and meat broth and simmer for 10 minutes until the water is reduced by three quarters. Let cool.
Meanwhile, to prepare the dough, preheat the oven to 190C. Pour the flour and a little salt into a deep bowl, then pour the remaining 60ml of wine, 2 tablespoons of oil and 200ml of warm water. Mix to create the dough.
Divide the dough into 8 parts. Open a portion in a 16 cm diameter noodle on a baking paper sprinkled with flour. Place 1/2 cup of the prepared filling over half of the noodle leaving 1 cm of edging, then fold the noodle to close the filling. With a fork press the sides of the pie to seal them. Coat with extra oil, bake for 25 minutes or until golden brown.
To prepare the sauce, grate the tomatoes, olives and onion until completely chopped. Top with salt and pepper. Make 1 1/3 cups.
Serve pita or empanadas with sauce.