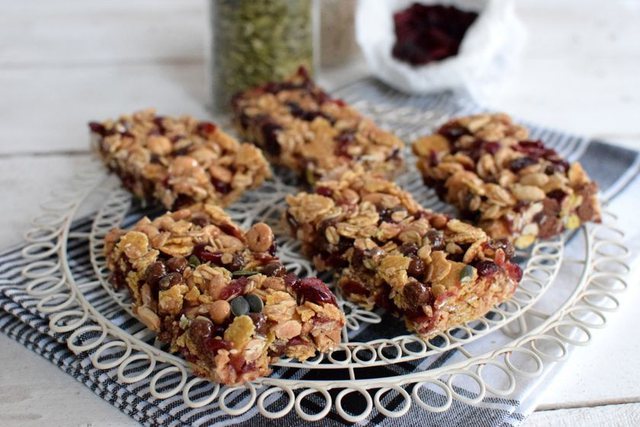 Replace chocolates with cereals and dried fruits in their shape. Today's recipe is the healthiest snack you can keep in your bag, just in case.
Ingredients:
1/2 cup dried figs cut into small pieces
1/2 cup dried apricots cut into small pieces
1/2 cup honey
3 tablespoons coconut oil
1/2 cup dried blueberries
2 cups oats
1 cup peanuts
1 / 2 cups sunflower seeds
1/2 cup chocolate chips
1 cup cereal (no sugar)
1/4 cup sugar
1 teaspoon vanilla
1/4 teaspoon salt
Preparation:
Put oats, peanuts and seeds in a pan. Once covered with a paper towel, place in the oven and bake for 10-12 minutes, stirring occasionally.
Simultaneously mix the honey with the oil and sugar in a pan, until the sugar has melted.
Mix the dried fruits in the blender.
Then add the sugar mixture and continue mixing.
Put all the ingredients in a bowl, add the created mass to the blender and mix well by hand.
Put the whole mass in a pan giving it the right shape.
Bake for 25 minutes.
After baking, leave to cool and with a knife cut into the shape of chocolates.