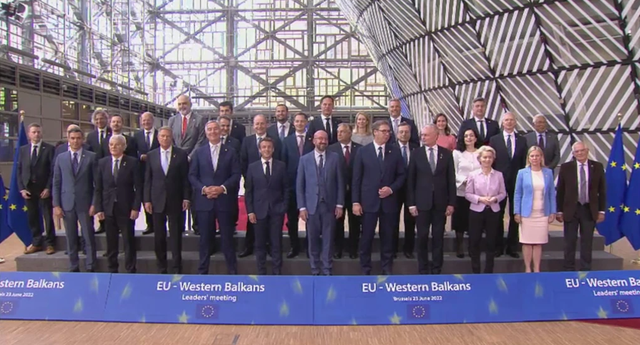 In Brussels, EU member states failed to formalize the start of membership talks with Albania and northern Macedonia today due to Bulgaria's veto of Skopje. Prime Minister Edi Rama stated that the spirit of enlargement has been distorted by allowing the process to be taken hostage by individual states. While the Macedonian Prime Minister expressed readiness to discuss the French proposal to resolve the stalemate, specifying that in the form presented is unacceptable for Northern Macedonia.
Udhëheqësit e Ballkanit perëndimor ishin ftuar sot në Bruksel për t'u ulur në një tryezë me krerët e vendeve të Bashkimit Europian, si një përpjekje e BE-së për t'i dhënë energji të reja procesit të integrimit dhe për të dëshmuar afërsinë me rajonin.
Por të paktën për Shqipërinë dhe Maqedoninë e Veriut, e sotmja nuk ishte një ditë e mirë. Për ta kishte më shumë vend për zhgënjim, ndërsa udhëheqësit europianë, ishin të detyruar t'i nënshtroheshin vetos së Sofies ndaj Shkupit, pa mundur që në takimin e mëpasshëm mes tyre të jepnin dritën jeshile për fillimin e bisedimeve për anëtarësim me dy vendet ballkanike.
Albanian Prime Minister Edi Rama stated after the meeting that according to him "the reason is not just Bulgaria. "Bulgaria is a disaster, but it is not only Bulgaria, but it is the distorted spirit of enlargement, a completely distorted spirit, and Bulgaria is its most obvious expression," he said, adding that "the spirit of enlargement has passed from the common vision." of a community in taking hostages from individual states and we have seen it. "Whenever there is something happening in a member state, this blocking device is immediately set in motion."
Mr. Rama called it a shame the fact that "a NATO country that takes two other NATO countries hostage, while in the backyard of Europe there is a war, and also under the eyes of 26 countries that are completely powerless together". He added that "Russian aggression against Ukraine is thus receiving quite generous and unsolicited assistance from a NATO country, Bulgaria, to destabilize another NATO country, Northern Macedonia, and to inflate more beyond anger, dissatisfaction in a neighborhood like ours, which is a weak link in this whole situation.
For Macedonian Prime Minister Dimitar Kovacevski, "what is happening is a serious problem and a serious blow to the EU's credibility. "We are wasting precious time which we do not really have available," he said, recalling that "Northern Macedonia is known as a country that managed to solve difficult and bitter problems, as a country that is committed to finding solutions to acceptable and based on European values ??and the dignity of citizens. "With the same idea, we entered the negotiation process with Bulgaria."
To resolve the stalemate with Bulgaria, France, which holds the rotating presidency of the European Union until the end of the month, has offered a solution. The proposal has also been accepted by the Bulgarian opposition, but it must pass in parliament first, while the day before, the government of Prime Minister Kiril Petkov was overthrown during a no-confidence motion.
For the Macedonian Prime Minister. in the form as presented, "the proposal is inadmissible". He added that "if during the French presidency an understanding of our positions is reached, we are ready to engage in talks. The citizens of Northern Macedonia - he stressed - should be calm; we have in the foreground the strategic interests and goals of the state. No one can impose any solution on us without our consent. "We did everything, now it is the EU's turn," said Prime Minister Kovacevski.
The two prime ministers appeared at a news conference alongside Serbian President Aleksandar Vucic as the three proponents of the Open Balkans project, which they reiterated would move their countries forward as the integration process continues in its zigzags.
Prime Minister Rama stated that in the meeting with the leaders of the EU countries, he also spoke about what he called "another hostage-taking, the hostage-taking of the citizens of Kosovo, who are not allowed to move freely in Europe", given that the agreement with Kosovo is still pending.
He also sided with the Serbian president, criticized in today's meeting, for not joining the sanctions against Russia. According to him, "Serbia is simply not in a position to achieve so much, so quickly and pushing it to the borders will have the opposite effect and then what will have a cost is Serbia's European agenda, for which it will be a cost for the people of the region, said Prime Minister Rama./voa/