If we were ever asked, perhaps even in conversations with friends, what we call success stories, we will probably immediately come to our heads with names that started from "nothing". They only had the passion and vision to make our lives simpler.
Such is the story of one of the most successful companies in the world, which originated in 1924 in Germany. Karl Thielman founded a company for the production of agricultural machinery and soon after started working with stainless steel products. The processing of these materials followed with the production of household appliances. First with dishwashers, and then the catalog of these devices was expanded with the production of stoves, ovens and hoods.
We are talking about "Teka", the name that hits you as soon as you hear it, but not everyone knows how it all started... Yes! This can be a very good topic to share with friends, because in these 98 years since its establishment, it continues to remain one of the best names of household appliances in the world. "Teka" today has a wide reach with factories in Europe, America and Asia, and markets its products in more than 120 countries around the world.
Fortunately, we also have it in Albania and it is exclusively represented by the company Elektromagjia, already well-known in the Albanian market for more than 20 years.
Although it was founded in Germany, with the establishment of Teka in Spain, the expansion began
its international recognition in Europe and the world.
Thanks to the maximum quality of the products, the technology, the elegance that identifies them and their special design, "Teka" is what makes the difference.
But "Teka" is more than quality and that makes it so special. The philosophy of the brand is that each product creates an emotional connection with the one who will choose to have it at home. And once this happens, it is impossible to part with it. "Teka" is inspiration for every home!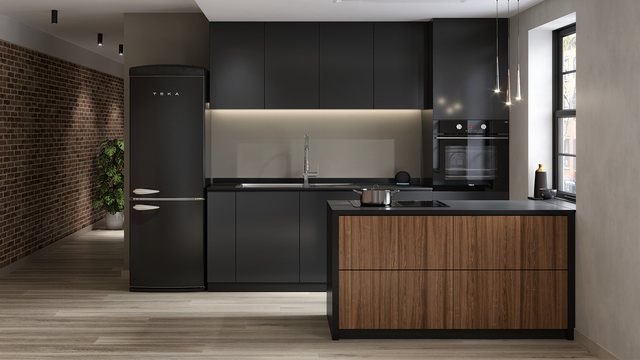 The dedication of the Teka brand to realize the products with the best quality, innovation and design, have made this brand known internationally, appreciating it with many awards during the last 10 years. Among them we can mention the "Best brand of electrical appliances" award according to the readers of "InsideOut" magazine, Dubai 2018, "Award for innovative interior", Germany 2015, with the Intra Eligo dishwasher, etc.
Pasioni për arkitekturën bashkëkohore e bëjnë Teka-n një nga markat më të pëlqyera nga arkitektët më të mirë në mbarë botën. E për të vazhduar atë bisedën me miqtë për histori frymëzuese dhe suksesi, duhet t'ju themi se Teka ka kontribuar në disa prej projekteve më të rëndësishme arkitekturore në botë, siç është Kulla Eiffel në Paris, Stadiumi Santiago Bernabeu në Madrid, Stadiumi Emirates në Londër, etj.
Përveç standardit të lartë të produkteve, marka u bë e njohur në mbarë botën edhe si pjesëmarrëse
aktive në fushën e sponsorizimeve sportive. Marka Teka u bë edhe më e dashur, si sponsorizuese e
klubit të futbollit dhe të basketbollit Real Madrid.
Gjithashtu, Teka është një markë me përgjegjësi të lartë sociale e cila bashkëpunon me "Fundación
Alzheimer España" (Fondacioni Spanjoll i Alzheimer).
Represented by the company Elektromagjia, for 12 years, the "Teka" brand has become a very beloved name in the homes of Albanians. A name whose reliability has been given by quality and the fact that it was really created to make our lives simpler and more beautiful.