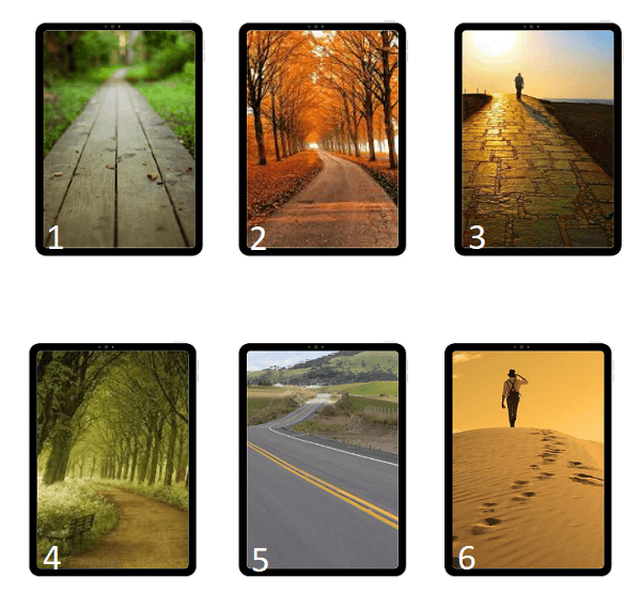 Which path do you choose in life? This is the moment for you to now make a choice of one of the paths or say images you want to travel. Read the result and learn a secret you didn?t know about yourself!
Street # 1
You have chosen the path of freedom. For you, independence and personal space are important. You are used to creating your own life. Stay away from everyone for your prudence, affirmation and determination. Also, try to use your energy and time wisely.
Street # 2
You have chosen the path to your little world. There is no room for more people in your life. Even though you have close friends and people, you feel very good about yourself and your thoughts. You never get bored alone. You have a rich inner world and you have the opportunity to see and hear what others cannot.
Street # 3
You have chosen the positive path. You stand out for an optimistic view of the world and liveliness. Never stop learning, because you are characterized by curiosity and the desire to constantly learn something new.
Street # 4
You have chosen the path of change. You are not afraid of the future, you are actively planning and striving to achieve your goals. You are probably a little impulsive and your actions and decisions are often reckless.
Street # 5
You have chosen the path of stability and harmony. It is important to have confidence in the future. Of course, try to maintain stability in your life. Your inner peace, good relationships with people and harmony in everything are important to you. By nature, you are an open person.
Street # 6
You have chosen the path of peace and truth. Even though you are looking for a quiet and sober life, your inner world does not stop developing. You are an eternal seeker of the meaning of life, the seeker of truth.