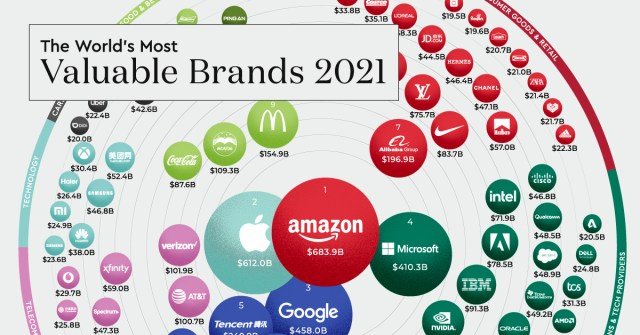 Despite the negative effects of COVID-19 that shocked many businesses, some companies not only managed to stand on their own two feet, but also flourished
In 2020, the global economy experienced one of the largest declines since the Great Depression. However, despite the negative effects of COVID-19 that shocked many businesses, some companies not only managed to stay afloat, but also thrived. Using data from Kantar BrandZ, this graph lists the 100 most valuable brands of 2021.
METHODOLOGY
Each year, the Kantar BrandZ research group ranks companies based on their "brand value", which is measured by:
The total financial value of a brand, which is the financial contribution that the brand brings to the parent company (value in $).
Multiplied by its proportional value, measured by the proportional impact of the brands on the parent company's sales (% of value).
The financial results are then intertwined with quantitative survey data with over 170,000 global consumers.
The total value of the 100 major brands of 2021, increased by 42%, reaching a total amount of 7 trillion dollars. At the top of the list is Amazon, with a total value of $ 683 billion.
This is the third year in a row that Amazon ranks first on the list. Since last year's ranking, its value has increased by 64%. In second place is Apple, whose brand value is $ 612 billion.
The main brands on the list are big tech companies as the pandemic pushed consumers towards online platforms, both for shopping and for entertainment. Several social networking platforms were also at the top of the list, such as Facebook, which climbed two places this year, ranking sixth, worth $ 227 billion.
Instagram and TikTok were behind Facebook in terms of total brand value, but both platforms marked tremendous growth compared to last year's report.
Some of the key factors that have stood out for years as major contributors to increasing the value of a brand are:
The big ones get even bigger
The growth rate is closely related to the brand's high capital. A strong brand is likely to have more growth than a weaker brand, which may explain why companies like Amazon and Apple, have been able to stay at the top of the list for years.
Marketing makes a difference
The right marketing strategy has a big impact and can help even small brands. Marketing with emotional connections, such as pride or popularity, has a greater impact on increasing brand value. For example, in May last year, Nike called on consumers to stand up for equality in a video titled "For once, just don't do it."
Smart investment
It is not only important to develop an effective marketing strategy, but also to execute that strategy and invest continuously in ways that perpetuate the brand message.
/ Visual Capitalist / Monitor /