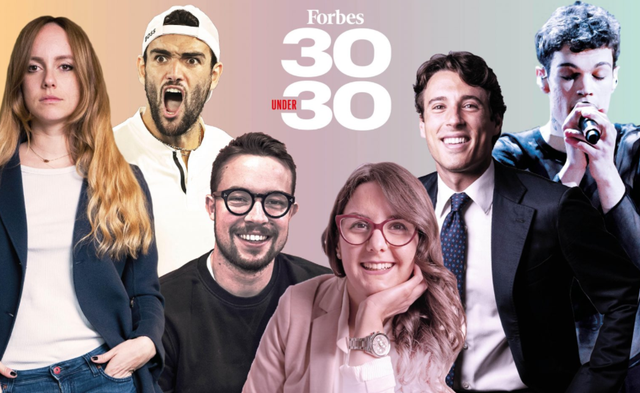 Since 2018, the prestigious magazine 'Forbes Italia' rewards the best of Italian youth entrepreneurship. Young people who with their visionary ideas contribute to revolutionizing the way we live, work, have fun or even eat. It is a community that this year will give space to entrepreneurs, managers, artists, athletes and scientists who have had the courage to invest in their projects and successfully implement them.
In an unstable and dangerous geopolitical scenario like the one we live in, talking about talent under the age of 30 is healing. It's a way of remembering that in Italy (and, of course, in every other country in the world) there are many talents from fashion, sport, healthcare, technology and finance - in almost every field, that are changing the country by introducing the ideas of their brilliant all over the world.
About 100 young names are divided into 20 categories, being introduced along with 600 names of 'Forbes USA' and showing that even in such a dark period as we are living, creativity has not gone back.
On the cover of March 2022, the best of young Italians is Camilla Colucci, co-founder of 'Circularity', an industrial platform that integrates all the actors of the economy into a single system: "Four years ago companies were not inclined ( some are not yet) to use the online services offered as 'auctions' of their waste; therefore we have activated the technical-strategic consulting services to direct them towards a greater awareness of the value of industrial symbiosis ", - says Colucci among others.
Among dozens of other names of talented young people, Forbes lists Giulio Bozzo and Andrea Marec, co-founders of 'Reasoned Art'; 18-year-old Arianna Pozzi, who at the age of 15 founded the fashion technology startup 'Gaia My Friend', an application that thanks to emotional intelligence, enters into empathy with the user by giving style advice.
Other names of young people who have contributed in various areas of life, such as; technology, science, art, fashion design etc., 'Forbes' ranks:
Andrea Saliola and Pier Paolo Ceccaranelli, Gabriele Bianchi, Andrea Lippolis, Alessandro Marinella, Chiara Marconi, Irene Gullotta and many others.
All these young people, with a maximum age of 30 years, are talents that promise in various areas of life, that with their art have become a source of inspiration not only for peers, but all generations who believe that the future, without a doubt , it will be better if we trust it to those who dare and find space even in the darkest corners this eyes can not distinguish.