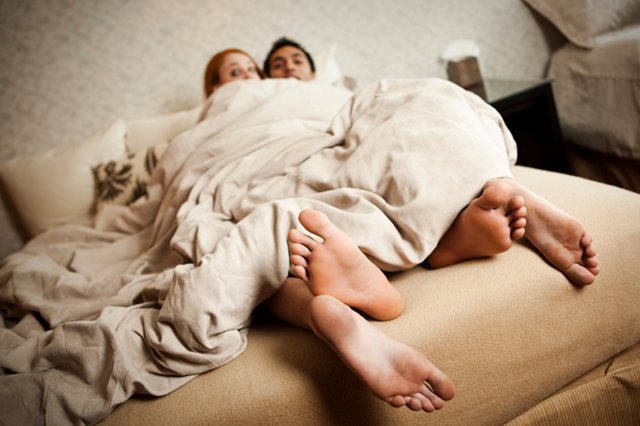 You no longer have to believe everything that is said under your breath. About sex and its various "theories", people have always talked and often believed untruths - myths that over time people have confessed and, a good part, even believed. But today we will talk about 5 myths that you should not believe anymore.
Men think about sex every 7 seconds
Fortunately for us, this is not true. If men thought about sex every 7 seconds, that would mean 8,000 times a day. In fact, The Kinsey Institute found that 54 percent of men said they thought about sex several times a day and 43 percent said it happened several times a week.
Women, by nature, are less interested in sex
The above Kinsey study found that 19 percent of women think about sex many times a day and 63 percent a few times a week. This does not mean that women love sex less. According to a fertility awareness survey conducted by Kindara, approximately 53 percent of women do not have as much sex as they would like to.
Sex is good exercise
Sure, it burns some calories, but you shouldn't replace a sex session with a gym session. Thirty minutes of sex can burn 85 to 150 calories, but that only happens if you're aerobically engaged for the full 30 minutes.
Men reach the peak of pleasure before women
The idea of ??a "sexual climax" does not depend much on gender. Throughout life, men and women experience both peaks and troughs when desire is lacking.
Seksi është më i mirë në moshë të re
Nuk është e thënë. Ndërsa seksi kur je 20 vjeç e pak më shumë mund të jetë më energjik, nuk ka shkencë që të mbështetë idenë e një lloji seksi superior. Në të vërtetë, shumë burra dhe gra thonë që kanë më shumë përvoja që i plotësojnë në dhjetëvjeçarët e ardhshëm. Dhe kjo është vërtet për t'u gëzuar!
Ti mund të mësosh shumë për një djalë nga numri i këpucës
Na falni zonja dhe zotërinj, por nuk mund ta gjykoni biznesin e tij, pa ia parë biznesin. Studimet kanë treguar që nuk ka një përpjestim mes përmasave të penisit dhe numrit të këpucës. E njëjta gjë vlen edhe për përmasat e hundës, të duarve dhe për çdo pjesë tjetër të trupit.
Sa më i madh, aq më mirë
This is a popular theory, but also very exaggerated. The relationship between size and satisfaction has been exaggerated. It depends on everyone's preferences, it is only important in terms of sizes that they match.