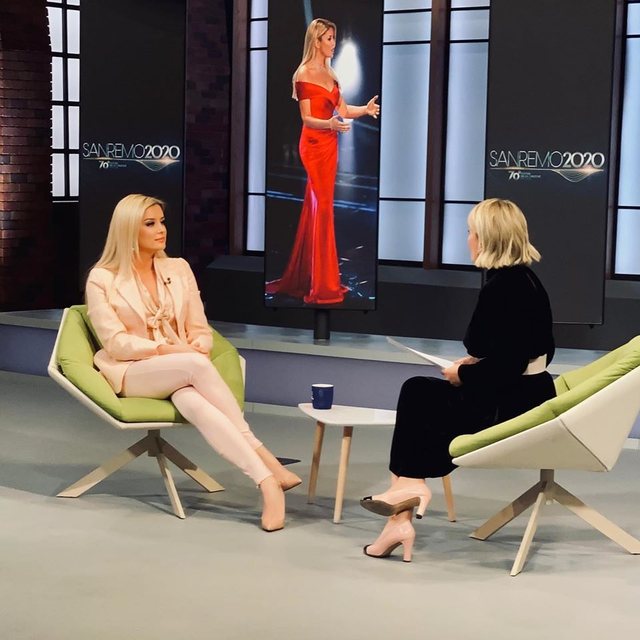 Ilva Tare: Have been difficult or easy days for you with these debates, online reviews, I don't understandâ?¦
Alketa Weysiu: These are the happiest days of my life, in fact. No, I'm really excited. I am excited because I have lived an extraordinary emotion that few people can live with, so I have no reason to be upset, to be honest. I am very happy to be here with you, I am very surprised by this investment made here at Euronews Albania, and I also compliment you, I am very happy, because what I am seeing here today is really progress, it is a European Albania that makes us feel proud.
Ilva Tare: ... we work on a daily basis and it's not easy. I believe you have worked for this day, whether you are in Albania, for a career here, for coming to Italy in Sanremo, the highest Italian music scene. How did you get there?
Alketa Weysiu: I have worked steadily, worked consistently daily to make ends meet, and have had one ally myself and only one man, my husband, who has supported me since the first steps of this dream and given me strength all the time, that I can handle. And when you have someone to support and love, it's a great privilege.
Ilva Tare: Did you have any doubts yourself? Where you said "bottom line, this will never happen". Moments like â??you are pursuing something that has no endâ? and, you might even give up, a curveâ?¦
Alketa Weysiu: There were moments, yes, this is a very curved trajectory, it's not that there were flowers and roses all this way. Definitely difficult.
Ilva Tare:â?¦ when they see you on television, I get the impression, Alketa, you speak beautifully, you speak fast, you speak optimistically and people think your whole life is like that. Is that so, in fact?
Alketa Weysiu: I believe that your life was not easy until you arrived where you arrived. You're the head of an important media and you've set up as many newsrooms as you can, so we're more or less in the same position. I cover another area, which is entertainment, entertainment, productions that entertain people, but more or less the language and the challenges are universal, so we all have our little, silent struggles every day, but when they rely on one value system, never betray you. I say there is always a way out for good people who build careers on the right track. And who are these right rails we can elaborate on later.
Ilva Tare: There is also a belief that there are compromises to reach the pinnacle of a career in whatever field it may be. Have you compromised to be where you are today?
Alketa Weysiu: I don't think I've compromised, that I've just been very lucky to have chosen to do the job I want and not the job to do. When you find your dream and get on its rails, then it's simpler. When you do a strenuous job that you just have to do to survive and make ends meet, because you have to make some money at the end of the day, it turns into a jumble. Therefore, these Greek epitaphs always say when people leave this world: Was there a dream and a passion? I used to ironize Web commentators, 10 years ago, when I was talking about dreams and passion, but if I go back to history, I would return to this conviction that when you have a dream, a passion and you have dimensioned yourself in relation to the dream, you have halfway to success.
Ilva Tare: Having mentioned the opinionists, in fact, they have again ironic, going to Sanremo, how did you get there, who helped you, monologue, what did you say, did you represent the Albanians ... Who did you represent in Sanremo, Alketa Weysiu?
Alketa Weysiu: I think I represented myself, it was my dream and the whole experience is Alketa's relation to her dream. I am definitely convinced that not all people are on the frequency of my happiness, because today we can count many people who are suffering and are in hospital, many are barely able to close the month, many have daily challenges with their children, someone is not sentimental in a good emotional moment, and not everyone can understand this enthusiasm and the joy that someone experiencing in relation to his dream. What I want to share in this conversation that we have together is definitely â??You may not be happy for me, but that doesn't mean being evil and bad. There are definitely two trains, one express train where I've ridden since I was little and worked on these values we would like to talk about, as there are some chariots, which are drawn by regressive people. There are progressive forces in society, there are regressive forces. There are people who do not want success, who do not embrace progress, there are people who are skeptical and skeptical because they are so cooked, there are people who compromise with the profession and get paid, and I have my doubts that many people get paid because they are some districts and interest groups also want to do harm. But I think at the end of the day, they hurt themselves and get deeper and deeper into this clutter that doesn't let you walk or run, I don't know; when you ever dream of a run when you run and remain, stagnate as you can't walk?
Ilva Tare: Do you see such dreams?
Alketa Weysiu: I see this dream sometimes, but I only get stuck in dreams sometimes. But in the morning I wake up stronger and I say; Running the Alket you need to do sports to keep your dreams alive.
Ilva Tare: What you called regressive have sometimes made you think; I'm giving up, it's useless, I'm tired, is it all worth it at the end of the day?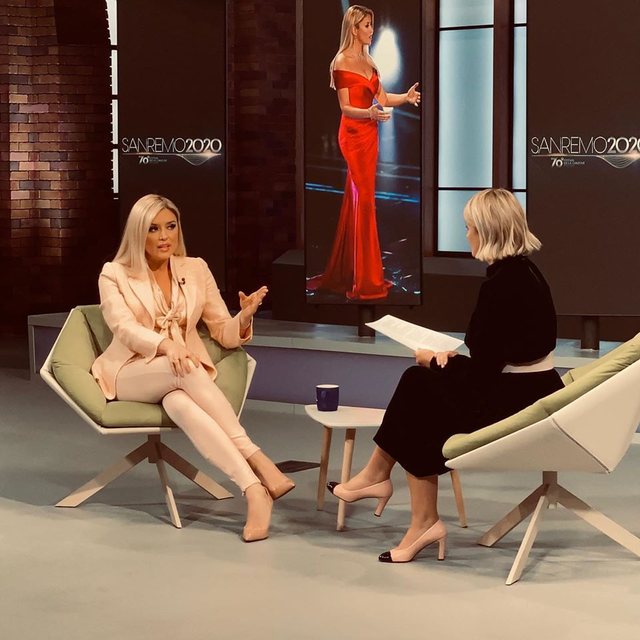 Alketa Weysiu: Not that they cannot have this strength, that if they have this power they do more harm to themselves than to the dreamer. The dreamer and the worker, the one who is on his way has escaped, has found his trajectory so they are just fellow travelers, we have to get used to this, that definitely in society when you are the one dealing with the public, you will pay also a price for fame and that's the cost we pay. They are just fellow travelers, they have their lives, I invite them to board my train because it is a very good train, it is a train of positivity guided by good by merit.
Ilva Tare: No, it's not necessary to come to your train. They can stick to their attitudes.
Alketa Weysiu: Or let them be fellow travelers, there is room for everyone in this world, coexistence is very good, okay, we accept it, it is a matter of choice, I have chosen this other train and am happy about my choice. Sleep at the end of the day.
Ilva Tare: You were talking about the values, what are you going to share, that you have a heart for and that you think have brought you to this point with this enthusiasm for yourself for your family career, the things you have achieved.
Alketa Weysiu: Look, I've chosen to be happy, and happiness I think is a show that is created every day. To be fair and to have integrity, to be honest, not to give in and to wait for the one who is headed somewhere. To give the right to the worthy, to give way to meritocracy and talent. It's a huge basket of values that we can talk about, just to put it in context and for the Entrepreneurial Alcatel or the Alcatel that communicates in public as a television presenter. Or for Alceta as a producer, who sets up a project from scratch, that each of them definitely has its own lane.
Ilva Tare: Yes, but so to speak; that I have chosen to be happy, I have chosen to enjoy this thing and do it as I think best, but in reality how is this?
Alketa Vejsiu: One of the most beautiful lectures my first mentor, who has been on Top Albania Radio Now, was that when you get in touch with the public, you will put a virtual wall and wipe them all out, you will go out and give people joy because for that you get paid, for that we have entrusted the privilege of being heard, so when you are on television and on the radio, you talk, you communicate, you make spectacles. You won't go out there on the television and cry to the public or tell how many challenges you've had in the day to get there. People don't want to know how much we get tired of finally getting that product we want to see realized. To make sure that there are many silent challenges that I prefer not to talk about, I have decided to be a good motivator for the public and definitely serve this beautiful part that I think inspires people, and to be honest in all this river of deliberations that I have become a public court that is almost absurd. To do a beautiful thing, a good festival, go to Sanremo to do a dignified presentation and then just keep listening to all this noise I thinkâ?¦
Ilva Tare: Why do you consider it a public trial? You said above and there is a category that says what they think or have other interests and you move on, why did you experience it as a trial?
Alketa Weysiu: I also perceived that there were rumors that an investigator made Alketa Weysiu a very absurd thing. I don't owe anyone any explanation, I don't think I have an investigator or a prosecutor in front of me, I have journalists, I have the public, and in that respect I come and respond because I like to highlight the beautiful things of this experience. But still, what remains in my heart and my mind is only positivity. I think the Albanian media has supported me a lot, I thank all the colleagues who have done this in the first titles of their portals, in their media, I definitely thank the public, where 85% are positive voices who say a sentence to me. that engages me.
Ilva Tare: Well, let's not leave room for further criticism, because they say go to Ilva's studio and thank you.
Alketa Weysiu: No, I just mean the sentence that made me feel full and full of heart: "You inspire me, you make us proud." I need all this experience. This is what I work on at the end of the day as an artist who sings an opera for two hours and then awaits applause at the end. That's the applause for me.
Ilva Tare: As far as criticism is concerned, there was another criticism that you were a little too thankful for on the Sanremo scene, almost humble before Italy. Was there exaggeration? If you could redo it, you would do the monologue differently, going out to Sanremo, climbing stairs symbolically metaphoricallyâ?¦
Alketa Weysiu: Well, that humble word was said. At least once because I look very enthusiastic about people and sometimes I have noticed that they say you have to be a little simpler and more modest. Look, I think one can't complain about the work he does, it's a very nice expression of a well-known capitalist who says: It takes a long life to prove how right we were. So time will definitely tell how many things we have done well and how many things we have done wrong. I am a man of excellence and I think that the best education is self-education and I constantly study, participate in training, read systematically to perfect myself. Of course, there is always room to do better, I say that for the time I am living, the things I have done in the right context I say that I have taken a certain approach that is my personal approach. I may be judgmental of this, but it is my approach. I can get you the National Festival under analysis, I can get Sanremo. But still, I have a good feeling in my heart because I think this noise made by small interest groups makes more noise than good. And this is my struggle and my sifda.
Ilva Tare: This is a noise you have benefited from
Alketa Weysiu: I don't think I need that case of Bad Publicity is Good Publicity. Bad publicity is good publicity, because I am very exposed and have enough heaven toâ?¦
Ilva Tare: But they talk about you anyway, they couldn't ignore your presence, the exits, you could probably have seen it in the positive sense, and the noise that was made.
Alketa Weysiu: For the big festival, for example I am glad, in all this noise I realized that this festival has been revived. That was the first sensation I experienced. So where there are noises, that they have in this positive sense of seeing things play their part well. I say that as far as the Festival is concerned, I realized we had made a controversial festival, a festival that had not been discussed for years except for the two or three editions that were well done. I have respect for some of my former colleagues, to be honest.
Ilva Tare: That was discussed, it's a little bit certain, it was discussed a lot. It was discussed, but you also provoked a little discussion at the end about the status after the Arilene Festival for Elvana. What happened to the jury, you were openly against her. Did you miss that status with the attitude you held since you were the artistic director and presenter of that Festival?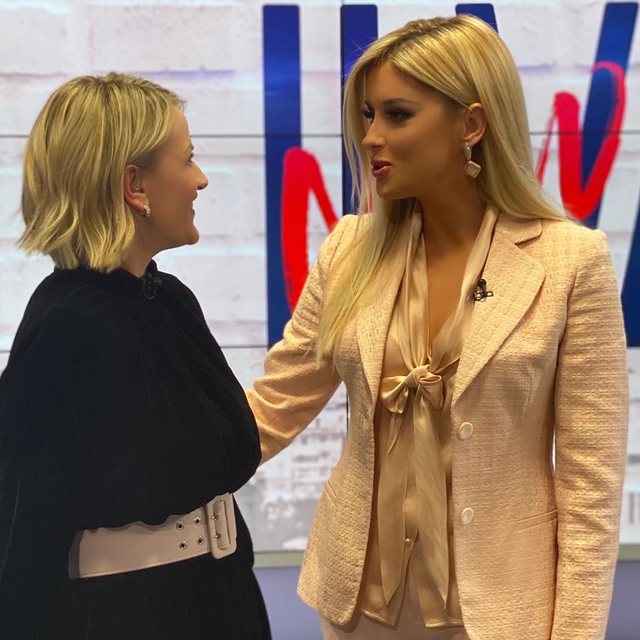 Alketa Weysiu: Yeah, I think I might have been reserved and could have avoided that status, because I saw that it made a public split into two hemispheres that is never better than I, at the end of the day, do entertainment programs and have to the spectacle unites people. Albanians are very divided for other reasons, so we do not make politics there. At the end of the day, we do spectacle, we make art, it's very easy to do that, in form, not in content, in content as complex as we want. Yes I could have booked it.
Ilva Tare: Has your relationship with Arilene affected for example?
Alketa Weysiu: No, I think more than just this part, to deal with this other, that at the end of the day, I did a very good festival, along with Summer and a large group of people who worked, it was a festival where we offered, we brought together talented young people in no other edition. We definitely brought names from Italy that are not so simple to bring, we tried to find the sponsors ourselves, because the limited budget of the big Festival does not give you the chance to doâ?¦
Ilva Tare: Even there you were accused of monopolizing the VAT Festival scene
Alketa Weysiu: But why? What good do these people find? That's a good thing.
Ilva Tare: Yeah, and you yourself, not everyone thinks it's good. There are those who think that it is not good and that it is a public scene that belongs to public television and all Albanians. If there was a moment of reflection again, could you have been less of a protagonist at the Festival?
Alketa Weysiu: Well I don't think this one was my protagonist, this one was mine, so to speak so symbolically in the quotes "Squeezing a man who has the ability to do some things". It was my approach to making the festival so it can definitely be controversial, but Alketa is a man who has sung, presented, done and done as a television author and TV producer and presents and I did, what I knew always do. The truth is a truth you are aware of, that I have invited many people to the Festival, including you.
Ilva Tare: Yes, when we cover the events, the earthquake
Alketa Vejsiu: This earthquake context has greatly complicated the presence of many prominent characters. of whom I respect and understand, did not come.
Ilva Tare: Ermal Mamaqin would say
Alketa Weysiu: Yes, and Ermalin, for example, he had a high cache. I respect it, we couldn't cover it with the ART budget, there is another problem in Albania, that is really a problem. We want to do television programs and always tell people to: Come on our program, that we do you honor because you get publicity and increase your status. Which is totally wrong, because the system should not be, but it is the price we pay for this small market that is Albania. And so rewarding are the people, if you have budgets, from a 300,000 euro budget or how much are you taxing the festival money, that I'm not dealing with managing them, the millions of euros that the Sanremo festival has cost. If you take both of them as a picture, the difference is very small. That is, we have a prestigious figure in both cases, from the point of view of technology, the form of that beautiful thing that is served at the end. Content is where it can be done better. But the content needs money. And here the main protagonist who at the end of the day is entrusted with the position to do exactly that job cannot be questioned. Did Fiorelon judge a man in Sanremo who sang two songs a night and did a monologue? On the contrary, the RAI director said the most: Per Semper Fiorelo in Sanremo. Because he is talented and needs that festival.
Ilva Tare: We will continue to say that it has been monopolized and Ilva Nowâ?¦
Alketa Weysiu: No, I do not monopolize, this is a very constructive and enjoyable dialogue. And to tell you one beautiful thing that impressed me more than anything else with these discussions? Dresses, which I am definitely entertained with. But it may be questionable why three dresses changed overnight when Rula Jebreal herself, a journalist working today as a Macron consultant and a journalist like you who tackles important policy and actuality issues, switched three dresses overnight. There were six dresses for Amadeus 'two ladies' partner girls. Also here how many other presenters have changed the dress at the Festival of Magic Song or the big festival. No one was taken. Alketa an interesting target. How much this hurt me; to some extent, but now that i see it from afar i say it was nice, it will be remembered in the long run as a pleasant chapter of my life.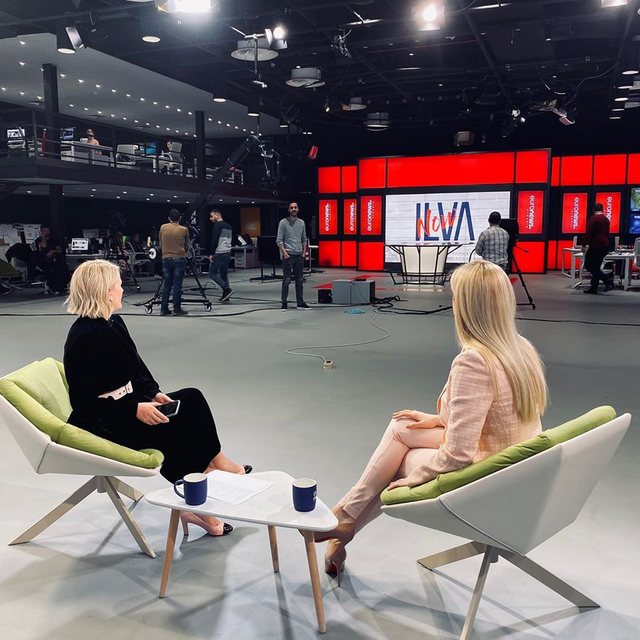 Ilva Tare: What is your relationship with Vera Grabocka? It seemed like a chapter with the Festival closed yesterday with Peter Pan again.
Alketa Weysiu: This is just like a question being asked to two people who need to be told: what happened to your love affair? A report that has 20 years of life. Reports are resized or not, reshaped, but I can say only one sentence: that is a very solid relationship that will live with us as long as we are in this life. So that's a bit, but it's safe.
Ilva Tare: There was a flawâ?¦
Alketa Weysiu : No cracks, there were discussions of course that the Summer experience and my desire for innovation sometimes clash but there is always a common path where the river lies.
Ilva Tare: Wishing you Vera Grabocka for Sanremo?
Alketa Weysiu: Yes, Vera Grabocka was in the room, because people don't know that. Yes there were two people in Ariston Hall that I had eye contact with all the time, it was my husband and on the right, definitely one of the most important people in my professional life, my professor Vera Grabocka. They were both sitting in the heart of plate A and were there to support me.
Ilva Tare: Because we didn't see any public reaction or support for it .. the dilemma persisted if you had a flaw in your relationship with Vera Grabocka. But we're back at Sanremo again. The Italian media was definitely more benevolent than the Albanian media or part of the Albanian media that, for the sake of truth, after the festival, going to Sanremo didn't have any debate over the fact that you were declared to be the first female presenter, woman. of the song festival, the rest has been supportive of your performance. But in Italy you were all welcomed. It happened that they didn't know you, there was no anomie, there was nothing to criticize you or how did you explain it?
Alketa Weysiu: The magic happened, maybe I got what belonged to me. I think each of us has a karma in life that he has to take back, and I believe in that philosophy; do good you will do good, do bad you will do bad. Work 20 years and somewhere you will harvest, harvest something if you have done the right thing and I think they gave me what belonged to me, I say it very modestly, but it has been one thing that has filled me with excitement has been all the magic of this extraordinary experience. It was all in free fall. There was no management in the back so to say this was perfectly managed and yielded results.
Ila Tare: Not the result of an agency PR maybe you worked with?
Alketa Vejsiu: But you can't manage Italy with 64 million. You cannot manage it. That is, the headlines so benign and so different from each other are just personal experiences of journalists and their attitudes and Italy is not a place that can be compromised through agency interference.
Ilva Tare: In certain segments maybe yes. Probably not all of Italy.
Alketa Weysiu: I personally do not know this mechanism. I know the mechanism of merit that I go to impose on a market saying that I am worth the pride of an equal Albanian among all equals there and not the sting of an Albanian who always remembers that 20 years ago my compatriots fled with their boats. one by one. And I will say in every Italian public interview that our Albania is not a Boat and Rubber Company.
(Following ..)