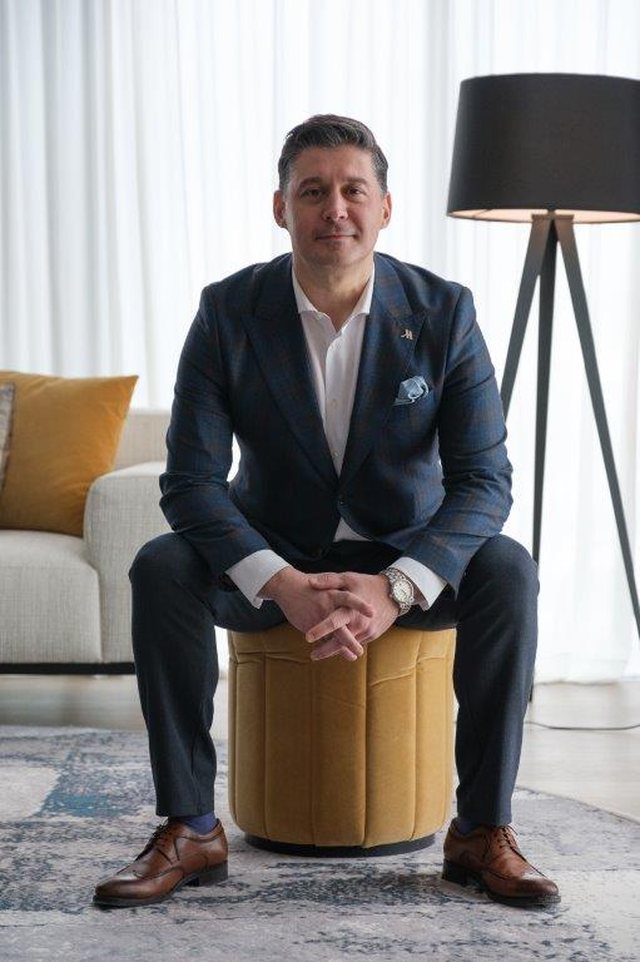 A boy and a horse are lost in the woods and the boy said "I can't see a way through''.

….''Can you see your next step?" horse said.

….''Yes''

….''Then just take that''
GENERAL MANAGER – Q&A
1. How did your journey in hospitality begin and what motivates you to continue working and contributing into the hotel industry?
My hospitality journey started 29 years ago when I enrolled in one of the Tourism & Hospitality Management department of a well-known university in Turkey. While I continue my Bachelor of Arts studies, I started working in hotels as an intern. Throughout my university years, I mostly worked in Front Office department of hotels. After receiving my degree, I decided to pursue higher education and enrolled myself into London School of Commerce MBA program in United Kingdom. During and after my studies in London, I continued working in hospitality industry, mostly working in Food & Beverage. Even after my studies, I decided to stay longer and overall, I spent a total of 9 years of my career there. I held various positions like Restaurant Supervisor, Restaurant Manager Banquet Operations Manager and Food & Beverage Manager.
It has been now 12 years in Marriott. I worked in our brands like JW Marriott, Renaissance, Aloft and Marriott which is our signature brand, as Banquet Operations Manager, Director of Events Management, Director of Sales & Marketing and the last 8 years as General Manager.
There are certainly a lot of factors that motivate me in hospitality but if I must pick the most important one, that would be myself as I consider myself a self-motivator on every occasion. I certainly enjoy what I do, and every day is different in our work. It is a job heavily involved dealing with people on a day-to-day basis. We orchestrate and deliver service to people with people and try to create memorable experiences for them. It is a constantly evolving industry and I very much enjoy accessing and staying up to date with the latest trends and ideas. It is very exciting to be a part of an industry that is always changing and adopting to meet the needs and expectations of guests and Marriott provides me with the perfect atmosphere to pursue that passion.
Overall, my journey in the hospitality industry has been incredibly fulfilling, and I am grateful for the opportunity to serve as the General Manager of Tirana Marriott Hotel.
2. What attracted you to work in other countries?

I am extremely passionate about travelling & exploring the world, learning and experiencing new cultures. It allows me to gain a broader perspective of the world we live in and the people. It is fascinating to see how different cultures approach hospitality and how they interact with guests.
Working in different countries also gives me the opportunity to learn and grow. I certainly enjoy challenges in life to support the growth and working in a new country where you do not know a lot about the language, culture, people and where you have a mission to build a successful enterprise with successful team is absolutely very exciting and satisfactory. Performing my work in different countries has also allowed me to gain exposure to different management styles, learn new skills, and adapt to new environments. These experiences have helped me develop and have given me different perspectives on the hospitality industry.
Finally, working in other countries has allowed me to build a diverse network of contacts and colleagues from all over the world. This has been one of the most valuable aspects of moving to different countries as it is a privilege to have the opportunity to be connected with a lot of unique and interesting people.
3. At work, what puts a smile on your face?
There are a lot of things but first is my people. The moment I enter the hotel, seeing the smiling and enthusiastic faces of my team members energize me like nothing else. Then, listening or reading our guests experiences in our hotel, how they praise and express their gratitude for the positiveness, attentiveness and hospitable attitude of our associates. This is the goal and measurement of success from my perspective, happy associates and happy guests.
When a guest expresses their gratitude and appreciation for the exceptional service they have received, it truly makes my day. Knowing that we have exceeded their expectations and created a memorable experience for them is very rewarding. The energy and enthusiasm that my team brings to work every day is contagious, and it is a pleasure to work alongside them towards our common goals.
At Tirana Marriott Hotel, we invest in our team members' development and provide them with opportunities to learn and grow within the company. Watching them take on new challenges, exceed their goals, and achieve their career aspirations is incredibly fulfilling.
4. What do you think will be the biggest challenge hotel companies will face within the next years?
In my opinion, one of the biggest challenges that hotel companies will face in the next few years is adapting to changing consumer behavior and preferences. As technology advances, consumers are becoming more digitally savvy and are expecting a more personalized and seamless experience from the hospitality industry. This shift in consumer behavior requires hotel companies to invest in technology and data analytics to provide a personalized experience for guests.
Another challenge that the hospitality industry faces is the increasing demand for sustainable and eco-friendly practices. Consumers are becoming more conscious of their impact on the environment and are seeking out eco-friendly practices. To meet this demand, hotel companies need to adopt sustainable practices and invest in eco-friendly technologies to minimize their environmental impact.
The ongoing COVID-19 pandemic has also brought significant challenges to the hospitality industry. The pandemic has had a major impact on travel and tourism, leading to a decline in occupancy rates and revenue for hotels. As the pandemic continues to evolve, hotel companies need to adapt to changing regulations and consumer behavior to ensure the safety of their guests and employees.
On top of these challenges, the hotel industry also face competition from alternative lodging, such as vacation rentals and home-sharing platforms. These platforms offer unique and personalized experiences for travelers, and hotel companies need to differentiate themselves by providing exceptional service, amenities, and experiences.
5. What is the best piece of advice you've ever received?
Throughout my career I received a lot of good advice from a lot of mentors. However, I'd like to share one very good advice I came across lately and it is from a book called; The Boy, the Mole, the Fox and the Horse by Charlie Mackesy.
A boy and a horse are lost in the woods and the boy said "I can't see a way through''.
….''Can you see your next step?" horse said.
….''Yes''
….''Then just take that''
Sometimes we are overwhelmed because of the events in our lives and lose the track. This quote is a reminder to us how to cope even if we can not see a way through. Sometimes all we must do is to take one step at a time.